What is ERP?
May 17, 2023
Enterprise Resource Planning (ERP) is an integrated software system to automate company's business processes and help business owners see the big picture of their companies.
It may sound complicated, but if you want to know how to choose the right ERP system, you need a better understanding of what ERP is: the benefits for your business, the ERP modules, and how much does it cost.
That's what you'll learn in this guide.
What is ERP?
ERP stands for Enterprise Resource Planning which support companies by streamlining day-to-day business activities such as accounting, procurement, warehouse, supply chain operations, manufacturing, project management, and human resources.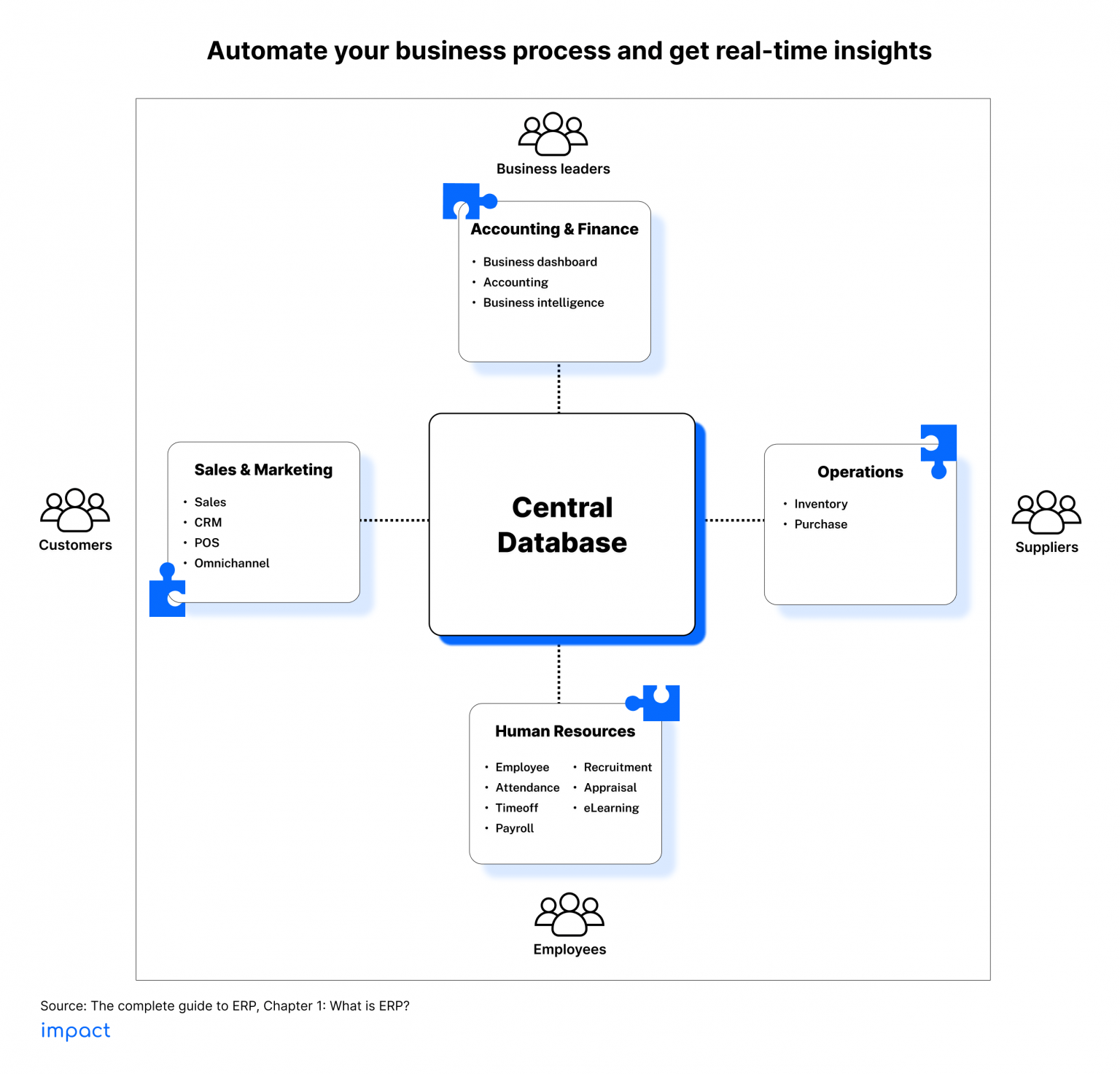 ERP system provide accurate, real-time, and transparent data that reports on the company's financial and operational situations so that business owners can decide future strategies for their business.
ERP software store data in a centralized location. Each employee from any division can see, add and update data in accordance with his role and responsibilities.
ERP systems are versatile and applicable across a wide range of industries, including manufacturing, wholesale distribution, and retail. What makes ERP systems even more advantageous is their adaptability to businesses of all sizes.
Whether it's a small startup, a mid-sized enterprise, or a large corporation, ERP systems can be customized to meet specific requirements. This flexibility allows businesses to harness the full potential of ERP, streamline operations, and drive sustainable growth across industries.
How is ERP System Different?
The difference between ERP and other business software lies in the integration provided for all business processes that occur within a company.
Simple business software usually only has one specific function to automate. Some of them are accounting software, HRIS, omnichannel and e-commerce. Companies need to continue the next process using other software or manually because the software does not cover it.
With ERP, every work done by teams in different departments will be directly integrated with one another so that progress can be seen in real-time and can help increase their productivity. In that way, a collaboration between departments is built and company culture will be shaped better.
As a result, ERP system have become vital strategic tools in today's competitive business environment.
4 Benefits of ERP Implementation for Companies
There are quantifiable benefits from ERP implementations can be a reduction in operating and administrative costs, improvements in complete and on-time delivery, improvements in accounting compliance, etc.
It is crucial to understand the advantages that can be derived from implementing an ERP system, both tangible and intangible benefits. This is due to the fact that the benefits obtained will significantly impact the calculation of return on investment for your ERP implementation.
Moreover, ERP system offer various advantages that can further help companies, including: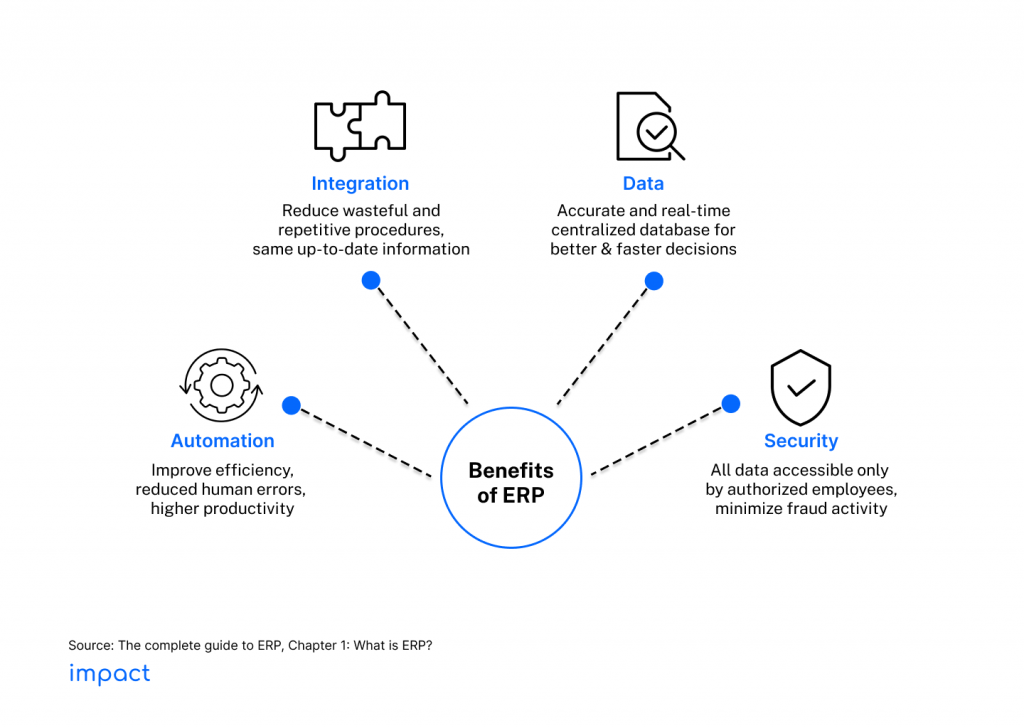 1. Automation
ERP helps automate processes that used to require heavy manual work, to improve companies' efficiency without hiring new people. It reduced human errors in various processes and streamlined most processes. Streamlined workflows further lead to higher productivity as employees can focus easily on more strategic tasks.
2. Integration
By centralizing how data is collected and shared between departments, companies can reduce wasteful, repetitive procedures and ensure that everybody is working with the same up-to-date information.
3. Data
ERP provides an accurate and real-time centralized database that can be processed into useful reports for better and faster decisions. Business processes will be summarized in a dashboard that can be used as insights to grow the company better.
4. Security and regulatory compliance
All business activities will be recorded in the system to minimize fraud activity. Also, all data is safely centralized in the system and accessible only by authorized employees.
ERP Modules
ERP is designed in a modular way, where each specific business function has its modules. This design allows ERP to meet the shifting needs of a business as it grows.
A company can purchase only the modules relevant to its business model, operations, and key challenges. It can then add up ERP modules to address new needs or challenges as the company evolves while keeping the same database.
Below are ERP modules by category according to departments and functions within the company: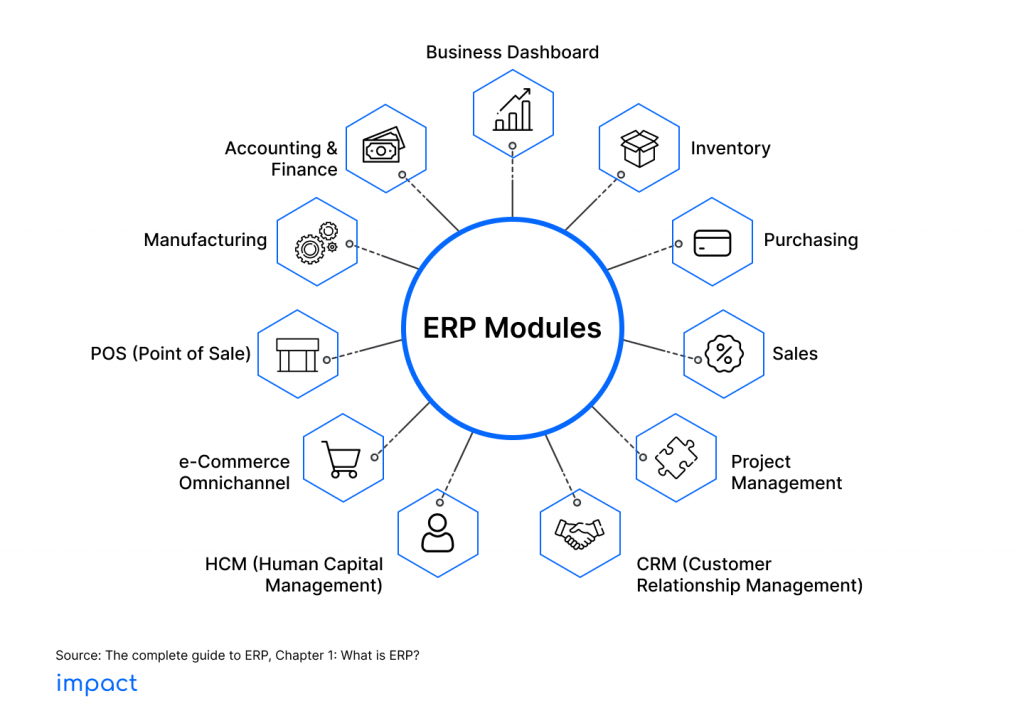 ERP for Sales & Marketing
ERP modules for sales and marketing are an essential component in a company's management system. By utilizing these modules, your company can integrate and optimize sales and marketing activities.
This will help you achieve higher operational efficiency, improve team productivity, enhance customer satisfaction, and foster overall business growth.
1. Sales and Order Management Module
Sales module is used by the sales team to manage order quotations, sales orders, and customer invoices.
2. CRM (Customer Relationship Management) Module
CRM module is used by the sales team to manage relationships with leads and monitor progress starting from research, first contact, meeting, to agreement signing.
3. PoS (Point of Sales) Module
POS module is used by retail companies for cashiers to execute customers' payments for goods or services. POS can be used by stores, restaurants, and pharmacies.
4. E-commerce Module
E-Commerce module is used by companies to build their own online shopping website. Companies can easily manage their inventory and sales through automated stock adjustment and reporting. This module also provides a customer portal that helps organize invoices and shipping orders.
5. Omnichannel Module
Omnichannel module is used by companies to collect sales data from different marketplaces and summarizes comparisons to see which channels can be optimized/ stopped/ continued.
This module also enables companies to manage their product stocks from different marketplaces on one platform. It allows automatic product stock updates in all marketplaces once there is a sales order from any marketplace.
ERP for Accounting & Finance
ERP module for accounting and finance can assist companies in managing and controlling financial aspects more effectively. With the accounting and finance module, a company can gain the flexibility, transparency, and accuracy necessary to ensure the sustainability of its financial health.
1. Accounting Module
The finance and accounting module's key features are tracking accounts payable (AP) and accounts receivable (AR) and managing the general ledger. It also creates and stores crucial financial documents and automates tasks related to billing, vendor payments, cash management, and account reconciliation.
2. Business Dashboard
Business modules in ERP display useful data from all divisions over the company to help business leaders notice important bottlenecks and grow the company.
ERP for Operations
By utilizing various operational ERP modules, companies can enhance overall operational efficiency, reduce unnecessary costs, improve inventory control, and ensure smooth production and distribution processes. The following are beneficial ERP modules for company operations:
1. Inventory and Warehouse Management Module
Inventory module is used by the inventory or warehouse team to manage the entire process of inventory movements (in, out, and adjustment), perform physical inventory counts, and analyze inventory forecasts.
2. Purchase Module
Purchase module is used by the procurement team to manage vendors, quotation requests, and purchase orders to ensure inventory fulfillment.
3. Manufacture Module
Manufacturing module is used by the production team to manage manufacturing orders, plan production schedules, and manage bill of material (BOM).
4. Others
Several modules that are used by the production team are maintenance, quality, and field service to maximize manufacture operations.
ERP for Human Resources
ERP module for human resources can assist companies in having high-quality, skilled, and well-managed human resources. This is because the use of ERP human resource modules can help improve employee management, facilitate career growth, enhance employee satisfaction, and achieve strategic company goals.
1. HCM Core Module
Core module of HCM (Human Capital Management) consists of employee, attendance, timeoff, expense, and payroll that is used by all employees and the human resources team to manage, monitor, and report all data.
2. Talent Management/ Human Capital Management Module
The HCM module also covers talent management needs such as recruitment, onboarding, e-Learning, goals, appraisal, survey, and offboarding.
Types of ERP
By company size
ERP is not only intended for one type of industry with a specific number of users/employees. Even small businesses that are just starting out can need a system and use ERP as a solution.
With its flexible nature, whether it's in terms of the number of users, types of modules and features, or the ability to be customized, ERP is an advantage in covering all types of business sizes. Business size can actually be seen by the number and how complex the requirements needed for the system are.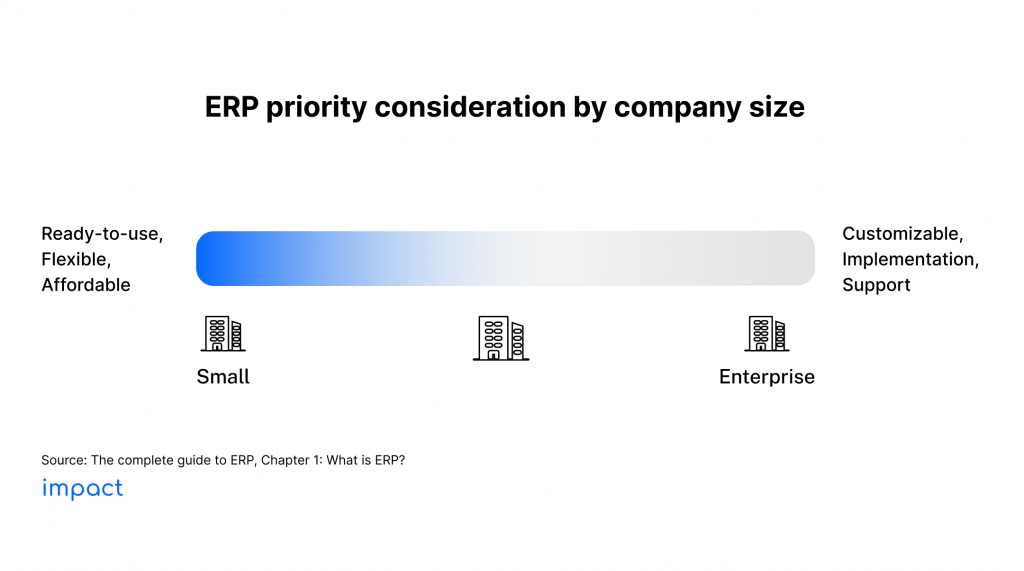 1. ERP for Small Business
Small businesses are usually looking for an ERP that doesn't cost a lot of money. They are more suitable with ERP that provides key features to optimize business processes and flexible for future upgrades.
2. ERP for Medium Business
Medium businesses are looking for an ERP that is good value (worth the price with custom ability). They are more suitable with ERP that automate more detailed business processes.
3. ERP for Enterprise
Large enterprises are looking for an ERP that covers more complicated customs with implementation experts. They need ERP with a more complex reporting system that can support strategic decisions for long term growth.
Every business must consider the needs and type of business being undertaken in order for ERP to be used optimally.
By industry
ERP can be used for companies with different industries or business types. The available modules can be adapted to the business being run. Each industry has different pain points, so each requires different features and reports.
1. ERP for Industry Distribution
Distribution companies often struggle with raw material and inventory unavailability, therefore inventory and warehouse management features are needed as well as reports such as inventory movement report.
2. ERP for Industry Manufacture
Manufacturing companies have pain points such as late production and delivery, therefore a master production schedule feature is needed which will produce a production report.
3. ERP for Industry Retail
Retail companies often struggle in terms of financial data accuracy, so an automated journal entries feature that is integrated by PoS is needed which will deliver reports of each store profitability.
4. ERP for Industry Services
Services companies often struggle in terms of inefficient project and budget management, therefore a project and budget management feature is needed, to gain a clear budget analysis report
By hosting
ERP has flexibility in terms of server selection according to the considerations of the needs and preferences of the company.
1. On-premise ERP software
The server can be on-premises which means that it is physically located at a company's office or in a hosting location of their choice.
2. Cloud ERP software
Cloud-based server means it is hosted by a third party with no need for on-site hardware and internal IT team.
3. Hybrid ERP Software
Also, there's a hybrid solution involving a mix of on-premise and cloud-based.
Things to consider when choosing an ERP server type are the availability of in-house infrastructure, the scalability needed for growth, the presence of an IT team, rules and regulations about data and privacy, and budget.
7 Reasons for ERP Implementation Failure in Companies and How to Avoid Them
When ERP is implemented, sometimes the results can backfire and not meet expectations. Some of the main reasons ERP implementations fail are usually caused by the following:
1. Not Setting The Right Goal
One of the reasons for the failure of ERP implementation is due to unrealistic expectations with an unstable initial foundation in terms of the purpose of ERP installation. Many companies see the introduction of an ERP system as a magic solution to all their problems, but don't take enough time to define specifically what they want to achieve or how they are going to measure what success should look like.
It is important to have clear documentation of what you really want to achieve with the ERP system and where the priorities lie.
2. Lack of Communication
Many ERP implementations experience inadequate communication between management, project teams, employees, and software vendors. In the ERP installation process, don't lose control and leave everything to the ERP vendor without monitoring the progress of ERP implementation.
Instead, communicate openly from the start to each employee so that they are ready to face new changes and answer the things they are worried about. Ensure that current project documentation, assignments and progress will be easily accessible to all involved, so that they clearly understand the day-to-day progress of implementation, and where decisions are headed.
3. Not Adapting to New Changes
ERP must be treated as an asset for the business so that it needs to continue to be adjusted with customer input, employees who use the system, company culture, to changing times. Always conduct evaluations periodically to find out the implementation of ERP efficiency for the business.
4. Lack of Expertise in the Project Team
Poor management can affect the ERP implementation process. The need for expertise or experts in terms of IT and business processes for each department with clear responsibilities. The team needs to have the right skills for the job, and a thorough commitment from start to finish to a collective and collaborative process for smooth implementation.
5. Unclear Business Process
Modeling processes into systems is complex, especially if the business processes are complex enough.
Not infrequently in the middle of the road there are other needs that must be met with additional software so that the ERP system can be more holistic. As a result, organizations that do not prepare for this scenario sometimes have to incur extra costs that are sometimes not available.
6. Underestimating Data Migration
Oftentimes, loopholes in ERP implementations result from ignoring simple procedures in applications that are actually crucial to ERP solution implementation. Inaccurate data transfer will hinder the use of the system for the next process.
Many people mistakenly think that they will get data quality that is not maintained automatically when using ERP projects. The quality of the data in the new system will only be as good as the quality of the migrated data.
So, to avoid this problem, performing detailed data audits such as duplications, spelling errors or data details should be corrected prior to migration.
7. Failed to Train ERP Users
User readiness is only judged by the end of training, without monitoring actual usage. If the management and delegation have been carried out well, the next mistake is the lack of assistance in training using the ERP system that has just been implemented and immediately focuses on completing the work.
We suggested that, to avoid this mistake, conduct special training sessions for all employees. User readiness is only judged by the end of the training, without monitoring actual usage
ERP System Major Players
It is important to identify the major ERP players in order to decide which is best suited to business needs. Each of them has a different target market, pros, cons, as well as pricing. Here is a brief description of each ERP major player in Indonesia.
ERP SAP
SAP Business One targets its product sales to small-midsize businesses with a budget of IDR 2 million/user/month and implementation costs starting from IDR 30 million. SAP ERP has many features and uses best practices in its system that help streamlining business operations. However, this often brings problems where SAP ERP is considered complicated and quite expensive for new joiners.
ERP Oracle
Oracle Netsuite targets its products for small, medium, and large businesses with budgets starting from IDR 135 million including implementation. Oracle presents a simpler design and a dashboard with complete views that makes it easier for users to track their work. The drawback is that ERP Oracle does not provide on premise so it only offers a subscription payment option per year.
Odoo ERP
Odoo has a comprehensive target market ranging from small, medium, to large businesses starting from IDR 300 thousand to IDR 14 million for implementation. The advantages of Odoo ERP is its flexibility, you are able to pay per module, or even to add modules later. However, the drawbacks are that custom results may not meet expectations, implementations that are carried out alone or assisted by unofficial Odoo partners are not completed, and limited support.
If you want to dive deeper into learning Odoo, we have created a comprehensive guide where you can download Odoo, get installation instructions, general settings, module configuration, and user guides.
Impact ERP
Impact has a target market of small-medium sized companies with prices starting from IDR 99 million (one-time) and IDR 50 million for implementation. ImpactERP's advantages include ready-to-use but customizable, optimized features for Indonesian companies (e-Faktur, PPh, etc), and dedicated consultant & support. The cons of ImpactERP are that it costs more for additional modules & customizations, it also takes more time for the developers team to work on custom requests.
If you want to compare the ERP major players with Impact ERP, we have made a comprehensive comparison between them.
IT consultant/ software house
IT consultant/ software house company is one of the options to develop ERP system. They targeted companies that want to create an ERP system with many requirements but do not have internal resources. The price offered varies depending on the reputation of the company and the requirements of the client. The advantages of working with third-parties are time-saving, cost-efficient, and flexible. The drawbacks are limited understanding of business processes so they only produce customized systems but do not provide support in the implementation process (or limited).
ERP Freelancers
Freelancers are also an option for companies that have a limited budget but want to transform their business. The price of freelancers varies according to the expertise they have and requests from clients. The advantages are flexibility in time and price as well as a large selection of talent according to the required skills. However, these are less supervision, unpredictable quality of work, and did not provide support for the implementation process and user training.
Own team
Companies that decide to build their own ERP system need to prepare a budget according to various needs. The advantages of in-house development are guaranteed availability, better understanding of business, full control over the team, and direct communication. However, the risk that must be considered is the high cost and skill limitations, so it is necessary to hire new developers.
ERP Pricing
ERP Components
Pricing ERP is determined by various considerations of the company's needs. It can be based on the number of users who will use it, the number of modules needed, the total implementation time and support needed, the need for user training, and the company's budget.
The components contained in pricing include license and server which is a recurring cost while the implementation and maintenance is one time payment.
For small businesses usually in the range of 2-5 million rupiah for a license and 50-100 million rupiah for implementation costs. Medium business in the range of 5-20 million rupiah for licenses and implementation costs start from 100 million rupiah. Large enterprises starting from 20 million for a license and starting from 200 million rupiah for implementation.
ERP License
The license component in ERP means that the company pays for a license for the modules to be installed in the ERP and a number of user licenses that will use the ERP.
ERP Implementation Cost
Implementation costs are paid to carry out the ERP implementation process that has been finished or developed to the customer. The company will be assisted by technical expertise who will assist during the implementation phase to ensure the system runs well and as expected and can assist existing business processes.
The cost of implementation varies greatly depending on the duration of the implementation process and the services of the consultant required.
ERP Server
The paid server will depend on the type. The company pays according to the server and database capacity needed for the use of ERP with a certain number of users.
ERP Maintenance
Maintenance is usually paid monthly for the system used. If there is an update during the system development process by the team of developers, the system held by the client will automatically get the update. If there is an error, the team of developers will help solve the problem.
Questions? Get in touch with us
Ask about digital transformation, ERP, or anything else.
Our consultants are ready to answer any question you have.