Chapter 3: 4 Key Factors in Digital Transformation Success
Posted: February 18, 2022
Updated: September 26, 2023
According to a McKinsey study, more than 70% of all digital transformations fail. Success rates vary by industries and company sizes.
Digitally-savvy industries (like high-tech, media, and telecom) have success rates of 24%, while traditional companies only have success rates of 4-11%. Companies with less than 100 employees are 2.7x more likely to report a successful digital transformation than those with more than 50,000 employees.
In summary, the more your company uses technology, and the smaller your company is, the more likely you will succeed in digital transformation. See below for the key factors to successful digital transformation according to McKinsey.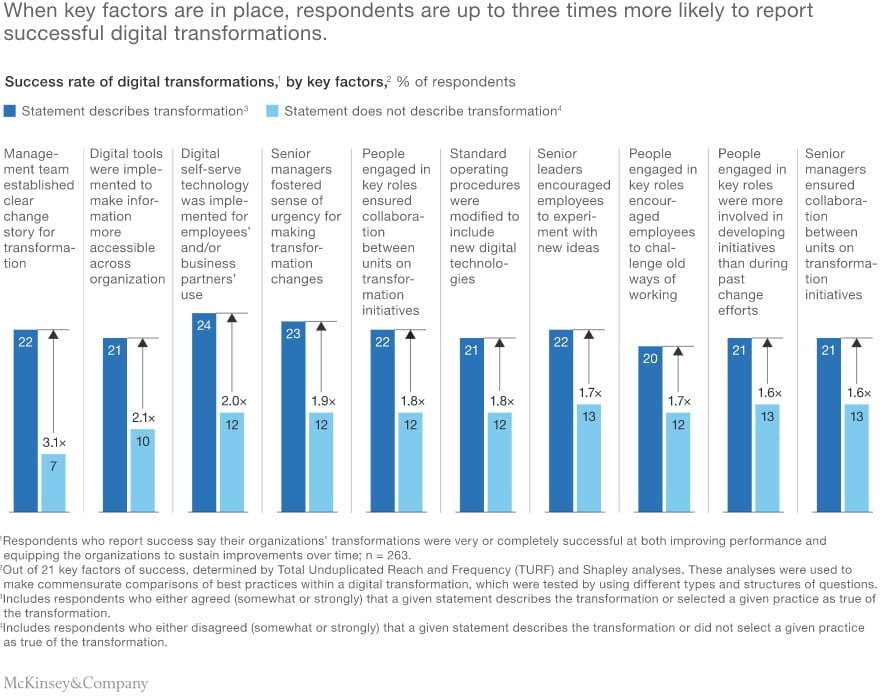 There are many reasons why digital transformations fail, but according to Harvard Business Review, it all comes down to talent.
"The single most important step in digital transformation is assembling the right team who can work together and a strong leader who can bring about change"
There are 4 key areas where this team should have skills in and focus their efforts on, namely technology, data, process, and organizational change capability.
Technology
While technologies are becoming easier to use, understanding how any particular technology contributes to transformational opportunity, adapting that technology to the specific needs of the business, and integrating it with existing systems is extremely complex. You need people who have technological depth and breadth, and the ability to work hand-in-hand with the business.
Some common problems are:
Not having an integrated technology
Picking the wrong technology team for the job
Implementing new technology onto broken processes
Underestimating cost and complexity
McKinsey suggests three things:
Have digital-savvy leaders
Invest in digital talents
Upgrade your technology
Have digital-savvy leaders
Most companies successful in digital transformations have new leaders familiar with digital technologies joined the management team to address those problems. Companies engaging a Chief Digital Officer are 1.6 times more likely to succeed in digital transformation.
To ensure the digital transformation receives enough commitment, it is also important to have people in transformation-specific roles, such as leaders of individual initiatives, program-management, and transformation offices who are dedicated full time to the transformation efforts.
Invest in digital talents
Engaging full-time integrators are crucial to bridge potential gaps between the traditional and digital parts of the business. Integrators are people who translate and integrate new digital methods and processes into existing ways of working.
Because they typically have experience on the business side and also understand the technical aspects and business potential of digital technologies, integrators are well-equipped to connect the traditional and digital parts of the business and help foster stronger internal capabilities among colleagues.
Engaging full-time technology-innovation managers is also crucial for the same reason. Technology-innovation managers possess specialized technical skills and lead work on a company's digital innovations.
Upgrade your technology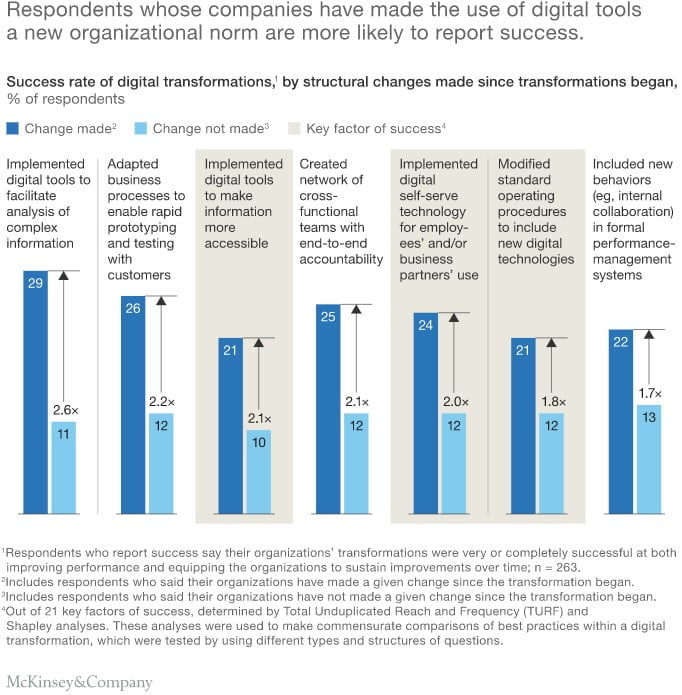 According to McKinsey's survey, there are 3 factors of success to digital transformation:
Adopt digital tools to make information more accessible across the organization (2.1x more likely to a successful transformation)
Implement digital self-serve technologies for employees, business partners, or both groups to use (2.0x more likely to a successful transformation)
Modify standard operating procedures to include new technologies (1.8x more likely to a successful transformation)
Many business people have lost faith in their IT department's ability to drive major change, as many IT functions are mainly focused on only ensuring software and hardware work. However, digital transformation must incorporate their IT departments, so rebuilding trust is crucial. This means that technologists must provide, and demonstrate, business value with every technology innovation.
Thus, leaders of the technology domain must be great communicators, and they must have the strategic sense to make technological choices that balance innovation and dealing with technical debt.
Data
Most data in many companies today are not up to basic standards:
Companies are collecting internal data that have never been (and will never be) used
Companies are not collecting enough external data to make good business decisions
Companies are not analyzing current available data
The different data from different departments are not integrated
Most companies know data is important and they know their current data quality is bad, yet they don't put proper roles and responsibilities in place. They often blame their IT departments for all these failures. By failing to do so, they waste enormous resources.
In order for companies to get better data quality and analytics, they should:
Create a plan on what data is needed now and what data they will need after the transformation
Convince people at the front lines to be responsible data customers and data creators
Improve work processes and tasks that help front liners create data accurately
Beyond these factors, an increase in data-based decision making and in the visible use of interactive tools can also more than double the likelihood of a transformation's success.
Process
According to Harvard Business Review, transformation requires:
End-to-end mindset
A rethinking or ways to meet customer needs
Seamless connection of work activities
The ability to manage departments going forward
Therefore, it makes sense to change and optimize processes.
However, traditional hierarchical thinking makes it hard. Therefore, oftentimes, transformation is reduced to a series of incremental improvements — important and helpful, but not truly transformative.
Some common problems are:
Implementing new technology onto broken systems and processes due to people's unwillingness to change
Not being flexible about systems and processes to adjust to new technology
Many companies fail their digital transformations due to their unwillingness to modify their standard operating procedures to fit into the new technologies they are adopting.
When building talents in this domain, look for the ability to:
Align departments to improve existing processes and design new ones
A strategic sense to know when incremental process improvement is sufficient and when radical process reengineering is necessary
According to McKinsey, redefining individuals' roles and responsibilities are crucial to align their goals with the transformation goals (1.5x more likely). By doing so, it helps clarify the roles and capabilities the company needs.
Success is also more likely when organizations scale up their workforce planning and talent development as shown below.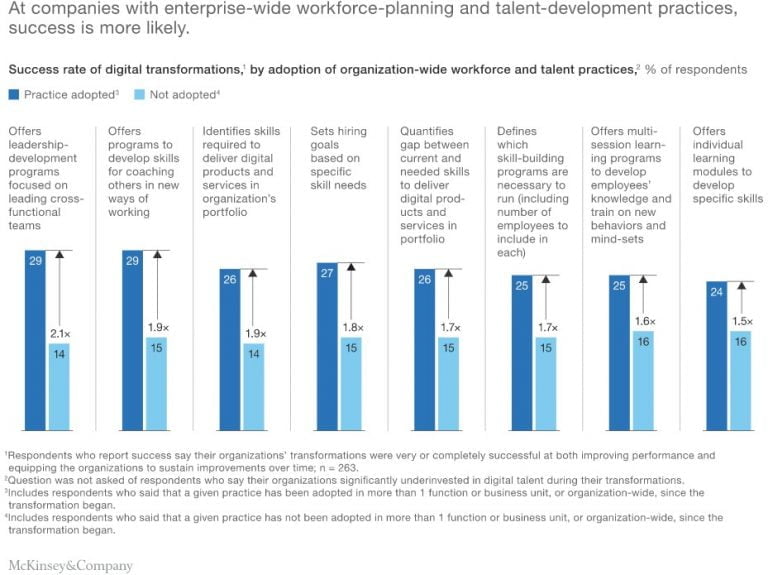 During recruitment, using a wider range of approaches also supports success. Traditional recruiting tactics, such as public job postings and referrals from current employees, do not have a clear effect on success, but newer or more uncommon methods do. Success is at least twice as likely at organizations that run innovative recruiting campaigns
Organizational change capability
Organizational change capability refers to the ability to introduce change to a company.
Some of the common problems are:
Poor onboarding process
People's resistance to change
Failing to set clear digital transformation goals
Miscommunication of the goals
Not coordinating the goals across teams
Lack of commitment
Not having the right skills
Overestimating benefits and underestimating costs
Some of the skills needed are:
The ability to listen and communicate clearly and effectively
High level of emotional intelligence
Strong organizational skills
Detail-oriented, problem-solving, and decision-making skills
Delegating without micromanaging
Leadership, teamwork, courage
Culture Change
According to McKinsey, digital transformations require cultural and behavioral changes such as calculated risk taking, increased collaboration, and customer centricity. There are two ways to empower employees to embrace these changes.
The first way is through formal mechanisms, including establishing practices (such as continuous learning or open work environments) and letting employees generate their own ideas (1.4x more likely to a successful transformation).
The second way is through ensuring that people in key roles play parts in reinforcing change. These include:
Senior leaders and transformation leaders should encouraging employees to challenge old ways of working (1.5x for senior leaders and 1.7x for transformation team)
Senior leaders and transformations should encourage employees to experiment with new ideas (for example, through rapid prototyping and allowing employees to learn from their failures)
Senior leaders and transformation leaders should ensure collaboration with other units during transformations (1.6x and 1.8x respectively)
Communication
Clear communication is critical during a digital transformation as shown below.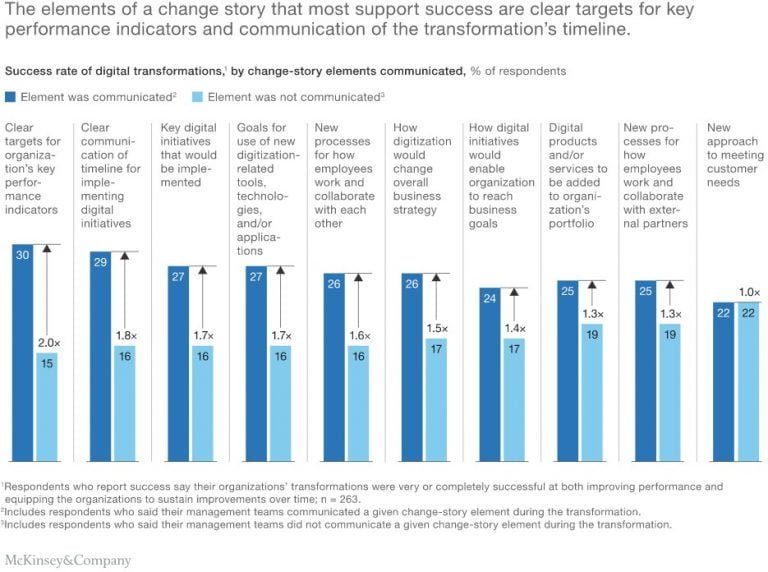 There are a few key factors:
Have clear targets for organizations' key performance indicators and clear communication of the transformation's timeline (2x more likely)
Communicate a change story which helps employees understand where the organization is headed, why it is changing, and why the changes are important (3x more likely). The richer the story, the more likely the company will be successful.
Senior leaders should foster a sense of urgency for making the transformation's changes within their units
Harvard Business Review found that those who gravitate toward technology, data, and process are somewhat less likely to embrace the human side of change. It is strongly recommended that people who possess a mix of both business and technology skills are put in the transformation team.
Summary
Technology, data, process, and organizational change capability work together. Technology is the engine of digital transformation, data is the fuel, process is the guidance system, and organizational change capability is the landing gear. You need them all, and they must function well together.
A problem in one area will bring problems to other areas, but you can't blame one area for the failure in another area (although it may be true). The best solution involves the four working together.
It is hard for business leaders to see the full potential of digital transformation due to lack of understanding of each domain, which is one of the contributing factors to many failed digital transformations. Which is why we recommend having talent in each area.
Lastly, work on technology, data, and process must proceed in an appropriate sequence. For most companies, we would recommend the following:
Process → data → technology
There is no point in automating broken processes, so process improvements come first (most of the time). Then you need to be clear on what data you need to analyze, and what data is not important. Then you choose the right technology for your needs.
Although that is the recommended sequence, you still need to be flexible about it. A lot of times, the technology that you choose cannot follow your process or collect the data that you want, in which case you should be willing to make slight adjustments. It is also common that the process your technology can support makes more sense than the process you originally thought ideal. So be open minded about it.
At the end of the day, digital transformation should be focused on problems of greatest need to your company.
For example, if your focus is in fixing your accounting, the data and process talent should have accounting expertise. If your focus is in fixing your human resources, the data and process talent should have human resource expertise. Most importantly, they should have past success at creating and executing any kind of technology-driven transformation.
Impact Insight Team
Impact Insights Team is a group of professionals comprising individuals with expertise and experience in various aspects of business. Together, we are committed to providing in-depth insights and valuable understanding on a variety of business-related topics & industry trends to help companies achieve their goals.
Questions? Get in touch with us
Ask about digital transformation, ERP, or anything else.
Our consultants are ready to answer any question you have.