21 Best Cashier App Recommendations for Business in 2023
Posted: April 14, 2023
Updated: September 15, 2023
Introduction
Managing a business can be a very difficult task and requires a lot of effort and time. In financial management, the use of a point of sale (POS) or cashier app can be a very useful and effective tool. However, with the many choices of POS applications on the market today, it may be difficult for entrepreneurs to choose the best one for their business.
Therefore, we will provide 21 best cashier app recommendations that can be a choice in running your business effectively and efficiently.
21 Best Cashier App Recommendations in Indonesia
Here are the lists of the 21 best cashier app recommendations available on various platforms in Indonesia.
1. Kasir Pintar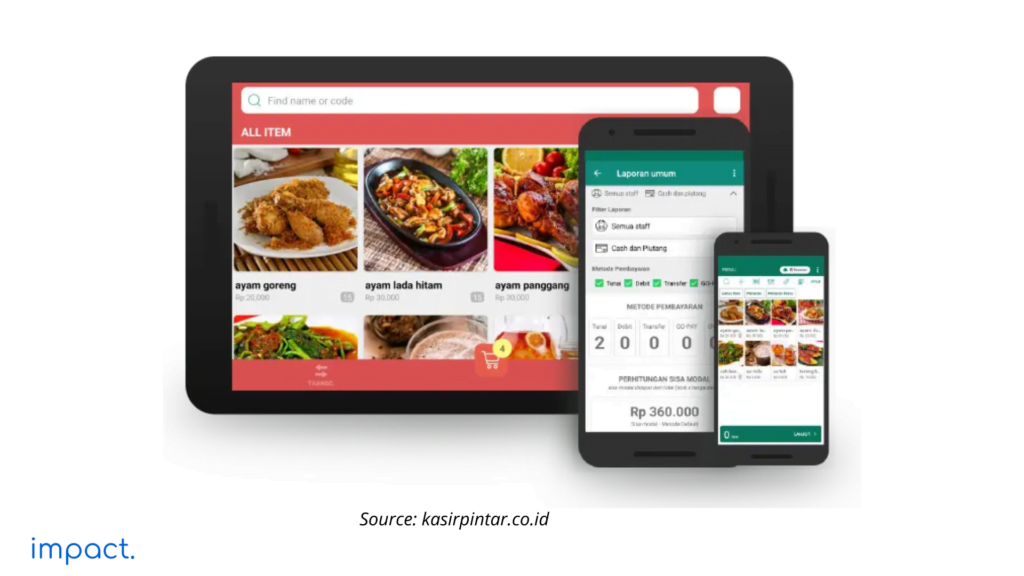 Kasir Pintar cashier app is software designed to help businesses manage more efficiently and effectively by utilizing the latest technology. This software has features that allow users to manage the stock of goods, process sales transactions, and monitor financial reports in real-time.
You can use this cashier app with two options, the free version and the paid version (full version). Features provided by the smart cashier app include:
Automatic data backup
Product pricing
Recording of goods stock
Product barcode scanning
Financial report creation
Here are the advantages of the free and paid versions of Kasir Pintar: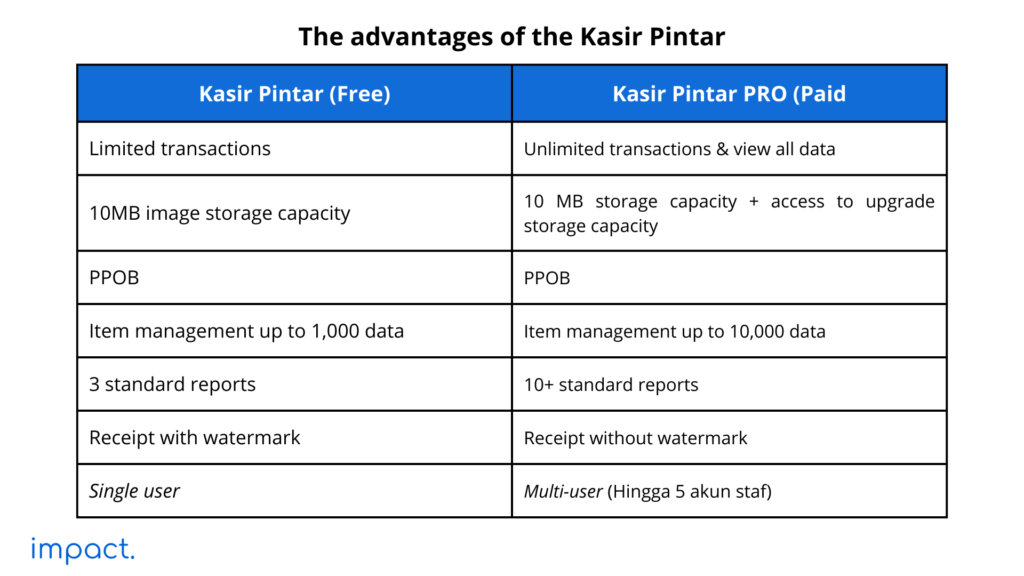 Kasir Pintar offers various subscription fees that you can choose according to your needs, including:
Kasir Pintar Pro: IDR 660,000/year
Business Savings Package: IDR 1,133,000/year
Desktop Savings Package: IDR 1,133,000/year
Heboh Package: IDR 1,499,000/year
You can use the Kasir Pintar cashier app on various platforms such as mobile applications (iOS and Android) and website.
2. Impact POS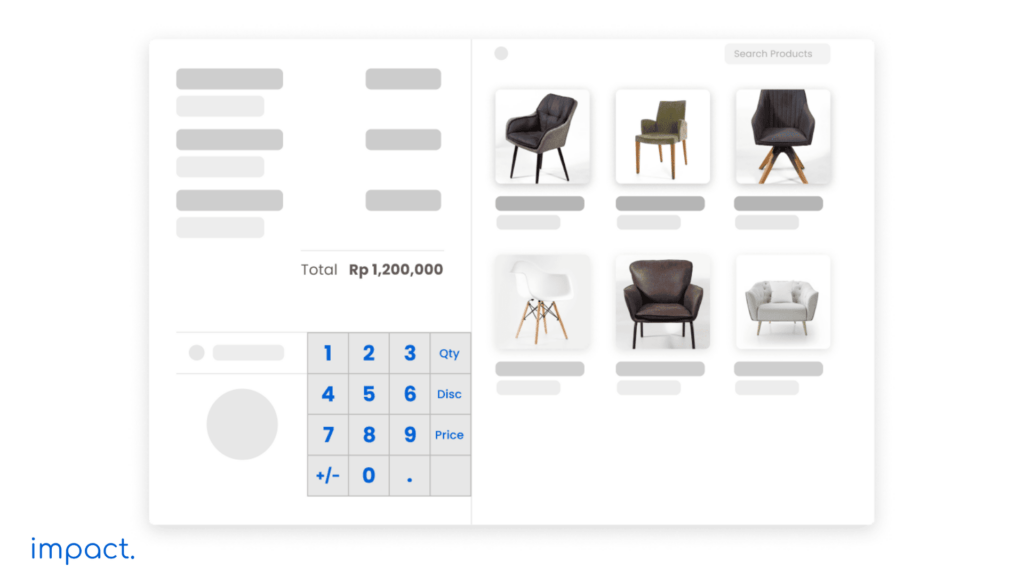 Impact POS is one of the best cashier softwares developed by PT. Chub Pamadana International. This cashier app can be an option to maximize your SME.
Impact POS can also help various business needs such as kiosks, retail stores, food trucks, pharmacies, workshops, exhibitions, barbershops, franchises, online stores, and many more. In addition, Impact POS is very easy to use and all transactions are automatically recorded.
The features of this cashier app including:
Financial management and reporting
Product and inventory management
Sales and purchasing management
Customization features
Data processing, etc.
The advantages of Impact POS include: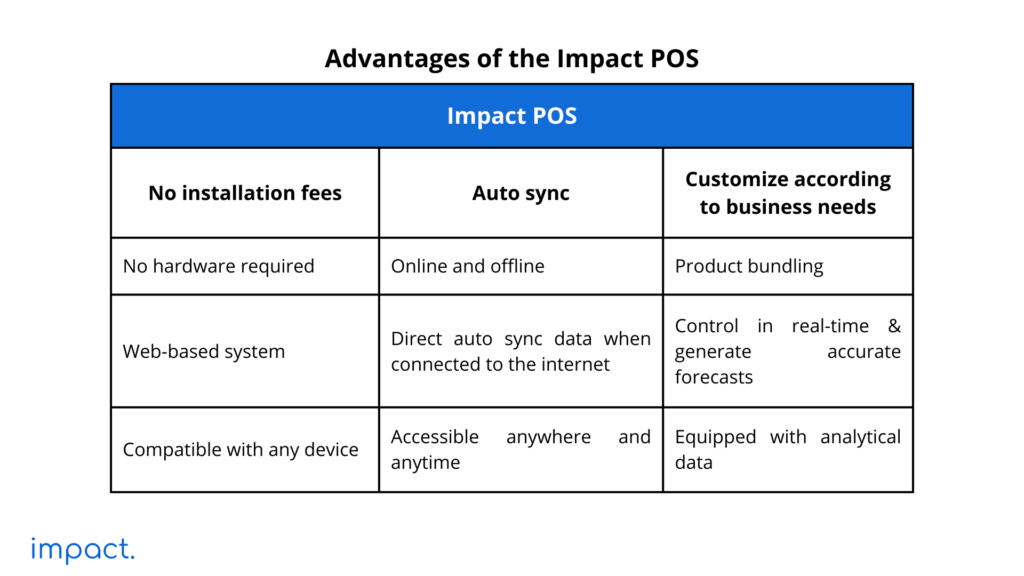 One of the interesting things about this cashier app is that you can get it complete with an ERP subscription. You can also request additional modules starting from 250,000 IDR. Another advantage of Impact POS is that it is already integrated with other modules such as:
The accounting module automatically records every transaction.
Inventory module, tracks all inventory items and provides notifications of low stock.
Reports module, allows you to view real-time reporting.
Impact POS is available for both mobile and website platforms. So, you can choose to use it according to your business needs.
3. Cashier iReap POS
iReap POS is one of the best free Android POS applications developed by PT. Sterling Tulus Cemerlang. This cashier app can be an option to maximize various types of businesses, especially SMEs.
The application uses a cloud system and there are several language options available. In iReap POS Lite, you get various features including Settings & parameters Accepting items Sales/returns transactions Master data Checking problematic items Reports.
The advantages of the iReap POS cashier app, among others, are: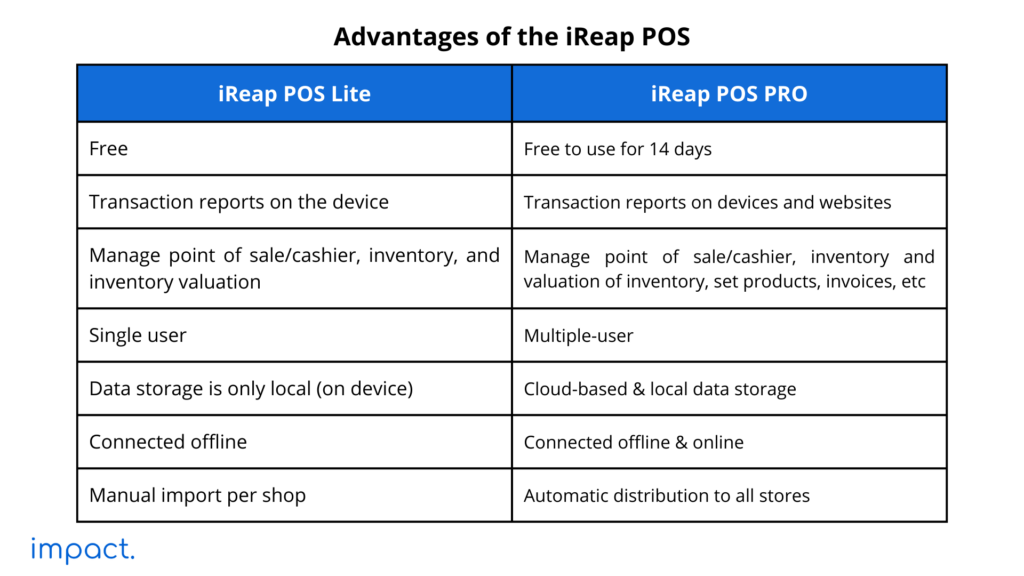 For subscription fees, iReap Lite POS provides both free and paid packages at varying prices: iReap POS Lite: Free with limited features iReap POS PRO: IDR 99,000/month or USD 9.9/month (Outside Indonesia).
Subscription prices depend on the features provided and data storage capacity. iReap Lite is available on various platforms such as mobile apps (iOS and Android) and websites.
4. Moka POS
Moka POS is a POS application designed to help entrepreneurs manage their businesses. Through a cloud-based system, you can manage your store at any time and anywhere without having to go to the store.
As a reference, this cashier app is ideal for businesses such as hair salons, beauty salons, restaurants, retail stores, spas, clothing stores, and others. Moka POS offers features that are not less complete than other applications, including:
Point of sale
Payment
Ordering
Customer management
Inventory management
Table management
Employee management
Online ordering management
Capital management
Through its complete features, Moka POS has attractive advantages such as:
One of the standout features of this cashier app is Moka Back Office, which allows you to view all cashier sales transactions at all store branches in real-time.
However, you can only use this cashier app for free on Android and iOS for 14 days. After that, you must purchase it if you want to continue using the full version. Here are the price ranges:
Basic: 299,000 IDR/outlet per month
Pro: 499,000 IDR/outlet per month
Enterprise: 799,000 IDR/outlet per month
In addition to offering digital cashier app services, Moka POS also offers hardware packages in the form of cash register machines. Moka provides various packages that provide hardware needs for cash register machines with various options:
Tablet
Mobile
Bluetooth printer
Receipt and kitchen printer
Barcode scanner
Moka cash drawer
Of course, the price of cash register machines offered by Moka POS varies and can be adjusted to your needs.
5. Olsera POS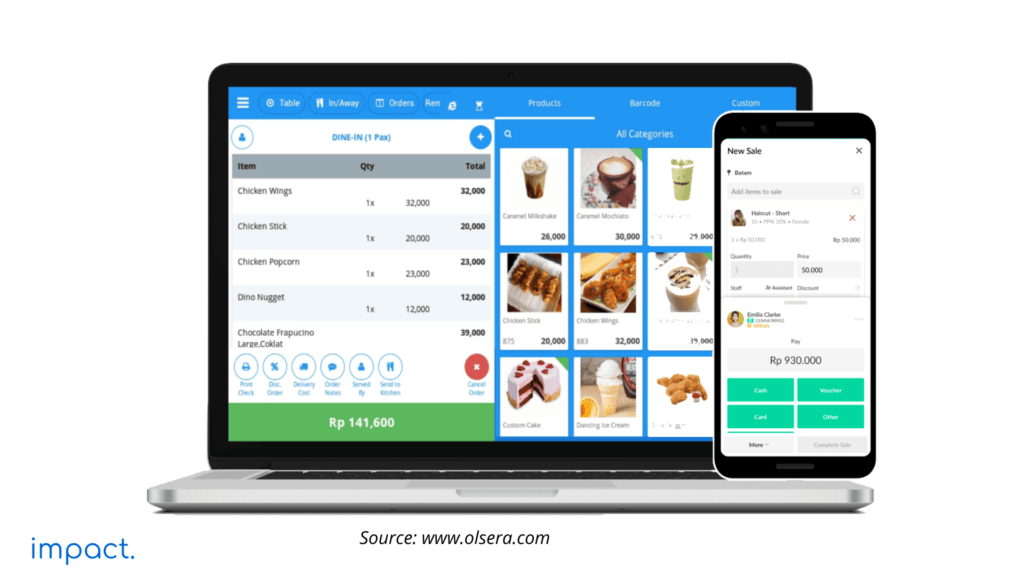 This cashier app offers perfect features and can be used for various sales recording businesses that you create. Olsera POS also has a reliable cloud-based system as a place to save all transactions so you can access them online anytime.
You can also use this program offline because the program can automatically update data when directly connected to the internet. Some available features include:
Inventory management
CRM, promo, and loyalty management
Employee management
Sharing orders and distributed printing
70+ reports from sales, profit, and loss to stock movements
Olsera POS has advantages that can be considered for you to use it such as: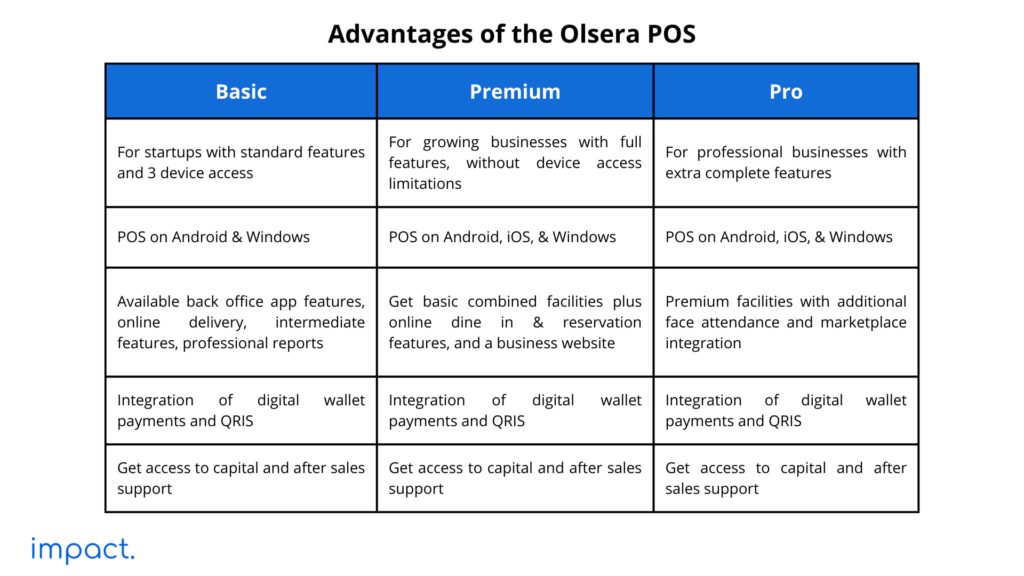 Unfortunately, you can only use it for free for 14 days. To use it again, you need to subscribe with the following package options:
Basic: 128,000 IDR/month
Premium: 218,000 IDR/month
Pro: IDR 298,000 IDR/month
*Prices may vary depending on conditions and additional packages.
If you are interested in using Olsera POS, you can download the cashier app through Google Play Store or App Store.
Read more: What is Jurnal.id? Product Overview, Price, and 6 Advantages
6. Pawoon
Pawoon is a simple cashier app with a modern interface and user-friendly design. This application is suitable for business owners in several industries such as retail, franchises, restaurants, cafes, and other businesses.
You can use Pawoon easily and practically because the set-up process only takes 5 minutes. Transactions can be done both online & offline. In addition, transaction receipts can be printed on a printer and sent via email. Some of the features available on Pawoon include:
Cashier app
Reporting & analysis
Operational management
Integration
Payment methods
Inventory management
Promotion & marketing management
Table module
Digital menu
Online orders Omnichannel sales
This cashier app has several advantages for managing businesses, such as: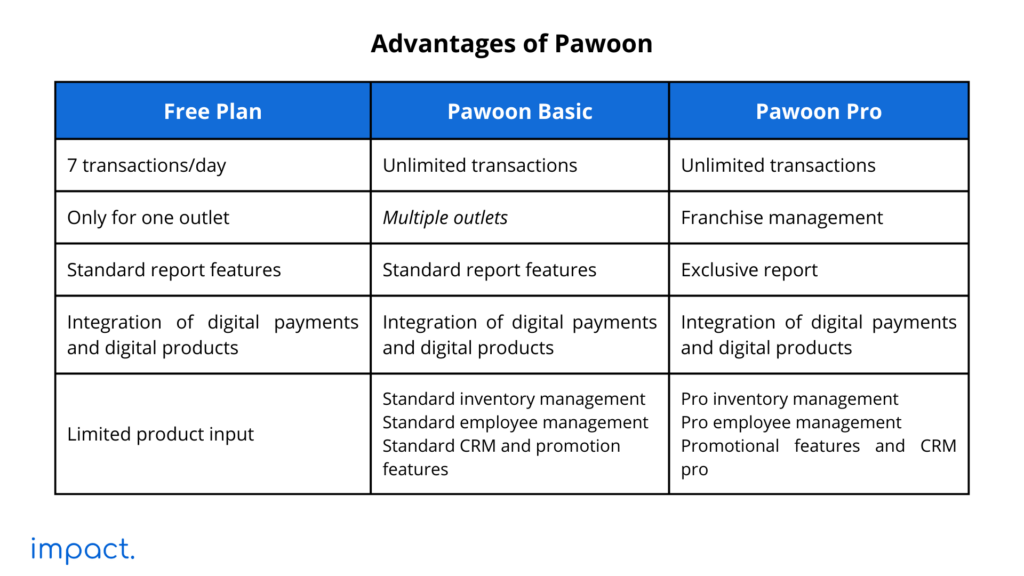 Here are various package options available in the Pawoon app:
Free Plan: Free Pawoon
Basic: 149,000 IDR/outlet per month
Pawoon Pro: 299,000 IDR/outlet per month
You can use this app by downloading it through Google Play Store and App Store.
7. Jurnal Touch Cashier App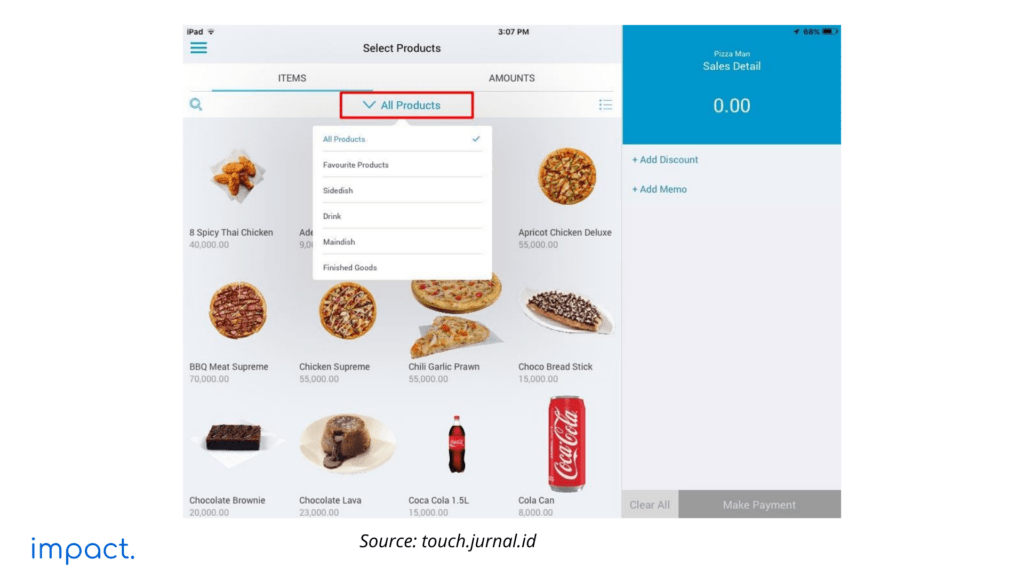 Jurnal Touch is an online cashier app that provides various features to help users manage their businesses. This app can be used by various types of businesses, from small businesses to large corporations.
Jurnal Touch provides several outstanding features, including:
Financial management
Sales management
Stock management
Automatic data synchronization
Offline transaction processing
Easy receipt customization
This cashier app has advantages based on the types of packages offered such as: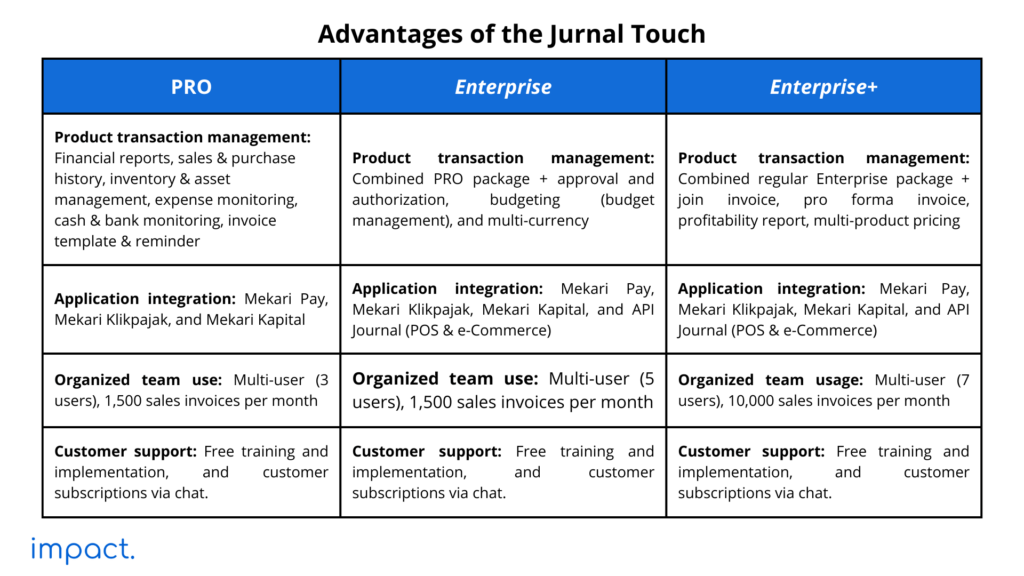 The Journal offers a customized subscription package based on your business needs. Here are the details:
Pro: 449,000 IDR/month
Enterprise: 809,000 IDR/month
Enterprise+: 1,169,000 IDR/month
Please note that package contents, features, and prices may different depending on the conditions. The Jurnal Touch can be accessed via the mobile app (iOS and Android) or through the website.
8. Qasir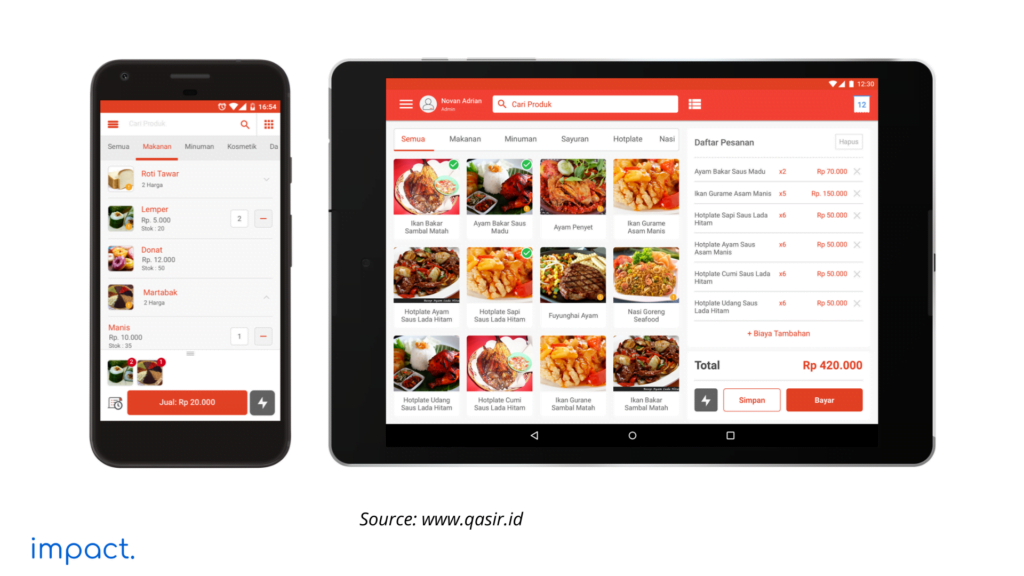 Qasir is a recommended Android-based cashier app that can be used for retail or other businesses. Qasir has a simple system and can be used for all types of businesses.
The cashier app has several features such as recording transactions, recording cash payments with reminder functions, recording stores and employees, digital payment systems (such as Go-Pay, Ovo, etc.), connected to printers, and many other attractive features.
Qasir offers advantages that can support your business: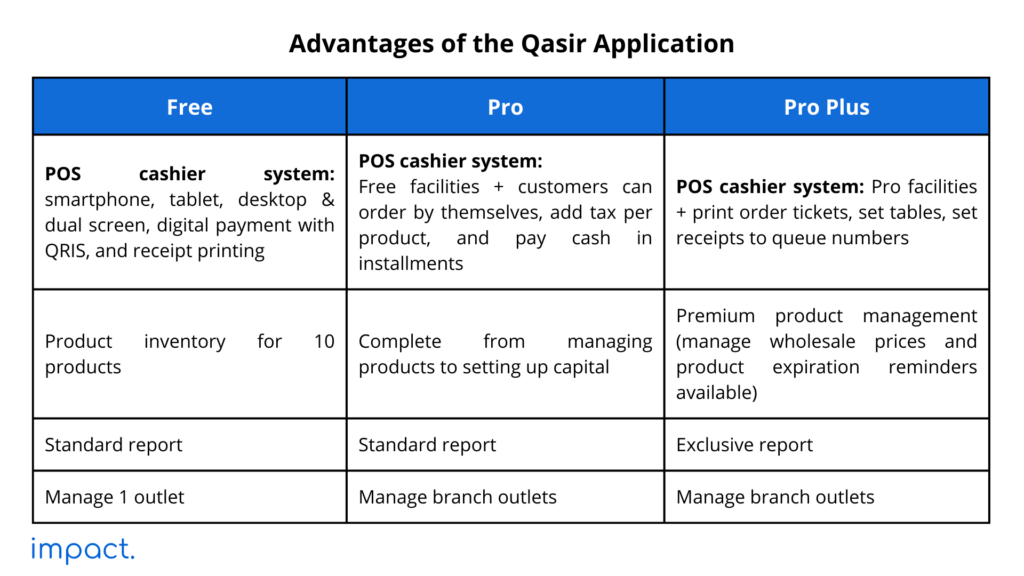 Package Details Available:
Free: Free with limited features
Pro: 33,300 IDR/month
Pro Plus: 57,875 IDR/month
This cashier app can only be downloaded via the Google Play Store.
9. Vend Cashier
Vend is a payment device designed for the iPad that allows retail businesses to manage inventory, sales, and customers at an affordable price.
This cashier software is highly flexible and can be configured to support data via a touch screen or keyboard and mouse. The POS screen can also be updated to access popular processes or items. Vend can work offline but designed for iPad users only.
Some features available in the Vend cashier app include:
Sales overview
Inventory management
Reporting and insights
Hardware
Payment
Application
Electronic commerce
Customer management
Scanner
Security
Product updates
Marketing and loyalty
Vend has several advantages: the cashier app being very easy to use and can be configured to support data via touch screen or keyboard and mouse. The POS screen can also be updated to access popular processes or items.
For those of you looking for a basic free version, Vend also offers basic features of the Android POS application connected to the website, or try the full version. Here is the price range according to the package:
Lean: $119/month
Standard: $169/month
Advanced: $249/month
10. True POS
True POS is the next step in improving your business. With integrated credit card merchant services, True POS allows for easy and secure transactions processed quickly and efficiently.
As a top-rated merchant service provider, True POS offers the best merchant services available, ensuring that business owners have access to the tools they need to maximize their business sales. Some of the features provided by True POS include:
Transaction recording
Inventory management
Payment processing
ATM services
Check services
Gift cards
Loyalty programs
Merchant funding
The advantages of True POS include:
Easy to use and has a user-friendly interface.
Has comprehensive inventory management features that can be integrated with barcode scanners.
Provides accurate and easy-to-understand financial reporting results.
Can be organized with various types of hardware, such as receipt printers and barcode scanners.
Can be accessed online and offline.
For subscription fees, True POS provides several packages with varying prices depending on the features and data storage capacity provided. True POS is available on various platforms such as mobile applications (iOS and Android).
11. ConnectPOS
ConnectPOS is a leading POS software serving the demands of over 2,000 retailers internationally, including Indonesia, which is one of the target markets for this software. This POS system is known for its affordable price with the best features, one of which is support for a multi-channel shopping experience, which allows customers to shop online and in-store.
Through ConnectPOS, the customer journey runs smoothly across all channels, both offline and online. For now, this cashier software is only available in the iOS version. For more information about prices, please contact ConnectPOS sales representatives.
12. Square Register
Square Register is a free solution cashier app that is easy to use and implemented by business owners. This cashier software allows you to make payments using Android or iOS devices anywhere as long as they are connected to the internet. The features offered by this application include inventory management, real-time sales, and inventory tracking.
The advantage of this POS system also accepts credit and debit card payments. Square POS software enables faster transactions in making sales reports, tracking inventory, and storing invoices, and digital receipts. In addition, the cashier app program processes complete reports, analysis, and information about activities and are capable of making smart purchases or other business decisions.
13. Octopus Online
Octopus Online provides a fully-featured and user-friendly POS software designed specifically for small and medium-scale retail businesses, such as clothing, electronics, computers, pharmacies, and almost any other retail store.
Through the Octopus POS application, you gain several benefits such as simple online payment for transactions inside the store or other businesses, quickly and efficiently.
You can check all business activities instantly because this POS system can accept payments from multiple credit cards, inventory management software, easy-to-use product displays, and accurate sales reports. Octopus Online is now available on Google Play Store and App Store.
14. EQUIP POS
EQUIP POS is an application for small and medium-sized enterprises (SMEs). EQUIP POS serves three industries, namely food and beverages, retailers, and trading. The available features are also complete such as:
Inventory tracking
Customer management and promotion
Multi-payment methods
Comprehensive reporting
Easy billing and reconciliation
Return, refund, and credit management
EQUIP POS is a cloud-based and Android-based POS system that helps you manage different employees without additional costs. Another advantage is that merchants can easily synchronize their products and prices between different stores. In addition, product return management tools are also available to help with the refund and exchange process.
The price of EQUIP POS software is quite affordable, only 75,000 IDR/month. Thus, allowing you to enjoy all the features and benefits you need to run a successful business.
15. Omega POS
The next POS application is Omega POS. This software provides an advantage in managing store inventory online. The application has a system that can analyze consumer characteristics based on the sold orders, and help business owners increase sales by intensifying data analysis.
The features offered include; warehouse management, a multi-store system, customer management, storage system, for eMembership and eCoupon cards. Subscription prices start from 125,000 IDR/month with other packages including hardware packages. This application is available in Android and iOS versions that can be downloaded according to your needs.
Read more: What is an invoice? Definition & 11 Invoice Examples
16. Mesin Kasir
Another high-quality cash register application is the Mesin Kasir. The features available in this app are not much different from another cashier app. The main advantage of the Mesin Kasir is free to use.
Therefore, this cash register application is suitable for business owners who are in areas with poor internet networks or unstable electricity. Another advantage is that you can enter transaction and product data as much as you want in an unlimited amount. To use it, you simply need to download it through Google Play Store.
17. Buku Warung
Buku Warung has released a cashier app to answer all the concerns of business owners who have difficulty recording transactions and sales simultaneously.
This cash register feature helps you serve both walk-in and online customers to make transactions faster and easier. This feature allows the shopkeeper to serve customers while also controlling inventory. You can download this application for free through the Google Play Store.
18. Majoo
Not only providing accounting software, but Majoo also offers a cash register application that you can use. Majoo's cash register application has been equipped with special navigation tools.
Through this navigation, you can record all orders, and the flow of services and goods, and even facilitate the recording of employee salaries. This application can later be used for a number of business branches.
Majoo's cash register application can be downloaded from the Google Play Store. The prices offered by Majoo also vary:
Starter: 129,000 IDR per outlet/month paid annually
Advance: 249,000 IDR per outlet/month paid annually
Prime: 499,000 IDR per outlet/month paid annually
19. Smartlink
The next recommended free cash application is Smartlink, specifically designed to help laundry businesses. Smartlink provides a variety of complete features such as POS Cashier, laundry courier management, and work process management.
This application has the advantage of managing all types of transactions using only this one application. For transaction needs, various options are available such as deposit transactions, regular transactions, e-money purchases, courier management, customer and storage management, transaction note printing, and fund transfer requests.
You can try this application for free for 30 days without any conditions. If you want to subscribe, the cost is Rp1,250,000/outlet. Smartlink also has affordable operational and bundling costs.
20. Pozool POS
This premium POS application is also highly recommended for those of you who want to open a restaurant. Because this software is very simple and easy to use by business owners.
This application is used to support credit card payment systems. Only you have to pay for the Pro version if you want to use all the features and manage transactions more completely.
Baca juga: What is SRM? Definition, Benefits, & 3 Implementation Steps
21. TabShop POS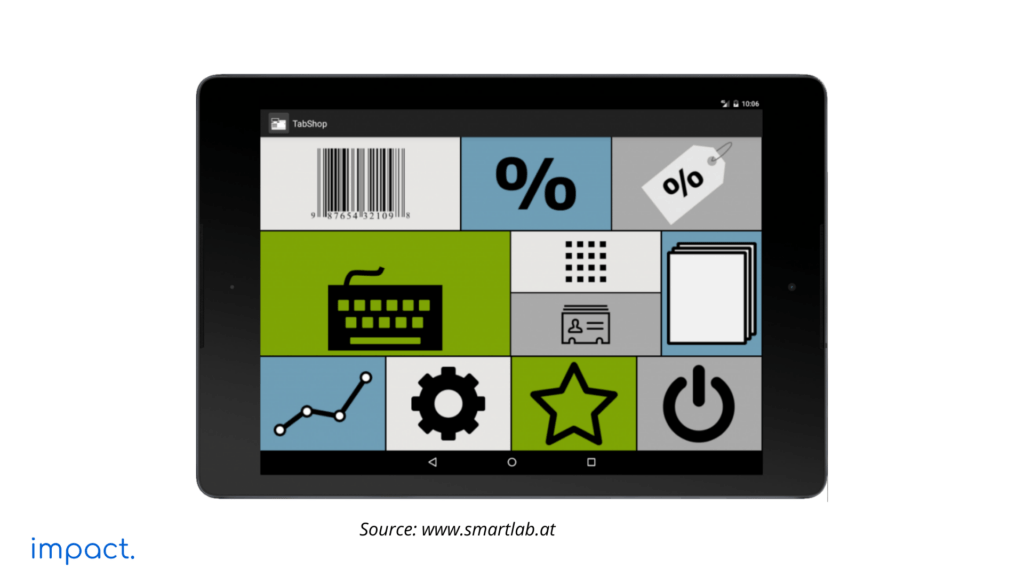 This latest free point-of-sale (POS) application for Android devices is perfect for those who want to start an e-commerce business. Its features are simple like other POS applications and very user-friendly. There are some great features such as payment support for PayPal, Bitcoin, and so on.
Conclusion
A cashier app is a computer or mobile program designed to help business owners manage transactions and inventory more efficiently. The cashier app can be used in retail stores, restaurants, cafes, salons, and other types of businesses. The number of cashier applications available today demands you be more selective and careful in choosing the best app.
The selection of a cashier app must be done carefully and according to your company's needs. A good cashier app will have many perfect features and can be integrated with other businesses. Choose the best application that is easy to use and cost-effective, especially for newly-established small and medium-sized businesses (SMBs)."
Impact Insight Team
Impact Insights Team is a group of professionals comprising individuals with expertise and experience in various aspects of business. Together, we are committed to providing in-depth insights and valuable understanding on a variety of business-related topics & industry trends to help companies achieve their goals.
Questions? Get in touch with us
Ask about digital transformation, ERP, or anything else.
Our consultants are ready to answer any question you have.