What is Jurnal.id? Product Overview, Price, and 6 Advantages
March 2, 2023
Mekari is an Indonesian technology company founded in 2015. They specialize in cloud-based software-as-a-service (SaaS) solutions to enhance business productivity and efficiency.
Mekari has various products that act as solutions in multiple industries, such as financial services, sales, human resources, etc.
Among their products are:
Talenta
Sign
Flex
Qontak
Klikpajak
Jurnal
This article will take a closer look at Jurnal by Mekari and explore its features, advantages, and limitations to give you an informed perspective before deciding which accounting software to use for your business.
What is an accounting software?
Mekari Jurnal is, at its core, an accounting software and not a complete enterprise resource planning (ERP) solution.
Accounting software is a tool that helps bookkeepers and accountants keep track of a company's financial transactions and prepare reports.
The features and capabilities of accounting software may vary depending on the specific product being used. Larger companies often prefer customized software that can integrate data from multiple departments. On the other hand, smaller companies often opt for packaged software.
The pros and cons of accounting software
Using accounting software comes with both advantages and disadvantages. Below are some of the most frequently encountered benefits and drawbacks.
Pros
Accuracy & Efficiency: The biggest advantage of using accounting software is that it automates your business process.Using accounting software saves time, reduces errors, and accurately calculates complex data.
Accessibility: Cloud-based accounting software allows access from anywhere via an internet connection. Additionally, it can support multiple users, enabling your team to access the same data and collaborate in real-time.
Better organization: With accounting software, businesses can easily categorize financial transactions, generate reports, and automate routine tasks. This allows users to understand better their business's financial health, which can help them make better-informed decisions.
Improved insights: Accounting software can provide better insights by generating customizable reports, tracking key performance indicators, and forecasting future cash flow. This more profound understanding of your financial data allows you to make data-driven decisions, identify areas for improvement, and drive business growth.
Cons
Cost: While the initial requirements of online accounting software may be low, it is important to consider that monthly fees can accumulate over time. Some accounting software solutions may charge more for additional users or mobile access, adding to the overall cost.
Reliance on technology: Accounting software relies on internet access to retrieve financial data, and a slow or unreliable internet connection can limit your access to this information. Moreover, technical issues with your hardware, software, or internet connection can prevent you from accessing data.
Security risks: Storing sensitive financial information online comes with the risk of security breaches or cyberattacks that could threaten the confidentiality and integrity of your data.
Learning curve: Users unfamiliar with accounting principles or software usage, particularly those accustomed to the traditional way of doing things, may face a learning curve depending on the complexity of the software.
Differences between accounting software and ERP
Accounting software and ERP are often confused with one another, but they are two distinct types of software.
Accounting software primarily focuses on financial management, including tasks like generating financial statements, tracking accounts payable and receivable, and creating sales and invoice reports.
In contrast, an ERP system is an integrated software solution that manages all aspects of a business, from financials and operations to customer service and more. With an ERP system, companies can combine data from all areas of their operations to gain a more comprehensive understanding of their performance and bottom line.
An ERP system offers a more holistic approach to business management than accounting software.
Read more: What is ERP? How is ERP system different?
Product overview
Jurnal.id is an online accounting software designed to cater to the needs of startups, small to mid-sized businesses (SMBs), and companies with multiple branches.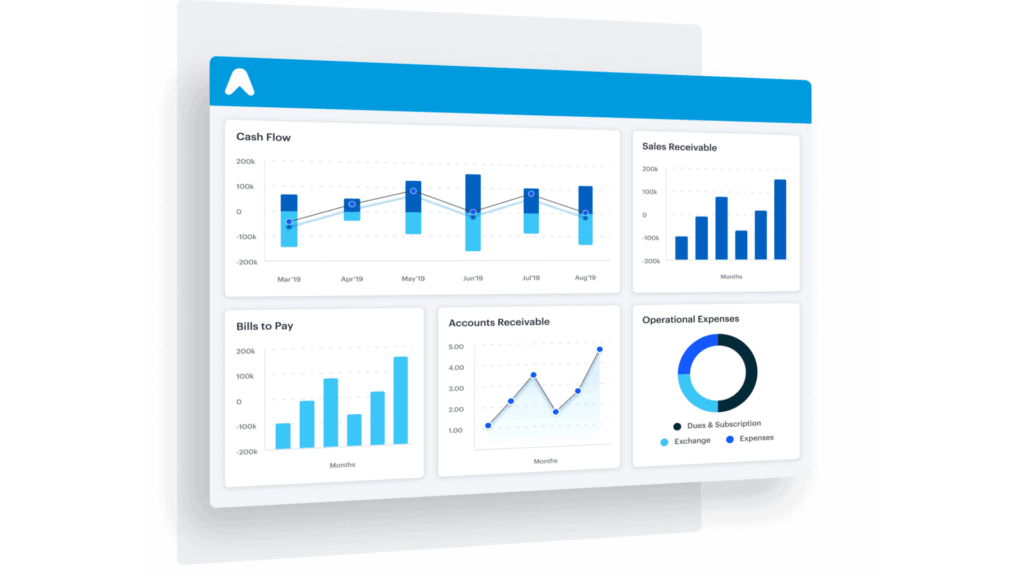 Source: jurnal.id
Jurnal is offered exclusively as a SaaS, meaning users pay a subscription fee to access the software hosted on external servers. Jurnal aims to streamline business operations by automating accounting and financial management processes, reducing potential errors, and saving business time and resources.
Additionally, Jurnal offers various features that cater to the specific needs of enterprises related to financial recording, bookkeeping, and business operations.
Features
Jurnal provides users with seven accounting features, four core features, and three add-ons.
Core
Business & Financial Reports: This feature enables companies to automate financial activities, such as generating accurate financial reports, including cash flow statements, profit and loss statements, financial balance sheets, and changes in equity.
Accounting: This feature facilitates automated accounting calculations for businesses and includes a complete bookkeeping module that covers the Chart of Accounts (CoA), General Journal, General Ledger, and Balance Sheet.
Expenses & Budget: This feature allows businesses to manage their costs and budget more effectively. It provides insights into their cash flow, helping them identify areas to reduce unnecessary spending and optimize their finances.
Product & Inventory: This feature offers businesses a streamlined approach to inventory management. It updates stock levels automatically, keeps all data in one place, and sends notifications to remind users of stock statuses.
Add-ons
Invoicing: Businesses can use this feature to track and manage bills better. The feature provides invoice templates, centralized invoice databases, and automated invoicing.
Tax Management: This feature helps businesses minimize the risk of making errors when conducting taxes by providing automatic calculations and easy tracking of past tax documents.
Mobile App: Businesses can access important information about their needs and activities remotely with this feature. However, it's worth noting that some features, such as invoicing, are only available on a desktop.
Advantages of Jurnal.id
Here are some benefits you can get from using Jurnal in your accounting.
Less human errors
Manually calculating accounting can result in errors due to mix-ups in accounting formulas or transposition mistakes. However, using an automated accounting tool can minimize mistakes and improve organization in your bookkeeping.
Web-based
As a web-based accounting software, Jurnal can be accessed from anywhere with an internet connection and a web browser.
Easy to use
This software includes a dashboard that presents data in different formats, such as bar graphs, pie charts, and lines. This makes it easier for users to comprehend their financial information. The software's data entry automation makes it user-friendly for individuals without an accounting background.
Free trial before purchase
Mekari allows users to try the free version of Jurnal for 7 days before subscribing to the full version. Upon expiration of the trial period, users will receive a reminder asking if they want to purchase the full version or decline.
Integration into various marketplace
Jurnal integrates with multiple Indonesian online marketplaces, enabling automated data entry for each sale. This streamlines record-keeping and allows centralized management of transactions across all marketplaces.
POS Integration
Jurnal can work with various point-of-sale (POS) systems in Indonesia. The system is designed to automatically record transactions, which reduces the possibility of errors or fraud. With Jurnal, businesses can monitor their daily sales and revenue to ensure accuracy.
Limitations of Jurnal.id
While Jurnal offers benefits to businesses, it is crucial to be aware of certain limitations associated with the software.
It does not cater to large corporations
Jurnal offers multiple accounting features that are suitable for small to mid-sized businesses. The software may not be ideal for large corporations with extensive supply chains and manufacturing operations, as the software lacks certain features.
It is not a full ERP
Jurnal is primarily intended as accounting software. Users who wish to access the full range of ERP capabilities must subscribe to other Mekari solutions offering additional features such as CRM, payroll, and omnichannel.
Price
Jurnal is offered under three packages: Pro, Enterprise, and Enterprise+. Users can choose to subscribe to these packages annually or quarterly.
Each package's pricing depends on the features and functionalities offered, with costs ranging from Rp5.388.000 to Rp14.028.000 per year. Furthermore, Jurnal provides free implementation to its users.
Companies that use Jurnal.id
Eatlah
Eatlah is a food and beverage company based in Indonesia with 26 branches across Jakarta, Bandung, and Semarang. The company faced difficulties manually creating financial reports, given a large number of stores they have to manage and the limited staff.
To address this challenge, Eatlah decided to leverage Jurnal's automation capabilities to streamline financial reporting processes and monitor the financial performance of all its branches in real-time.
KLAR
KLAR produces clear aligners with the help of orthodontists. They previously managed their stock manually using Excel and Google Spreadsheets, leading to miscalculations and warehouse recording challenges.
Jurnal helped them automate their financial processes, providing better visibility into each division, stock transfers, and production of goods. This streamlined KLAR's operations and improved its financial management.
Alternative software to Jurnal.id
Here are some other software can be an alternative to Jurnal.id.
Impact
Impact is a comprehensive ERP solution designed for small to mid-sized businesses. With multiple modules available, Impact offers a range of features to automate and optimize various business processes.
One of the modules offered by Impact is its accounting module. This module organizes data and automates financial processes while providing real-time financial reports. It's fully integrated with other modules like sales, purchasing, inventory, and manufacturing.
In addition, Impact is optimized for Indonesian companies and can handle taxation processes per Indonesian regulations (e-Faktur, PPh, etc). Furthermore, it fully complies with GAAP standards to ensure accurate financial reporting.
Regarding pricing, Impact requires a one-time payment of Rp99 million and an implementation cost of Rp50 million.
Accurate
Accurate is an accounting software that can process a company's transactional data and is available as both a software application and an online web-based platform.
However, it's important to note that this software does not cover all business operations and cannot be customized for specific use. Businesses must purchase additional features like CRM and POS from different vendors, as Accurate does not integrate with other software solutions.
Pricing for Accurate is available on a monthly subscription basis, with the cost set at Rp222.000 per month for one user. Additional users can be added at the expense of Rp22.200 per month.
Xero
Xero is a cloud-based accounting software that offers features such as financial statements, invoicing, budgeting, stock monitoring, and project management.
It has three subscription packages: Starter ($25/month), Standard ($40/month), and Premium ($54/month). The pricing varies depending on the size of the business and the features required. However, the Starter package has limited features, so most companies get the Standard package.
Compared to other accounting software that offers pre-made templates, users may find it more challenging to customize invoice templates in Xero.
MYOB
MYOB is an accounting software suitable for various business types, from small to large-scale operations. The software has a simple interface, making it user-friendly even for beginners.
MYOB uses an automatic system that structures and ensures the accuracy of financial reports by directly inputting financial data. MYOB's automatic reporting features, such as profit and loss, balance sheet, and trial balance, can be customized to your accounting needs.
MYOB also provides financial comparison reports, such as sales reports, profit and loss, and balance sheets. However, MYOB is limited because it cannot be used for multiple companies. Therefore, if you have a subsidiary, you cannot use MYOB from the leading company.
Bee Accounting
Bee Accounting is a software that helps businesses manage their financial matters and is available in desktop and cloud versions. The software is designed to be user-friendly and suitable for individuals unfamiliar with accounting systems, making it a good option for beginners.
The online multi-branch feature allows business owners with multiple branches to monitor transactions and finances across different locations using laptops and mobile devices.
The free version of Bee Accounting, called Bee UKM Series, has limitations such as a monthly revenue cap of Rp100 million that resets to zero every month and a maximum of two cash/bank data entries.
Conclusion
In summary, Jurnal by Mekari is an ideal accounting solution for small to mid-sized businesses looking for a cloud-based system that allows them to access their finances from any location.
Jurnal streamlines workflows and automates operations typically handled by human accountants and bookkeepers with easy-to-use software that integrates seamlessly with various online marketplaces and POS systems in Indonesia.
However, larger businesses might require a more advanced ERP system. Impact is an ERP solution that offers automated transaction processing, allowing companies to streamline their financial activities.
Impact's accounting module generates real-time financial reports based on automatic journal input for every transaction, allowing businesses to create budgets for every Chart of Accounts (CoA) and analyze actual expenses.
Questions? Get in touch with us
Ask about digital transformation, ERP, or anything else.
Our consultants are ready to answer any question you have.