Top 10 HCM Software Comparison: The Best Solutions for 2023!
June 26, 2023
As companies in Indonesia continue to grow, so do the challenges facing their Human Resources departments. HR teams are entire, from recruitment and retention to employee development and payroll management.
But with the latest developments, many of these challenges are addressed through Human Capital Management (HCM) software.
In today's world, technology plays a critical role in the success of HR departments. With remote work, AI, and data analytics on the rise, it is more important than ever to have the right tools in place.
Fortunately, there are many HCM software vendors available today. But with so many options, it can be challenging to determine which is best suited for your organization's needs.
This article will act as your HCM software comparison. We will compare Indonesia's top 10 HCM software providers in 2023, so you can find the best fit for your HR team.
What is HCM software?
Human Capital Management (HCM) is a way of managing employees to help a company succeed. It includes things like finding and hiring the right people, training them, making sure they develop new skills, and keeping them happy so they stay with the company.
HCM software is the digital tool that Human Resources (HR) uses to streamline HCM. Typically, the software comes equipped with tools for data analysis, monitoring employee performance, and automating HR tasks to enhance efficiency for HR teams.
Benefits of using HCM software
HCM software can simplify HR tasks, help ensure compliance, and retain employees. The system leads to many benefits for organizations and their HR teams, including:
Streamlined HR process
HCM software vendors help HR teams do their work faster and with less effort. It does things like hiring new employees, onboarding, managing how they are doing at work, and keeping track of their information. When companies use HCM software, their HR departments can focus on other essential projects.
Make data-driven decisions
HCM software keeps all employee information in one place, so there are fewer mistakes caused by manual input. Accurate reports and employee information can help companies make informed decisions. Companies can save more money in the future by not spending on ideas that are not proven to work.
Enhance employee experience
By providing self-service portals, employees will be more engaged and satisfied. HCM software makes it easy for employees to access their information and request time off, benefits, and training. In addition, employees will feel valued when companies use software that helps advance their careers.
Better workforce planning
HCM software can help you understand what is happening with your employees in real time, like how many people are working for you, if people are leaving, and how well everyone is doing. The software can help you make intelligent choices about planning for your workforce and business strategy. This information lets you make informed decisions to help your business grow and thrive.
Regulatory compliance
Following labor laws and regulations is vital to avoid getting in trouble. HCM software can help with this by keeping track of important information about your employees, like how many hours they are working, how much time they have taken off, and what benefits they have. Using HCM software ensures you follow the rules and avoid getting fined or having legal problems.
Tips for choosing the right HCM software
Choosing an HCM vendor can be daunting, especially when many options are available. As a business owner or HR professional, you want to select software that meets your organization's unique needs.
Here are five essential tips when choosing an HCM provider with a user-friendly, feature-rich, integrative, secure, and scalable system.
Usability
Look for HCM software that is user-friendly and easy to navigate. The software should be intuitive and require minimal training for your employees. A user-friendly interface can improve productivity and efficiency by reducing the time and effort needed to complete tasks.
Features and main functions
Think about what your company needs to manage its employees well. Look for HCM providers with software that can do important tasks for human resources like payroll, benefits, tracking attendance, managing job performance, and recruiting new employees automatically.
Integration
Pick HCM software that works smoothly with your existing software and systems. Doing so avoids confusion and makes your work more efficient by making everything work together. It can also save you time and prevent mistakes from happening.
Security
Keeping your employees' information secure is crucial. When choosing HCM software, look for features like data encryption, secure login, and access controls. This way, only authorized people can access and view sensitive information, such as employee performance reviews and payroll details.
Scalability
As your business grows, your HCM needs will change. Choose software that can scale up or down with your business requirements. The software should be flexible and able to handle a growing number of users, employee data, and new features.
Read more: What is ERP?
Comparing the best HCM vendors of 2023
When it comes to choosing the right HCM software, there are many options out there. But how do you know which is best for your organization? This section will act as an HCM software comparison to help you make an informed decision.
1. Impact vs. Workday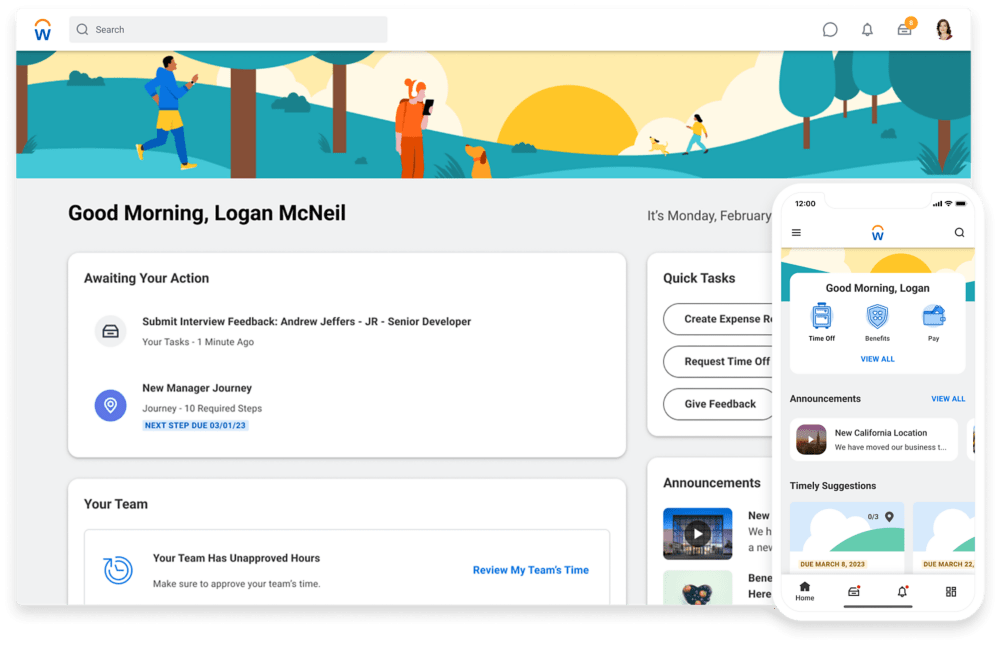 Target market: One of the most significant differences between these two HCM providers is their target market. HCM Impact is designed for small to medium-sized businesses, while Workday towards mid-sized to large enterprises.
Ease of use: Both Impact HCM and Workday have easy-to-use interfaces. Users praise HCM Impact for its simplicity and ease of use, with an intuitive interface that does not require a long time to master. Some users find Workday's mobile application easier than its website.
Customization options: Impact HCM has more customization options than Workday. It easily integrates with other business apps and features like employee management, attendance, leave, salary, allowances, and tax management. Workday has limited options for customized reporting.
Pricing: Impact HCM offers a flexible subscription model with competitive pricing. Workday does not publicly release pricing information and requires users to contact them directly for a quote.
2. Impact vs. Oracle cloud
Features: Impact offers various business features, such as employee management, tax management, attendance, leave, salary, and allowance. Oracle Cloud has all business HR needs, with a consistent look on desktop and mobile devices.
Interface: Impact has a user-friendly interface. Oracle, on the other hand, has an older design. Some users find the HCM provider's software slow and complicated to use.
Pricing: Impact HCM provides flexible pricing and state-of-the-art technology to streamline operations. Oracle HCM's pricing starts at $13/employee/month, with a free trial available.
3. Impact vs. SAP SuccessFactors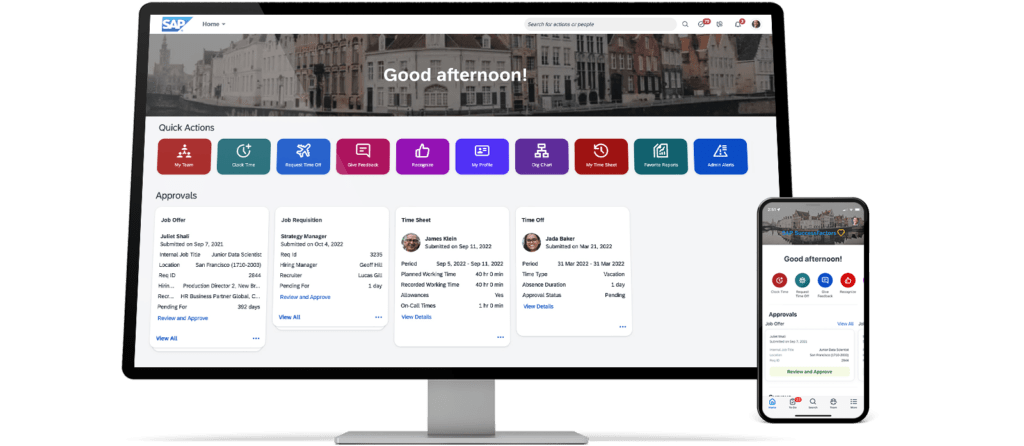 Features: Impact HCM includes employee management, attendance and leave management, salary and allowance management, and tax management features. SuccessFactors features cover business alignment, employee performance, recruitment, and training as part of the SAP product suites.
Target market: HCM Impact suites small to medium-sized businesses. SAP SuccessFactors suites all business sizes.
Customization options: Impact is flexible and can be customized to meet specific business needs. Users can easily add more features as their requirements evolve. Impact utilizes advanced technology to make data usage more efficient and improve productivity. On the other hand, SAP SuccessFactors have limited customization options and outdated modules.
Interface: Impact has an easy-to-use interface that users can quickly grasp. SuccessFactors, on the other hand, has a slow interface that requires additional training to use.
Pricing: Users can adjust Impact's pricing based on their business requirements. SAP SuccessFactors have an annual pricing of $85/user/month for companies with up to 100 employees. It has no free trial available, and its implementation may be more costly than other HCM vendors.
4. Impact vs. Netsuite
Features: These two HCM software vendors offer similar features on their systems. They both manage employees' attendance, salaries, and financial information. Impact HCM is explicitly designed for Indonesian businesses and can handle local tax management automatically.
Ease of use: Impact has a simple interface for easy usability. Netsuite HCM may have an outdated design.
Pricing: Impact HCM is not as expensive as other HCM vendors. You can choose and pay for only the features you need. On the other hand, Netsuite can be costly for small companies and startups. With Netsuite, users pay an annual fee covering the central platform, additional tools, and user count. There is also a one-time implementation fee, and no free trial is available.
5. Impact vs. Epicor HCM
Target market: HCM Impact and Epicor have different target audiences. HCM Impact is made for small to medium-sized businesses, while Epicor is mainly for legal, non-profit, and healthcare industries.
Functionality: Impact uses the latest technology to transfer data smoothly and efficiently. Epicor gives users detailed reports and analytics.
Accessibility: Despite being one of the top HCM vendors, Epicor HCM is bound only to the desktop. The HCM provider does not have a mobile application.
Pricing: Impact HCM allows users to choose their pricing options. Epicor offers something similar where the price is determined based on the user's needs.
6. Impact vs Peoplesoft HCM
Features: Peoplesoft HCM has a wide array of HR features. However, the HCM provider does not provide comprehensive features like Impact HCM. Impact has employee management, attendance management, and tax management features.
Usability: Impact has a user-friendly interface. Peoplesoft HCM may be cumbersome and less intuitive to use. Onboarding users to use Peoplesoft can be challenging for many businesses.
Integration: Impact has integration functionality with other business applications. It is convenient for companies that have diverse needs.
Pricing: Impact HCM provides clear subscription plans that match specific features and benefits. On the other hand, Peoplesoft's pricing relies on individual quotes, meaning customers must ask for personalized quotes to find the exact price.
7. Impact vs. Bamboo HR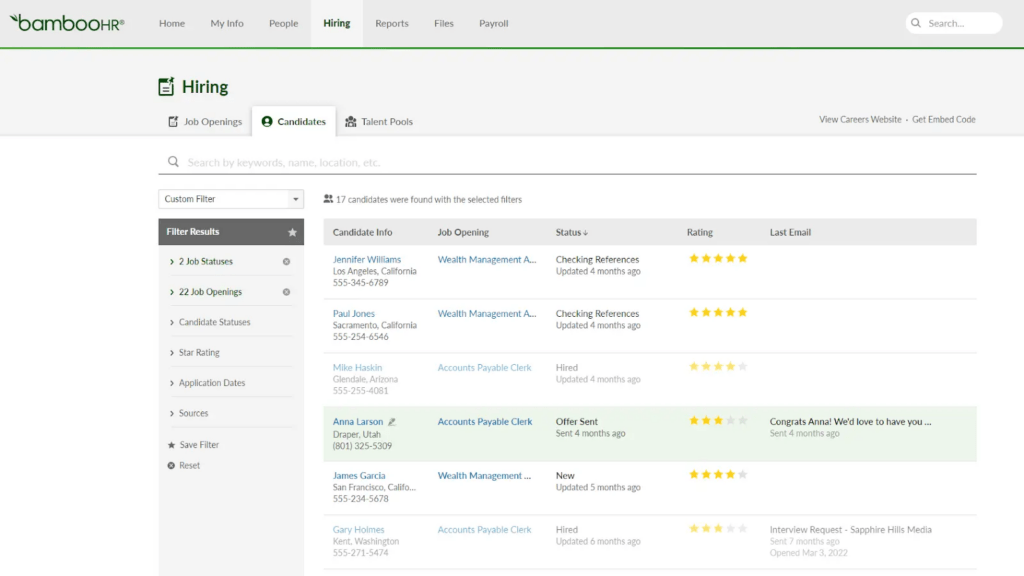 Target market: Impact HCM and Bamboo HR target small to medium-sized businesses.
Features: Impact offers employee management, attendance and leave tracking, salary and allowance handling, tax management, and integration with other business applications. In contrast, BambooHR has the typical HCM features that businesses need. However, their payroll module is still developing.
Customization: BambooHR's "Essentials" package has limited customization. Additionally, their platform is only cloud-based. Companies can not host the software on their servers.
Pricing: Both offer similar pricing plans. Impact provides flexible subscription plans to accommodate the unique needs of a company. The number of employees and the company's specific requirements determine BambooHR's subscription plans.
8. Impact vs. ADP Vantage
Target market: Impact HCM suits small to medium-sized businesses. ADP Vantage, on the other hand, suits larger enterprises with over 1000 employees.
Features: Impact HCM covers employee management, attendance and leave management, salary and allowance management, and tax management. ADP Vantage has tools for HR payroll, workforce management, benefits administration, recruiting, talent management, and employee onboarding.
Ease of use: Impact HCM has a user-friendly interface. It also integrates well with other business applications. In contrast, ADP Vantage has an outdated interface. Users report states that the software has slow support response times with limited attention to specific queries.
Pricing: Impact's pricing is competitive, with customization available for specific business requirements. Vantage's pricing is less transparent; customers may need to contact them directly for a quote.
9. Impact vs. Kronos
Target market: Impact and Kronos suit small to medium-sized businesses.
Features: Impact HCM covers employee management, attendance and leave management, salary and allowance management, and tax management. In contrast, Kronos has tools for managing various worker types, from full-time, part-time, and hourly employees.
Interface: Impact HCM is known to be user-friendly. Using the latest technology, Impact HCM integrates well with other business applications. Kronos does not have a user-friendly interface. Some report the software to have limitations and a complicated initial setup.
Pricing: Impact HCM has a competitive subscription plan for customers. Kronos' pricing starts at $6/user/month with an additional mobile application.
Why Impact HCM is right for you?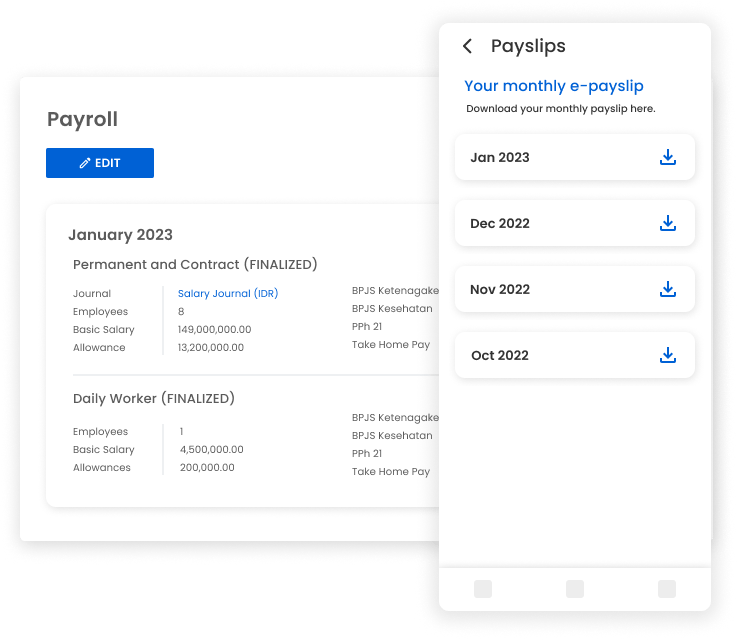 Impact stands out by providing businesses with comprehensive features that effectively address their diverse needs. Impact HCM has you covered in managing employee information, handling attendance and leave, streamlining salary and allowance management, and efficiently managing taxes.
Impact HCM distinct itself with its user-friendly interface, making it easy to adapt to the software without extensive training. It keeps up with the latest technology trends, helping your company optimize data usage and efficiency. With this software, you can effectively recruit the right people and provide better employee evaluations.
The software seamlessly integrates with other business applications, allowing smooth data flow and collaboration across different systems. This level of integration eliminates the need for manual data entry. It reduces the chances of errors, saving you valuable time and resources.
HCM Impact offers competitive pricing, which gives you a good deal for the software's features and benefits. The subscription plans are flexible and cost-effective for businesses of any size. You can customize the pricing options to match your company's needs and budget.
Read more: ERP Software Comparison 2023 (Price, Features, & Benefits)
Conclusion
As technology integration in the workplace continues to increase, it becomes crucial for organizations to adopt the right HCM software to optimize their HR processes. However, it is important to regularly reassess and update the chosen HCM software to stay competitive in the ever-changing business environment.
After careful analysis and evaluation of HCM software comparison, Impact HCM has emerged as the top choice for organizations seeking comprehensive and efficient human capital management solutions. With its extensive features and user-friendly interface, Impact HCM effectively addresses the diverse needs of businesses.
To truly experience the benefits of Impact HCM firsthand, we highly encourage you to contact their team today. Take the next step towards transforming your HR processes and empowering your organization with the best HCM software in Indonesia
Questions? Get in touch with us
Ask about digital transformation, ERP, or anything else.
Our consultants are ready to answer any question you have.