8 Best Wholesale Distribution Software Recommendations 2023
May 15, 2023
The rapid development of business and technology today has pushed business owners to adapt to various new technologies that facilitate business processes, one of which is wholesale distribution software.
This software assists you as a wholesale store owner in easily managing transactions and various activities that are usually done manually. Currently, there are many wholesale distribution software providers in Indonesia.
The abundance of these providers often confuses wholesale store owners in choosing the best one for their business. Therefore, this article will guide you to learn more about wholesale distribution software, starting from its benefits to the top 8 recommendations.
What is wholesale distribution software?
wholesale distribution software is a solution in wholesale business processes that includes delivery, financial management, manufacturing, finance, and CRM, integrating them into a single software.
This enables workflow automation and faster operations. For example, you may want to set up automatic ordering from a specific vendor when the inventory level reaches a certain threshold. Centralized data from the entire organization also allows materials to be automatically ordered, reducing the manual effort required. With this automation, employees can focus on other more productive tasks.
Read more: What is a Wholesaler? Definition, Benefits, and 4 Challenges
Benefits of wholesale distribution software
The presence of wholesale distribution software is undoubtedly beneficial for business owners. All aspects related to store activities can be automated and efficient, resulting in increased profits.
In addition, wholesale distribution software has several other benefits, including:
Facilitates inventory management: Wholesale stores often struggle with inventory tracking, especially if the store has an online channel. Therefore, using wholesale software is a suitable choice as it includes features to automate recording of incoming and outgoing stock, as well as enabling tracking of items during the shipping process.
Streamlines product promotion: wholesale distribution software helps gather detailed information about customers, such as their preferred products. With this data, you can easily provide recommendations to customers and prepare better marketing strategies.
Automates report generation: Sales reports are crucial for any business as they provide valuable insights into business data. With wholesale distribution software, you can automatically generate these reports and access them through a centralized dashboard, without the need to visit the store directly.
Overall, wholesale distribution software enhances the efficiency and productivity of business operations, enabling business owners to focus on growth and providing better service to customers.
8 best wholesale distribution software
Currently, there are many options for wholesale distribution software that you can choose from. To help you choose the right wholesale distribution software, here are 8 recommended wholesale distribution software options:
1. Impact Wholesale Distribution
Impact is an all-in-one platform used by businesses to optimize processes. Impact Wholesale Distribution is a solution for streamlining wholesale store management. This software allows you to track inventory movement, view the profitability of each product, and manage customer satisfaction.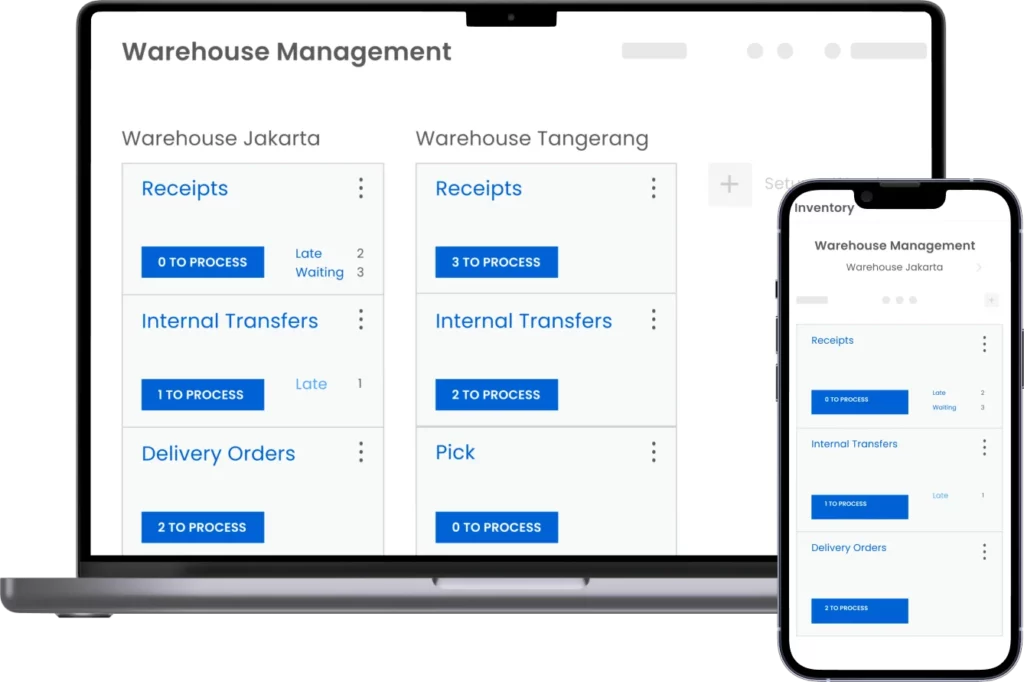 It is also integrated with Tokopedia and Shopee, making the demand fulfillment process seamless. Additionally, it offers various helpful features and integration with other modules such as accounting, CRM, and inventory management.
Features:
Multichannel order management: Purchasing and order fulfillment can be done through a single dashboard integrated with Tokopedia and Shopee marketplaces.
On-time delivery: Transparent ordering and shipping processes enable easy tracking and ensure timely delivery.
Warehouse management: Easily track inventory movement using barcodes and simplify inventory ordering. You can also estimate the amount of inventory needed for operations.
Real-time reports: Get real-time reports on your entire business process to improve decision-making quality and enhance sales team performance.
Pricing:
Basic: Rp4 million/month
Standard: Rp6 million/month
2. QuickBooks Commerce
QuickBooks Commerce is a wholesale distribution erp software suitable for small and medium-sized wholesale and e-commerce companies in various industries.
QuickBooks Commerce combines manufacturing workflows, sales, order management, CRM, and distribution. It also automates order routing and can be integrated with EDI software through the B2B E-Commerce portal.
Features:
Batch and expiry tracking: Allows tracking of product expiration and order fulfillment. The system includes a Stocktake tool for adjusting and transferring stock.
Order fulfillment: QuickBooks Commerce offers fast order fulfillment through item action workflows. It can integrate with ShipStation and other third-party add-ons to provide shipping and return specifications to 3PL.
Customer relationship management: The CRM tool in QuickBooks Commerce can automate discount processes by collecting customer information such as mailing addresses, billing details, average purchase types, and purchase sizes.
Multi-channel inventory management: You can manage orders from all sales channels in one centralized location using this system.
Pricing:
Pricing varies based on the selected package, which includes Founder, Lite, Small Business, and Business, starting at $39/month/user.
3. NetSuite Wholesale Distribution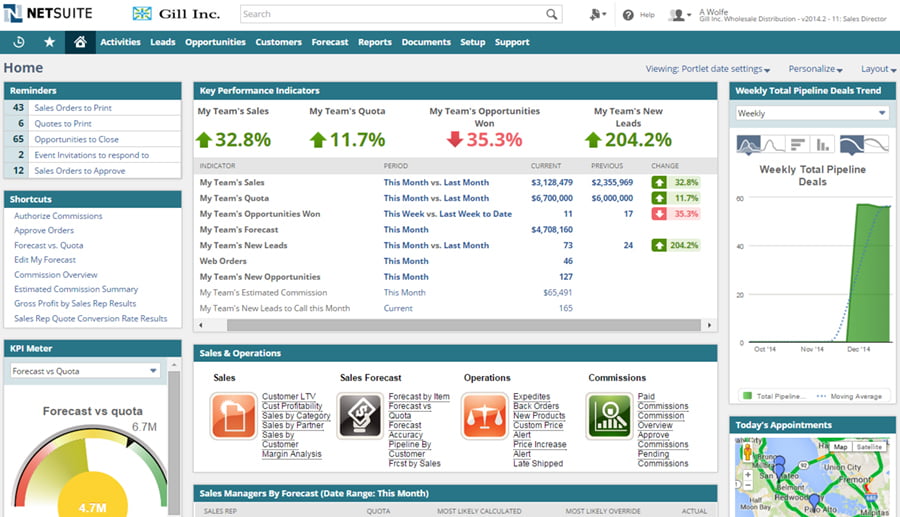 NetSuite Wholesale Distribution is wholesale distribution software that centralizes various operations to automate and streamline essential business processes. Businesses of different sizes and industries, such as energy, finance, advertising, hospitality, manufacturing, retail, logistics, and transportation, use this system.
Features:
Order management: NetSuite controls the process from sales quote entry to order fulfillment.
Workflow: The program has prebuilt omnichannel engagement functionality and includes configured financial management applications with marketing support.
Warehouse management: Multi-warehouse support is available through this tool. It can optimize, store, allocate, and configure inventory through features like barcode labeling, warehouse activity dashboards, expiry tracking, and shelf-life tracking.
Customization and visibility: Organizations can view customer-related information, products, orders, and inventory in one centralized place with NetSuite.
Pricing:
NetSuite Mid-market edition: $2,499/month
NetSuite Inventory Management Cloud Services: $599/month
NetSuite Demand Planning Cloud Services: $599/month
NetSuite WMS Cloud Service: $999/month
NetSuite Full Access Users: $99/month/user
4. SYSPRO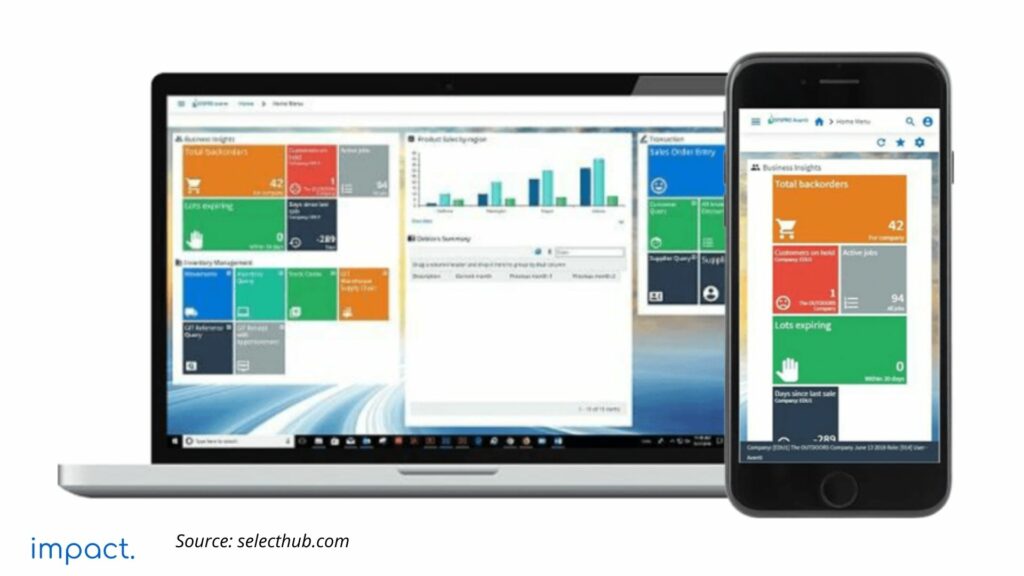 SYSPRO ERP is wholesale distribution software solutions suitable for large companies with distribution or manufacturing operations. The solution is modular and can be customized to meet the organization's needs.
Useful modules for wholesale stores include invoice and warehouse management. The system also includes secure electronic data interchange, paperless invoice delivery, and 24/7 automatic ordering.
Features:
Lot Traceability and Serial Tracking: This tool allows you to trace products from their origin to the final destination and analyze sources of defects.
Order Management: SYSPRO ERP facilitates collaboration with suppliers and customers for the entire ordering and delivery process.
Lean Inventory Management: SYSPRO ERP automatically monitors KPIs and provides a balance between inventory investment and service levels.
Cost Tracking: This feature identifies and tracks cost elements of products, including backorders and order policies.
Product Information: SYSPRO ERP offers an integrated environment for managing large inventories and assists with warehouse replenishment and order fulfillment.
Pricing:
The cost of SYSPRO ERP starts at $199 per user per month. The more additional modules, the higher the cost will be.
5. Acumatica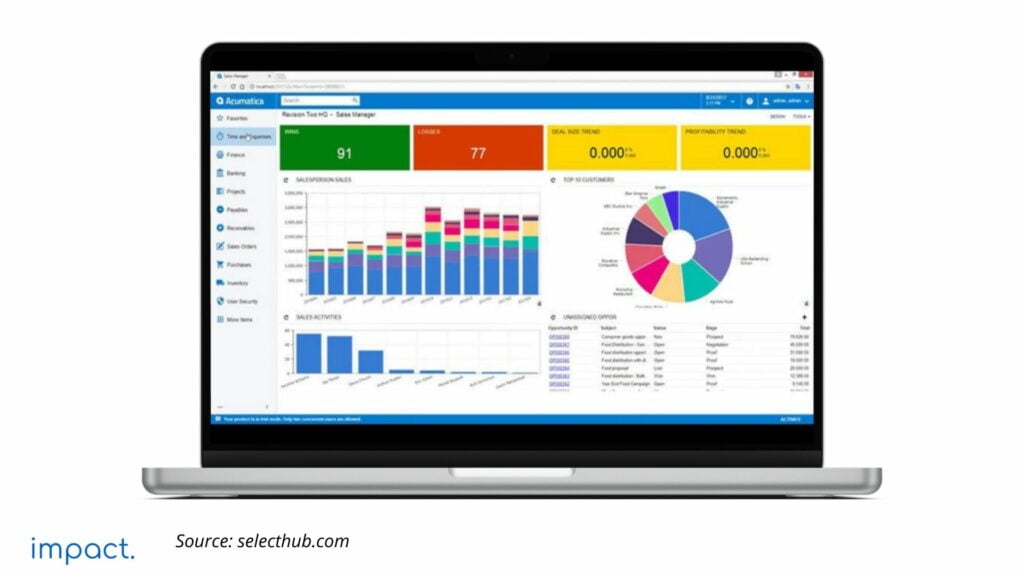 Acumatica is a wholesale retail software that centralizes essential business functions such as finance, distribution, field service, manufacturing, and CRM. The program is available for both on-site and cloud-based implementations, making it a versatile choice for various companies, especially small and medium-sized ones. Industries served include manufacturing, technology, software, services, e-commerce, retail, and distribution. Personalized expert support and training opportunities are also available for customers.
Features:
Requisition Management: Helps organize complex distribution by obtaining quotes, gathering requests, managing purchases, and fulfilling orders.
Inventory Management: Allows users to view real-time inventory information, supports multiple warehouses, and includes expiration date tracking.
Purchase and Sales Order Management: Provides online sourcing and manages purchase orders from multiple locations, coordinates sales processes, and provides real-time customer service data.
Acumatica Accounting Suite: Integrated with distribution management, customer management, manufacturing, project management, and field service products.
Pricing:
Pricing is not displayed on the website. You can find out the pricing by entering your business requirements and scale on the Acumatica website.
6. Square Register
Square Register is a wholesale distribution application that facilitates payment transactions through Android and iOS devices anytime, anywhere. In addition, Square Register offers a variety of features to meet your business needs.
Features:
Real-time sales
Easy management of inventory and convenient transaction processes
Detailed business analysis
Secure digital receipt storage
Provides comprehensive sales reports
Pricing:
$39/month or $799/year
7. Jubelio
Jubelio is wholesale distribution software that can streamline wholesale store operations by connecting to all your sales channels. Jubelio POS allows you to manage all stores through a single dashboard equipped with various features.
Features:
Promotion management
Inventory management
Report management
Outlet management that facilitates branch store management
Pricing:
Basic: Rp350/order with a minimum purchase of 5,000 orders
Professional: Rp250/order with a minimum purchase of 60,000 orders
Enterprise: Rp150/order with a minimum purchase of 300,000 orders
Read more: What is a supplier? Their role & 6 criteria to look out for
8. Oktopus Solution
Oktopus Solution is another wholesale software that you can consider. This software offers a variety of features to enhance business efficiency, including fast payment transactions and easy inventory management. The store application can be used for various types of stores such as computer stores, electronics stores, pharmacies, and more.
Features:
Direct access to sales reports
Product display features that facilitate showcasing products in your store
Streamlines order tracking and delivery processes
Membership and reward programs for customers
Pricing:
Not mentioned on the website.
Conclusion
These are just a few recommendations for the best wholesale distribution software available. It's important to assess your specific business needs and evaluate the features, pricing, and compatibility of each software before making a decision.
You can choose the one that suits your needs. You can also try the free demo of the best wholesale distribution software, Impact, to find out the benefits you will gain.
Questions? Get in touch with us
Ask about digital transformation, ERP, or anything else.
Our consultants are ready to answer any question you have.