7 Tips for Selecting the Ideal WMS
August 16, 2023
The warehouse is significant in manufacturing and supply chains because it stores everything from raw materials to finished products. You must have up-to-date information about the warehouse's conditions to manage it well.
Today, companies need ways to exchange data quickly and safely for their warehousing needs because customers want modern solutions. That's where a Warehouse Management System (WMS) can help. It automates warehouse tasks and makes them easier to see.
Now, let's talk about a Warehouse Management System, its advantages, and how to pick the right one for your business.
What is WMS?
The Warehouse Management System (WMS) is software that helps organizations control and manage their warehouses. It takes care of tasks like receiving goods and sending them out. WMS improves visibility and assists with managing the supply chain from distribution centers to stores.
The main goal of the WMS is to make sure that goods and materials move through the warehouse efficiently and at a low cost. It handles different jobs like keeping track of inventory, picking items, receiving goods, and storing them.
WMS can be used independently or as part of an Enterprise Resource Planning (ERP) system. It supports the latest warehouse technologies like automation, RFID, and voice recognition.
Currently, companies can rent the WMS monthly using Software as a Service (SaaS) and Cloud computing. This system makes it more affordable because you pay for what you use, share resources, and use only the features you need.
Read more: Understanding Warehouses: Definition and its Importance
Benefits of WMS for companies
Incorporating a Warehouse Management System (WMS) into your operations brings many advantages. It not only makes your business more competitive but also helps you meet the increasing demands of customers. A good WMS must work in real-time, manage all warehouse processes, and communicate with other company systems.
A reliable WMS should process data quickly and coordinate movements within the warehouse. It helps companies generate reports and handle large amounts of transactions, like those found in e-commerce.
Here are some of the potential benefits of using a WMS for your company:
Better visibility and tracking of stock.
Improved accuracy of stock in warehouses.
Automatic replenishment of inventory.
Reduction in product returns.
Accurate reporting.
Faster response times.
Access to warehouse data remotely.
Enhanced customer service.
Trade isn't just about goods; it's about information. Goods stay in warehouses until information tells us what to do with them. So, having good knowledge of the warehouse is crucial.
The diagram below, known as the Tompkins diagram, shows how having good information can help increase sales and lower costs.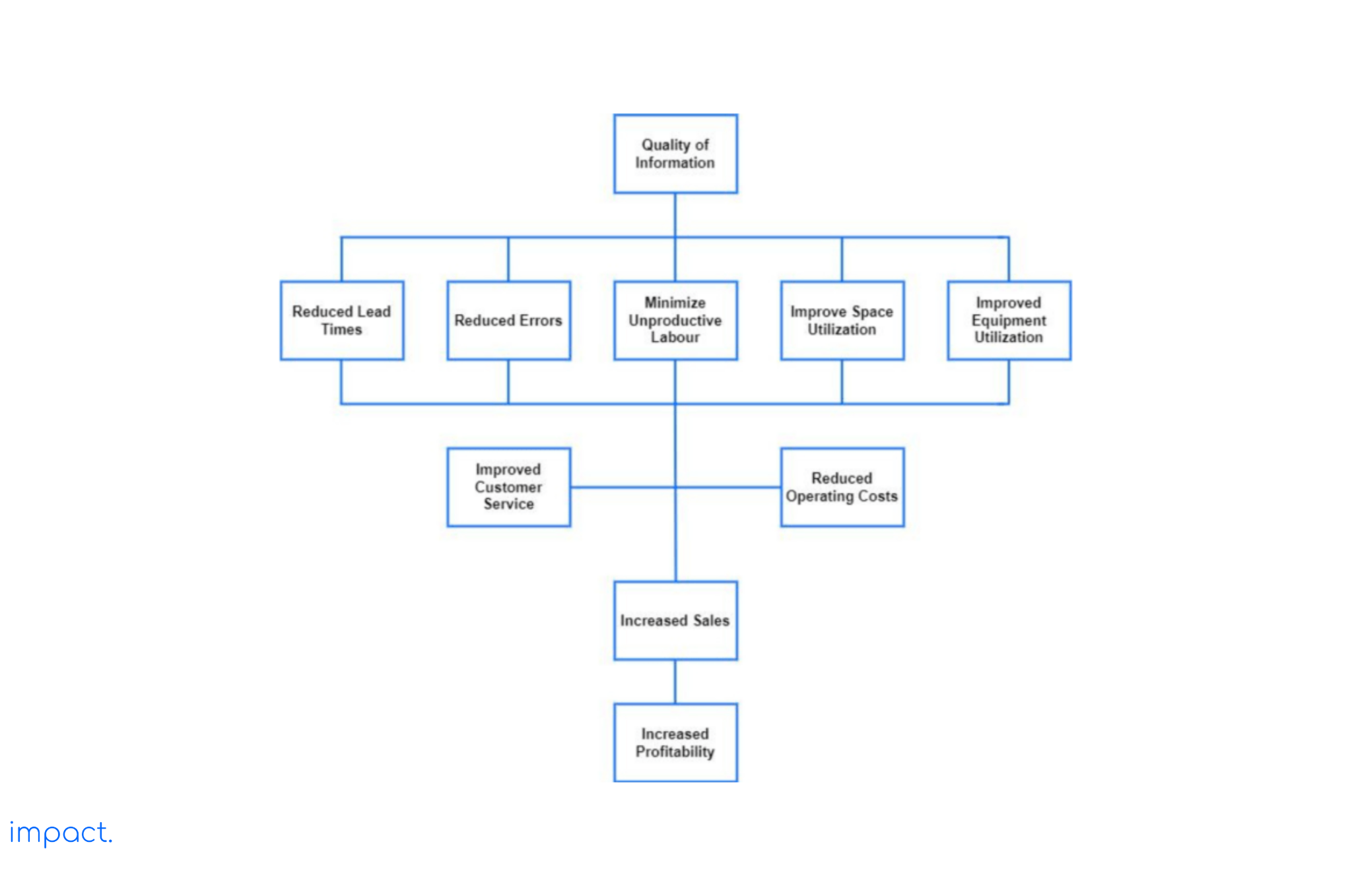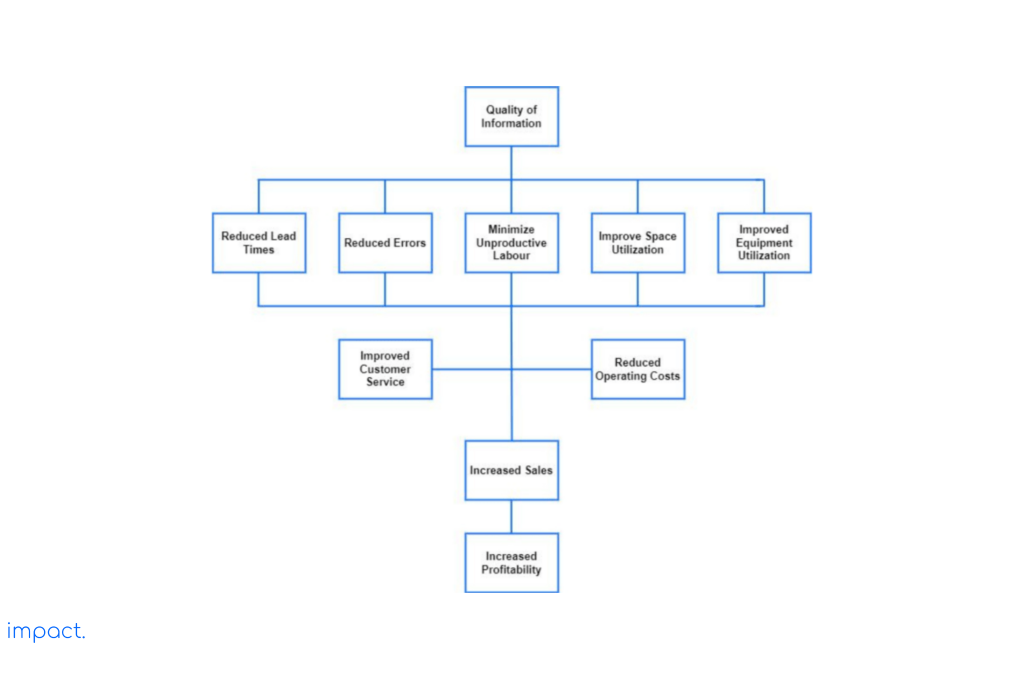 7 steps to choose the right WMS
When picking the right WMS for your company, first understand your company's needs and main business requirements for the future.
Know your company's strategy and ensure the chosen solution aligns with your business goals. Calculate the Return on Investment (ROI) for the WMS purchase.
To make sure you choose the right system, follow some helpful guidelines from the Business Application Software Developers Association (BASDA) (2009) and Sage Accpac (2005).
Here are seven steps that you must fulfill to get the most suitable WMS for you:
1. Form a project team
Gather a group of people who are good at logical thinking. This team will figure out what the company needs from a Warehouse Management System (WMS) and what features it should have. The unit can include people from finance, sales, production (if there are any), IT, and warehouse departments.
Once you form the team, choose a leader for the project and decide on the roles, responsibilities, and how much each person will be involved in making decisions and setting the timeline for this process.
2. Define, record, evaluate, and improve existing processes
The next step is to gather and compile as much information as possible about the company's current processes and procedures. After completing that task, the team must actively review each method and determine its necessity.
Don't automate processes that don't work well. Involve the project team and warehouse staff to determine which methods they find frustrating, wasteful, or inefficient.
You should understand which processes to improve with a Warehouse Management System (WMS). Understand how warehouse staff communicates internally with other departments and externally with customers, suppliers, and transportation companies.
3. Create a main functions list
The project team must individually identify and prioritize the essential functions needed for the system. All team members must collaborate and create a list of basic requirements that we agree upon. We will include these requirements in a Request For Information (RFI).
This list should include a crucial function considered a 'must-have.' It will help swiftly eliminate systems that fail to meet the fundamental requirements.
4. Incorporate future growth plans into the specifications
To make informed decisions about your WMS, you must think about what might happen in the future. It's not easy to predict the future, but there are some things you should consider.
For example, do you plan to have more SKUs in the next few years? Will your upcoming surgeries involve "kitting" procedures? Which systems will you need to work together with? These things will help you decide what's best for your WMS.
5. List the benefits of WMS for your company
Having the right Warehouse Management System (WMS) can help you make the most of your workforce, space, and equipment while improving accuracy. It is crucial to compute and incorporate these advantages in the ROI report to show the worth of your investment.
6. Engaging multiple vendors & visiting reference sites
In Indonesia, many companies provide WMS (Warehouse Management System) services. Each company has its own differences and unique features. One of these companies is Impact, which also offers consultants and comparative data for different WMS options.
Before starting a bidding process, talking to several vendors and visiting their operational locations is a good idea. Direct discussions with users will give you a better understanding of the system's abilities. They might even change your thoughts about it.
7. Generate ROI reports
Before you decide on an offer, involve your financial partner in calculating the potential return on investment. The ROI calculation will help determine how much money you can make from the opportunity.
Also, consider the following things, as suggested by Stephen Cross (2010) from ATMS:
Stock Accuracy: Think about how the Warehouse Management System (WMS) can help you track your inventory better. It can reduce mistakes, give you real-time information, and ensure you always know what you have in stock.
Productivity and Cost Savings: Look at how the WMS can help you work more efficiently and save money. It can help you use your employees, equipment, and space in the best way possible.
Traceability: Consider whether you need better ways to track your products. The WMS might offer improved methods for keeping an eye on your inventory.
Customer and Client Service: Consider how the WMS can help you better serve your customers and clients. It can improve your overall control of the warehouse and make sure your pick-up and delivery accuracy is top-notch.
You can divide WMS costs into the following different parts:
License: You need a software license to run the system. The cost of the permit depends on whether you're using it on a PC or a radio data terminal.
Professional services: These fees cover project management, training, and support during the system's implementation.
Development costs: If the standard package doesn't meet your requirements, you must pay for additional software development, such as creating interfaces with other systems.
Support fee: This fee relies on the license and development costs. It's crucial to thoroughly review the prices as they vary significantly among different suppliers regarding service coverage and charges.
Hardware and infrastructure costs: These include the expenses for the necessary equipment and systems to support the WMS.
Kindly request suppliers to indicate whether their prices are fixed or can vary. Be careful about additional costs that might not be obvious, such as travel expenses, time spent on travel, and project management time. Make a spreadsheet to summarize all the costs, starting with the initial payments and including fees for each year from year 1 to year 5, along with the total accumulated amount.
Remember that specific systems seem attractive at first glance. Still, calculating the costs over a more extended period could be significantly more expensive.
Ideal WMS components
To achieve effectiveness, a Warehouse Management System (WMS) must include the following components, as stated by Ruriani in 2003:
Integration with other systems
The system must work well with accounting software, ERP and MRP systems, and transportation management systems. It should also be able to connect with tasks in the back office, such as order entry, inventory control, purchase orders, and invoicing.
Additionally, the system must be compatible with automation systems, conveyors, material handling equipment (MHE), and modern picking technologies like voice commands, wearable scanners, RFID, and pick-and-put-to-light systems. We should make sure that these connections won't cost too much.
Modularity & scalability
A modular system is an excellent choice because you only pay for the needed features. It also means you can get up and running faster with training and implementation. Plus, you have the option to add more features later.
On the other hand, buying a system with more features than you need will only cost you more for training. It will waste your time and, as a result, give you less value for your investment. So, avoiding unnecessary features and focusing on your needs is best.
Accessibility
Given the current staff mobility, the system must enable remote access through the web and ensure secure password protection. The system should prioritize critical functionalities such as generating performance reports, modeling service costs, and conducting standard inventory queries.
Easy to use
Opt for a WMS (Warehouse Management System) that is easy to use. Look for a system with a simple point-and-click interface that is easy to understand. Your staff can work more efficiently and accept the system more readily. Ensure the technology operates in real-time and provides instant updates on inventory.
Meets special needs
If you're involved in storing customs and excise goods, ensure that the relevant authorities approve or can approve the system you use. Additionally, ensure the system can perform essential tasks for your business, such as tracking lot and serial numbers (if needed), managing expiration dates, identifying dangerous goods, and calculating royalties.
Supports warehousing best practices
According to BASDA, to achieve the best practices in warehousing, the system should be capable of optimizing movement within the warehouse. It involves effectively combining pallet placement and picking, known as task interleaving.
Ideally, the system should track the speed of goods in the warehouse and arrange them accordingly (slotting). It should also provide data in a format that transfers easily to a program with a slotting function.
Reporting capabilities
Ensure the system has a complete set of reports and can report any failures.
Tips for choosing a WMS vendor
The success of your project, like many other extensive service offerings such as outsourcing, depends on how well you get along with the people at the software company.
That's why it's essential to meet the salespeople and others who handle the day-to-day operations and support. When you're choosing a partner or vendor, here are some critical things to look for:
Experienced staff: Find a provider with knowledgeable employees who understand your needs.
Company history and reliability: Check how long they've been in business and if they're trustworthy.
Excellent software focus: Choose a vendor prioritizing high-quality software, not just features.
All-in-one services: Ensure they can handle installation, training, maintenance, and support.
Comfortable collaboration: Pick a vendor you feel comfortable working with.
Implementation support: Make sure they can assist you during the setup process.
Consider time zone differences: Find a partner available during operating hours to avoid problems.
Hardware partnerships: Look for vendors with established relationships with hardware providers.
WMS implementation
Before you make a final decision, ask the WMS provider to share a detailed plan for putting the system in place. This plan should include a timeline for installation and the resources needed.
Here are some important rules to follow when implementing a new system:
Talk to the people in your business to determine the right time to introduce the new system. Make sure that all key individuals are available.
Work with your vendor and project team to develop a realistic implementation plan.
Ensure your key staff members are present and accessible during the implementation phase.
Set a deadline that you are confident you can meet.
Choose someone from your staff to be in charge of the implementation process.
Create a training schedule for all staff members and include it in their orientation program.
Avoid making any changes to the system until it has been installed and works as it should.
Regularly review the timeline and take action if you notice any mistakes.
Summary
Having real-time data is crucial for effective warehouse management. It helps increase speed, productivity, and accuracy. You can use a Warehouse Management System (WMS) to achieve this.
Before implementing a WMS, there are a few steps you need to consider. First, form a project team and choose a vendor. Then, select the features that best suit your needs. Choosing the right WMS can improve your company's efficiency and productivity.
Another way to streamline your company's processes is using an ERP system. ERP Impact offers a WMS module that reduces waste and simplifies picking. In addition to the WMS module, ERP includes other helpful modules like inventory, accounting, sales, and HCM.
References
Richard G. 2011. Warehouse Management. Great Britain: Kogan Page Limited.
Questions? Get in touch with us
Ask about digital transformation, ERP, or anything else.
Our consultants are ready to answer any question you have.