15 Best Accounting Software to Boost Your Business Efficiency
April 28, 2023
Introduction
Accounting software is a computer program designed to help manage and process the financial data of a company. The existence of accounting software helps companies automate various administrative and accounting tasks that are usually time-consuming and require a lot of human resources.
However, with the many choices of accounting software available, companies often have difficulty choosing the right software for their needs. Therefore, this article will discuss further the definition, benefits, and recommendations for accounting software options.
What is accounting software?
Accounting software is an application that manages and records the daily financial transactions of an organization, including fixed asset management, cost management, revenue management, accounts receivable, accounts payable, reporting, and analytics.
A complete accounting system tracks an organization's assets, liabilities, revenue, and expenses. These transactions are then entered into the general ledger in real-time, providing direct access to the CFO, treasurer, and controller to view accurate and up-to-date financial data. In addition, accounting software also provides owners with visibility into their operational performance.
The systematic recording of financial transactions enables the creation of quarterly and annual financial reports, including balance sheets, income statements, cash flow statements, and shareholder equity statements. Accounting software is an important component of an enterprise resource planning (ERP) system.
ERP systems integrate important business functions, such as accounting, financial planning and analysis (FP&A), supply chain management, inventory management, and procurement. These applications are integrated with the same user interface and data model to manage various aspects of the business.
Benefits of accounting software
Accounting software is essential to helping companies run their day-to-day business processes. It allows business leaders to constantly monitor the finances of their company.
Cash management
The cash management capability in accounting software provides an accurate cash position by automatically balancing cash transactions with bank statements. This ability also allows companies to make timely investment, loan, and other cash decisions with automatic cash forecasts based on receivables, payables, payroll subledgers, and external transactions.
Asset management
Modern accounting solutions help you manage the overall asset finance cycle, including acquisition, capitalization, depreciation, and disposal. This comprehensive visibility in accounting software helps businesses provide accurate financial reports related to appreciation and depreciation.
Reporting and analysis
A complete accounting system not only records financial transactions but also includes reporting and analytics capabilities. Built-in dashboards help financial leaders understand the financial health of their organization and drill down for more detailed information.
For example, dashboards can measure critical financial KPIs in real-time, including the current ratio, quick ratio, debt-to-equity ratio, net working capital, and inventory turnover.
Risk management
The best defense an organization has against fraud and unauthorized user access is accounting software with integrated security controls, risk management, and an internal audit. These internal controls and separation of duties (SoD) help you stay compliant with Sarbanes-Oxley (SOX) regulations and provide a secure and reliable data source for your company.
Revenue management
The integrated revenue management capability in accounting software automates the process by using analytics to maximize revenue and profitability.
15 Best Accounting Software Recommendations in Indonesia
In Indonesia, there are many accounting software options that can be chosen. However, finding the right software is not easy because there are many factors to consider, such as budget, features, and others.
Here are 15 recommendations for the best accounting software examples in Indonesia that can help streamline your business accounting processes:
1. Impact Accounting
Impact Accounting is one of the best accounting software programs in Indonesia, produced by PT Chub Pamadana International. This accounting software has various features that can improve the accuracy of financial data, such as:
Automation of business processes from sales journaling, purchasing, inventory, payroll, and bank reconciliation
Easy and automatic budgeting, taxes, and eFaktur (PPh 21, 22, 23, 25, PPN, etc.)
Real-time financial reporting
In addition to processing various types of financial reports, another advantage of Impact Accounting that can be obtained comprehensively is by subscribing to ERP. You can also request to add modules starting from 250K.
2. NetSuite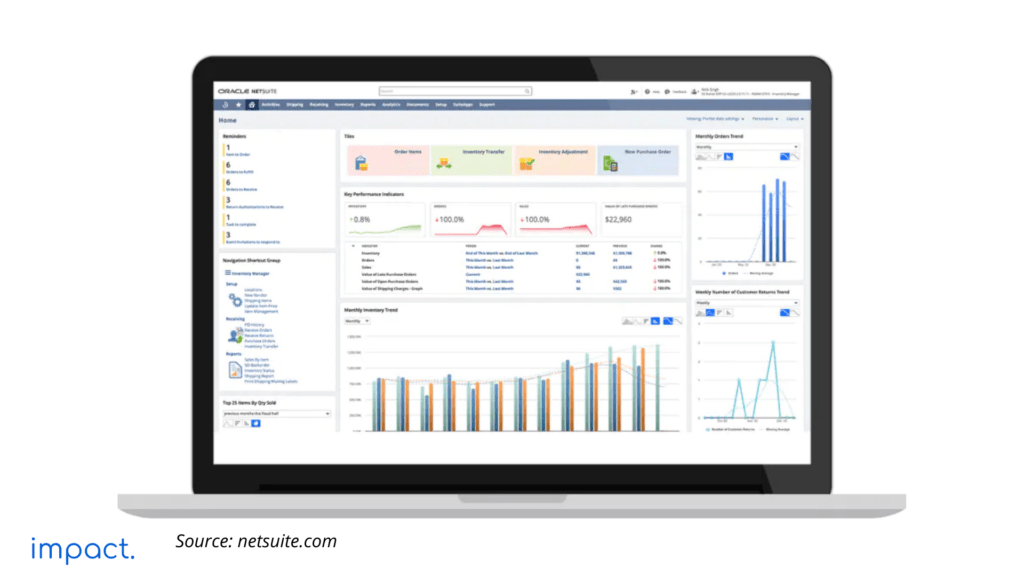 NetSuite accounting software, developed by Oracle, helps simplify the accounting process for companies. Various features are provided, such as:
Recording transactions
Accounts payable and receivable management
Tax collection
Book closing
Accurate and timely financial reporting
General ledger
Cash management
Revenue and expenditure management and tax processing
All of these features allow users to gain greater control over their financial assets. NetSuite has a different advantage from other accounting software: a relatively fast implementation time of only 2–6 months for companies. Because the cloud version of the software is ready to use, you only need to prepare data to be entered into the system.
NetSuite also has good security and control features to protect company financial data from unauthorized access. The price for subscribing to this accounting software is as follows:
Standard costs Rp15,000,000 per month or Rp180,000,000 per year.
Additional users cost around Rp1,500,000 per month or Rp18,000,000 per year per user.
Implementation costs Rp3,000,000 to Rp6,000,000 per working day (minimum 90 working days).
3. Mekari Jurnal
The next accounting software from Indonesia is Mekari Jurnal. This accounting software is cloud-based, so it can be accessed anytime, anywhere. You can monitor transaction developments in real-time.
In addition, Jurnal offers features that almost cover all accounting needs, such as:
Business and financial reporting
Accounting processes
Cash and transaction management and monitoring
Invoice system
Product and inventory management
Costs, budgets, and taxation
Mekari Jurnal is available in three package options, namely:
Pro: Rp449,000/month
Enterprise: Rp809,000/month
Enterprise+: Rp1,169,000/month
Prices are subject to change and are paid annually. Nevertheless, you can still try this accounting software for free for 7 days.
Read more: The 15 Must-Have Payroll Software Options in 2023
4. Kashoo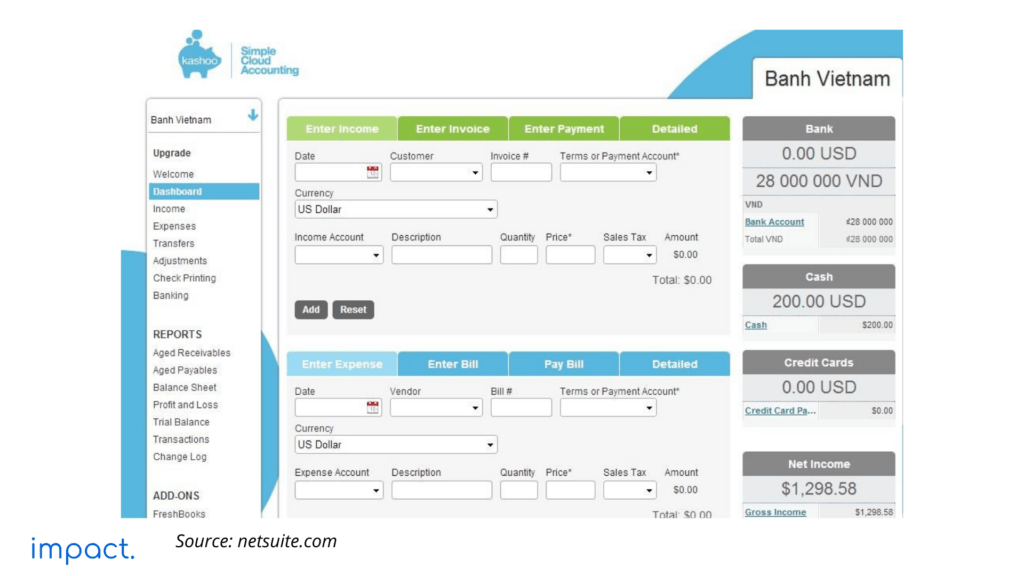 Kashoo is accounting software suitable for those of you who are just starting a business. Although not as famous as other accounting software, Kashoo has attractive features, such as an easy-to-use and user-friendly system.
Kashoo also has a mobile version that can be used anywhere for invoicing, taxes, and payroll. There are two application packages that can be selected, namely:
Trulysmall accounting: $216/year
Kashoo: $324/year
Interestingly, Kashoo also offers a free version of accounting software for 14 days with certain features. So, you can try it first before deciding to use it.
5. Sage Accounting
Sage Accounting is a software program that allows small business owners to track their income and expenses in various currencies, as well as track inventory and manage invoices. This accounting software is suitable for SMEs and freelancers.
One of the advantages of Sage accounting is that it can manage the accounting, human resources, business, payment, and banking processes of a company. Some interesting features of Sage accounting software are:
Payments and business receivers: simplify workflows and get paid faster.
Invoicing: Automate complex sales and billing processes into simple ones.
Financial management: financial management, real-time monitoring of multiple accounts
Ledger: Connect many entities, multiple currencies, and locations in minutes.
Order management: Automate and accelerate the cash-to-loan cycle.
Purchasing: Through perfectly structured transactions, you get speed, accuracy, and data transparency at all times.
According to Forbes Advisor's review, there are specific advantages you can get from choosing Sage accounting, including:
Affordable monthly costs
Multi-currency support
Seamless integration with third-party applications
Full-featured mobile applications can be downloaded from the Google Play Store or the App Store.
Sage Accounting operates two monthly subscription packages and allows you to cancel at any time. You can also upgrade your account and enjoy a 30-day free trial.
Sage Accounting Start: Supports one user at a cost of $10 per month. It includes features such as invoice creation and tracking, automatic bank reconciliation, online card payment, and financial reporting, which you can access through the web and mobile applications.
Sage Accounting: Supports multiple users and costs $25 per month. This package offers all the features. Starting with accounting and tracking bills, inventory management, quotation creation, cash flow forecasting, and invoice management. You can also take and send receipts for free for the first in three months.
6. Zoho Accounting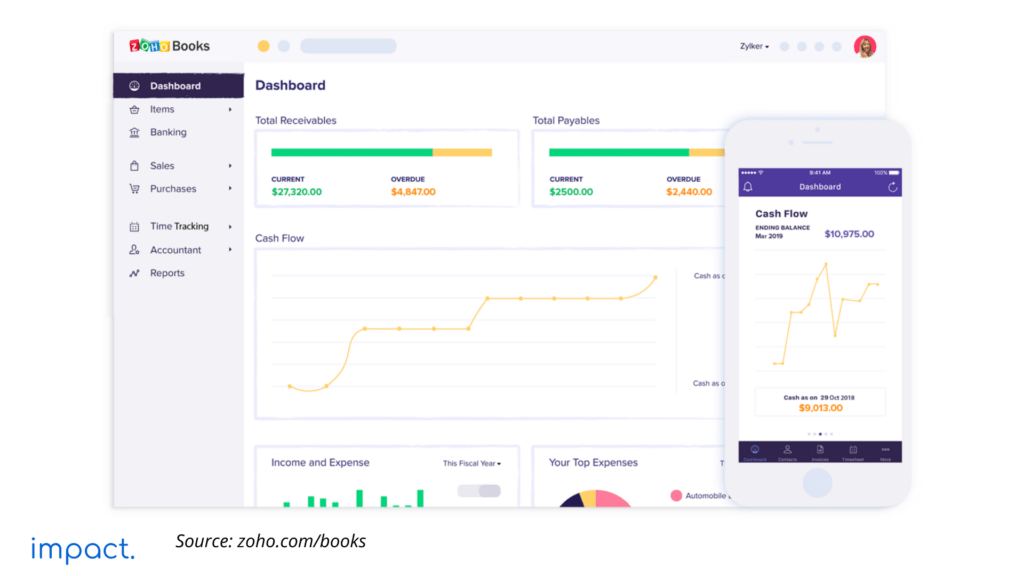 Business people and managers are generally familiar with Zoho, especially in terms of CRM solutions. Nevertheless, Zoho does not only have features for CRM but also for processing company accounting.
Zoho Accounting is a cloud-based accounting software that is easy to use with an invoicing system, inventory management, and project management. Zoho offers a competitive free package and various features to make your processes easier and more efficient.
Zoho is a great option if you are a small or medium-sized business (SME) looking for an alternative to larger, more expensive software. Some of the main features in Zoho accounting software related to the accounting process include:
Financial income and expense management
Inventory
Banking
Project management
Sales
Tax
With Zoho, you can send customized invoices and connect to payment gateways so that customers can pay for your products and services online. You can also add one or several bank accounts to important transactions and group them automatically for quick and easy reconciliation.
The dashboard will give you clear information about the highest expenses, total receivables and payables, and sales. Zoho offers a free package and five subscription options, ranging from $15 per month to $240 per month. Whatever package you choose, you can manage your accounting needs while on the go with the Zoho app, available on the App Store or Google Play Store.
7. Wave
Wave is a financial program designed for small and medium-sized businesses (SMBs) that offers an easy-to-use system. Initially launched, Accounting by Wave was an accounting software that used a double-entry accounting system.
In its service, Wave offers features such as direct bank data import, invoice creation and expense tracking, a customizable chart of accounts, and journal transaction recording. Some of the key features of Wave's software application that support accounting processes include invoicing, payment, accounting, banking, payroll, and others.
Additionally, Accounting by Wave also has advantages such as being able to integrate with several other systems, such as expense tracking software Shoeboxed and the Etsy site. Wave can be used 100% free for those residing in the US. There are no trials, subscriptions, or hidden fees.
For those of you who live outside the US, you can use this accounting software by subscribing to an optional paid package through Wave Advisors. If you're interested in using payroll software, you can start a 30-day free trial by signing up for Wave.
8. FreshBooks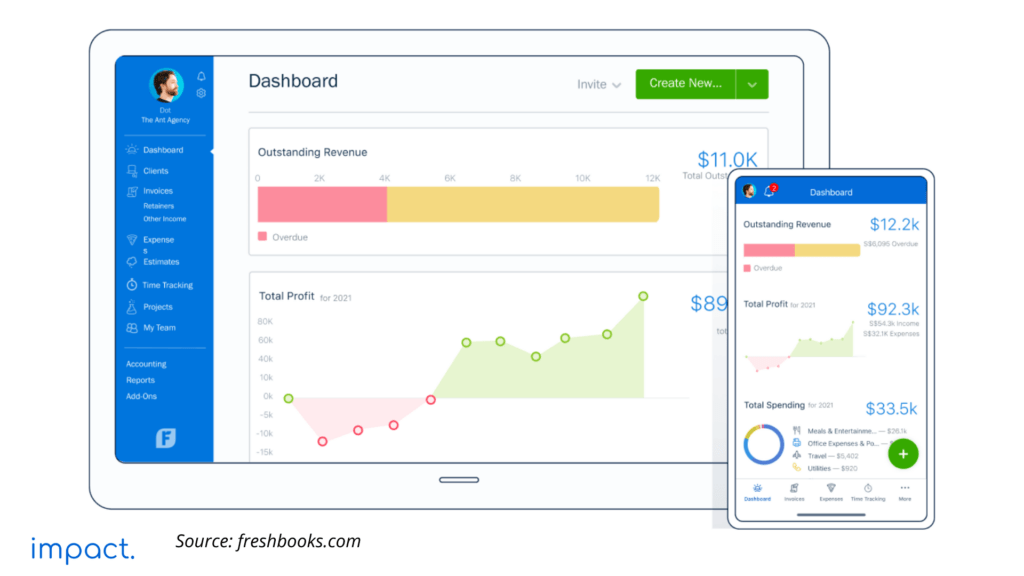 FreshBooks is one of the accounting software programs designed specifically for business owners and accountants. Its key features include invoice creation, expense tracking, time tracking, project management, payment, reporting, and accounting.
All features are made to be easy to use for small business owners and teams, clients, and accountants. Plus, as a cloud accounting software, your data is stored and ready to be accessed wherever you are in the world.
Like the best accounting application, Mekari Jurnal, FreshBooks provides subscription-based products.
Lite: $8.50/month
Plus: $15.00/month
Premium: $27.50/month
Select: Custom pricing
9. MYOB
MYOB is an accounting software designed to help companies and individuals manage and monitor their finances. MYOB stands for "Mind Your Own Business," which indicates the primary focus of this software on business needs.
MYOB is a commonly used accounting software in companies. The advantages of MYOB include the ability to automate accounting tasks such as transaction recording, asset management, debt and credit management, and financial reporting. The features of MYOB include the ability to:
Produce accurate and regular financial reports.
Manage assets
Monitor debt and credit.
Pay bills
Record financial transactions.
Manage tax
Inventory and project management
The price of MYOB varies depending on the package and features needed. Prices for the basic package start at around IDR 3 million. Prices can increase with the addition of desired features and additional services. MYOB also offers monthly and yearly subscription options for more affordable costs.
Read more: Uncover the Benefits of Top 9 Pharmacy Software Options
10. Bench Accounting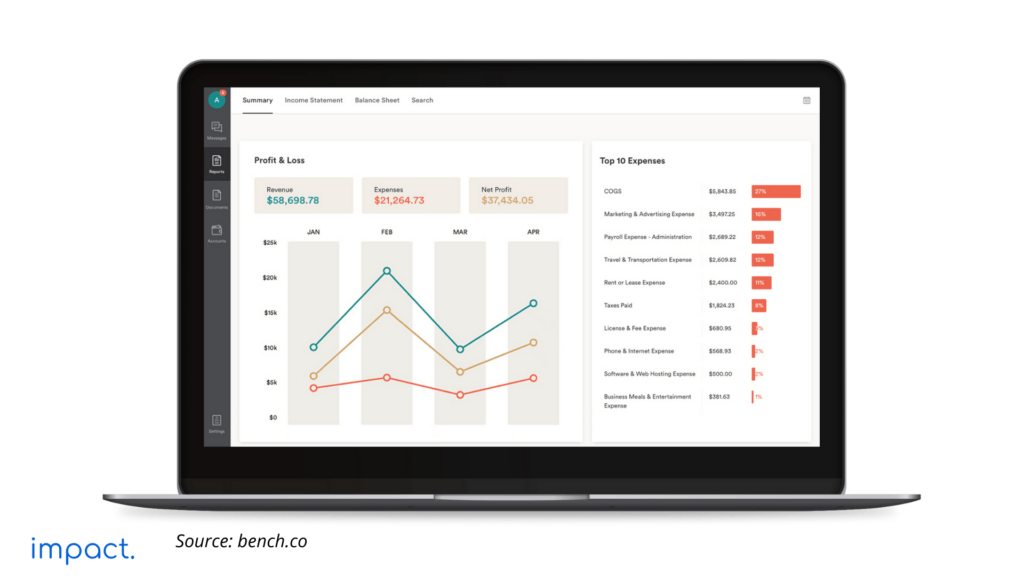 Bench Accounting is a fintech company that offers software for bookkeeping and financial management automation for small business owners. With the motto "You run your business. We'll handle your finances." Bench Accounting aims to simplify financial management for small businesses, or SMEs. Another advantage of Bench Accounting is that it can be accessed through desktop and iOS mobile applications.
The main product of Bench Accounting is an online accounting software accompanied by Bench's internal accountants.  The services offered by Bench Accounting include historical and monthly bookkeeping, cash flow and expense tracking, as well as financial statement preparation.
The subscription price for Bench is $249/month for Essential and $399/month for Premium.
11. Xero Accounting
Xero Accounting is a highly recommended accounting software that has various functions that are very helpful in running accounting processes better. Some of its key features are:
Bank account reconciliation
Bill payment
Project monitoring and expense claiming As well as other features that are very suitable for small businesses.
If you are looking for a product to help your accounting team, Xero could be the right choice. The advantages of this software are like those of accounting software in general. Xero can produce real-time reports, track transactions flexibly, ensure data integrity, etc.
You can subscribe to Xero by purchasing one of three available packages:
Starter: $25/month
Standard: $40/month
Premium: $54/month.
12. QuickBooks
QuickBooks is a user-friendly accounting software that tracks business income and expenses, organizes financial information, and eliminates manual data entry.
QuickBooks simplifies small business accounting and automates tasks such as:
Bookkeeping
Invoicing
Time tracking
Sales tax management
Budgeting
Bank reconciliation
Inventory tracking.
Some of the advantages of QuickBooks for your business include:
Sending customizable invoices anywhere and anytime
Saving time and ensuring accurate and automated invoicing
Scheduling recurring invoices.
Get QuickBooks accounting software by subscribing to one of the available packages:
Simple Start: $5.10/month
Essentials: $7.80/month
Plus: $10.80/month
13. Zahir
For nearly 30 years, more than 100,000 users have been using Zahir as accounting software to manage their company's financial data. Zahir has features similar to accounting software in general, such as invoicing, purchasing, sales, bank reconciliation, inventory, and financial reporting.
Zahir has a number of advantages in managing financial data, including:
Dashboard to monitor business profits
Fast and efficient invoice management process Ease of automatically controlling inventory
Ability to quickly and efficiently create financial reports Real-time branch transaction integration
You can use Zahir accounting software by purchasing one of the available subscription packages:
Simple Start: Rp109.890/month
Essentials: Rp647.500/month
Professional: Rp899.000/month
14. Microsoft Dynamics AX
Microsoft Dynamics AX is one of the best-known financial accounting software programs among business practitioners. It is known to meet the comprehensive needs of business owners, ranging from SCM modules to inventory, finance, production, and data analysis.
Like other ERP software, Microsoft Dynamics AX can integrate various modules required to speed up decision-making and provide necessary information to users.
Microsoft Dynamics AX is suitable for businesses operating in the production field and is available in many locations. Overall, Microsoft Dynamics AX consists of three main categories, namely:
Finance (general ledger, accounts receivable, and payable)
Project (cost accounting and overall project management)
Distribution (PO or purchase order), inventory, and raw material purchasing
You can subscribe to professional support at a price of $9 per user per month with a minimum of 100 users, or $900 per month. Premium support is also available for Dynamics AX on Azure at an additional cost.
Read more: The 9 Best Grocery Store POS System to Boost Sales in 2023
15. EPICOR
EPICOR was previously nominated as a visionary by Gartner's Magic Quadrant and currently serves over 20,000 customers worldwide, present in more than 120 countries.
As a quality accounting software, EPICOR claims to have five distinguishing advantages, including:
The ability to collaborate with users
Diverse server location options
Accounting software that is responsive to user needs
Simple and user-friendly interface
Providing direct assistance services within the system
To subscribe to this application, you can contact it or visit its official website. The EPICOR team will assist in answering all your needs.
Conclusion
Accounting software is a type of software used to assist in managing and processing financial information as well as accounting in a company or organization.
In today's digital era, the use of accounting software becomes increasingly important because it can simplify the process of managing a company's finances and improve work efficiency. Therefore, selecting the right accounting software can help companies achieve their financial goals more effectively and efficiently.
Questions? Get in touch with us
Ask about digital transformation, ERP, or anything else.
Our consultants are ready to answer any question you have.