Uncover the Benefits of Top 9 Pharmacy Software Options
April 21, 2023
Introduction
The pharmaceutical business faces various challenges, such as the difficulty of managing diverse drug stocks and merchandise. Additionally, the prescription management process and integration with the Healthcare and Social Security Agency (BPJS Kesehatan) can also be a pain point that is hard to overcome. For pharmacy business owners, managing their pharmacies without an integrated system can be very challenging and time-consuming.
However, with technological advancements, a solution has emerged to assist pharmacy business owners in overcoming these challenges, which is the best pharmacy software. Through the best pharmacy software, the pharmacy management process can be conducted more effectively and efficiently, thus increasing the profitability of your business.
In this article, we will discuss the 9 best pharmacy software options that you can use.
9 recommendations for the best pharmacy software in Indonesia
Here are the best pharmacy software options in Indonesia that can be the best solution to improving the efficiency and profitability of your pharmacy business. Let's take a look at the following recommendations for the best pharmacy software!
1. Vmedis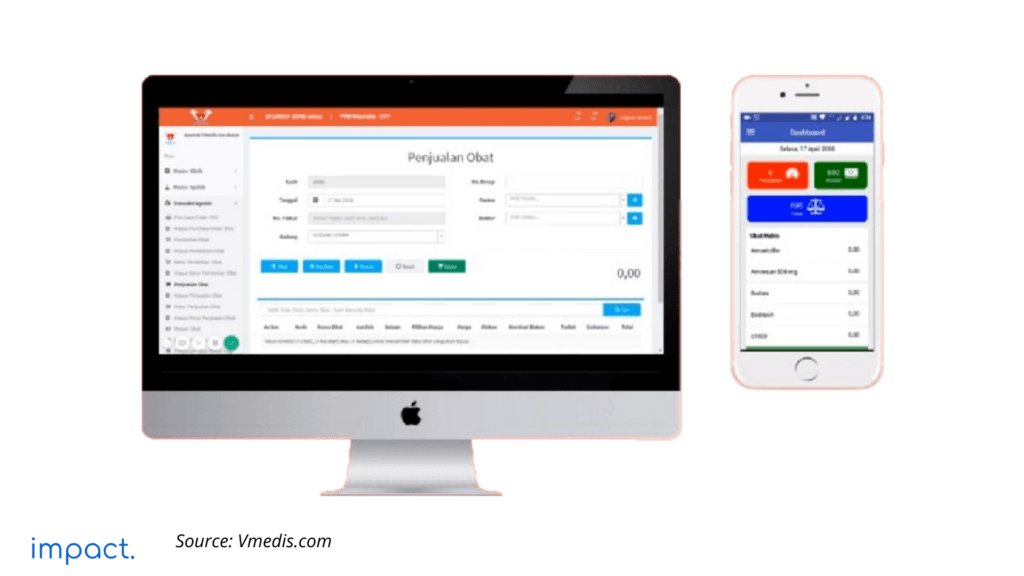 Vmedis is one of the best pharmacy software programs designed specifically to help pharmacies manage their sales, purchases, drug inventory, and financial management effectively and efficiently. This pharmacy software is suitable for pharmacies that want to increase productivity and optimize time usage.
One of the advantages of Vmedis is its ability to help pharmacies manage drug inventory accurately and efficiently. The pharmacy software is equipped with inventory management features that allow pharmacies to monitor drug stock, make purchases more easily, and obtain information about drugs that are about to run out of stock. Additionally, Vmedis is also equipped with sales management features that can help pharmacies manage sales transactions and SPT reports faster and easier.
Other features of Vmedis include financial management, financial reporting, drug return management, customer data management, and integration with EDC machines. This pharmacy software is also easy to use and accessible online, so pharmacies can access information and data from anywhere and anytime.
The charge of Vmedis varies depending on the type of product and package chosen. There are two products available, namely pharmacy software and clinic software, with the following details:
Pharmacy software: Rp99,000/month (Mini) and Rp400,000/month (Regular)
Clinic software: Rp800,000/month
However, overall, Vmedis has an affordable price and is suitable for the needs of both small and large pharmacies.
2. Inofarma 2.0
Inofarma 2.0 is one of the best pharmacy software options available for cashiers and is a supporting application for Inofarma POS. This software is designed specifically to help pharmacies by offering several features in the module:
Cashier: Check product prices and make sales transactions.
Purchasing: Help plan stock, select suppliers, and provide data.
Warehouse: Conduct stock operations without closing the store and monitor stock across warehouses and branches.
Reports and accounting: Access more than 30 reports.
The advantage of Inofarma 2.0 is that it uses a website-based system, so it doesn't take up a lot of memory. This pharmacy software can be used on Windows 7, 8, and 10. Infomas 2.0 provides four pharmacy software options that you can choose according to your needs.
Business: IDR 149,000/month
Enterprise: IDR 349,000/month
Lifetime Business: IDR 10,000,000
Lifetime Enterprise: IDR 15,000,000
The good news is that those of you who buy the lifetime package will get a free choice bonus, such as a receipt printing tool or product search mapping.
Read more: The 9 Best Grocery Store POS System to Boost Sales in 2023
3. MyKlinik
Next, the best pharmacy software is MyKlinik. This pharmacy software can help you implement electronic medical records in your healthcare facility. MyKlinik has various complete features, such as:
Registration
Pharmacy
Laboratory
Cashier and finance
Outpatient care
Inpatient care
Electronic medical records
There are several advantages that can be a consideration for you to use MyKlinik, such as user-friendly, web-based access, complete features and reports, and data stored in the cloud, which is guaranteed to be safe.
The price of this pharmacy software is relatively affordable at Rp250,000 per month per clinic with 25 users.
4. Assist.id
Assist.id is present as part of a variety of the best pharmacy software in professional cloud-based information management for health facilities in Indonesia. This is evident from the presence of more than 130 health facilities that have used it.
With just one application, you can already use it on various devices, such as computers, tablets, and smartphones. In addition, Assist.id provides complete features to serve patients and operations properly, such as booking consultations, medical records, drug stock data, cashiers, and reports to staff management.
This pharmacy software can be used in various types of health facilities, including:
Main Clinic and Primary BPJS
Beauty clinic
Hemodialysis Clinic
Doctor or midwife in independent practice
Hospital
Pharmacy
Assist.id has various packages with varying prices. You just need to visit the official website for more information.
5. Farmacare.id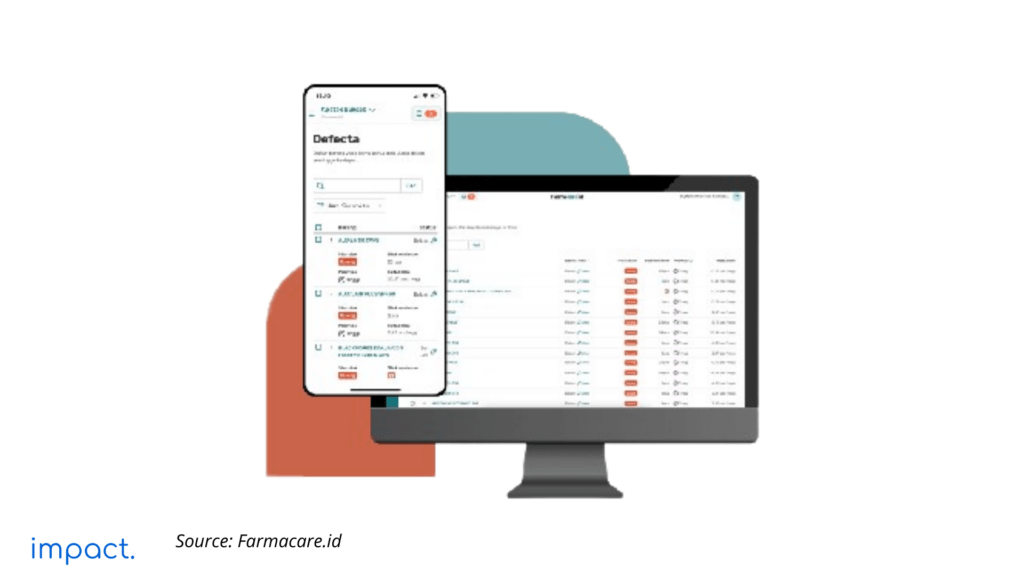 Farmacare.id is the next-best pharmacy software that you can choose. This software provides fully automated features that help manage pharmacies or other health facilities. Features include:
Real-time updates
Inventory
Automatic defects
Recap of items sold
Automatic stock card
Pareto goods
Price change notifications
Selling margin
Items that will expire
Notification of unsold items for 90 days, etc.
Farmacare.id's interface is very easy to use, so you don't have to bother training employees. You can also check stock without having to stand by on the spot. This pharmacy software is very effective and efficient. There are subscription package prices available according to your pharmacy needs, including:
Free trial (free within 7 days)
Annual plan: IDR 199,000/month
Quarterly plan: IDR 249,000/month
Additional feature fee: IDR 50,000/month
If you experience problems or confusion, you can contact the Farmacare.id team.
Read more: What is a Wholesaler? Definition, Benefits, and 4 Challenges
6. Apoteker.net
The best pharmacy software Apoteker.net is a computer program specifically designed to help manage operations and administration in a pharmacy. Apoteker.net is one of the leading pharmacy software providers and has been widely used by pharmacies in Indonesia. Some of the advantages of Apoteker.net include:
Ease of use
Comprehensive
Easy integration
Data security
Good customer support
Some of the features of the best pharmacy software, Apoteker.net, include:
Drug stock management
Recipe management
Sales management
Purchasing management
Financial statements
Regarding subscriptions, detailed information regarding the costs of using the best pharmacy software, Apoteker.net, can be found on the official website, or pharmacies can contact the Apoteker.net sales team to get offers that suit their needs.
7. TitanSystem Pharmacy
TitanSystem Pharmacy is the ideal solution for pharmacy entrepreneurs and pharmacists who want a fully integrated pharmacy management system with financial systems, providing a comprehensive solution. The available features are also complete, from drug management to accounting and reporting to HR. The advantages of this pharmacy software are:
Integrated management and accounting applications for professional pharmacy management.
Easy to use and can be quickly implemented, both for new and long-running pharmacies.
Accurate accounting system, following Generally Accepted Accounting Principles (GAAP).
Unlimited license for usage time, operators, and the number of transactions that can be entered into the system.
The charge of this pharmacy software varies, starting from $2 million to $5 million depending on the type you choose.
Read more: 21 Best Cashier App Recommendations for Business in 2023
8. Trustmedis.com
Trustmedis.com is one of the best pharmacy software providers in Indonesia. This software is specifically designed to help pharmacy business management become more effective and efficient.
The advantages of Trustmedis.com are that it provides an integrated online and offline pharmacy management system. Meaning, you can access this software via the website or a mobile application. In addition, pharmacy software is equipped with features such as inventory management, sales, prescription management, and integration with BPJS.
Some other features available on Trustmedis.com include:
Management of drug and merchandise stock.
Drug stock monitoring with a warning system if it is almost empty.
Integrated sales and financial reports with accounting systems
A safe and reliable prescription management system.
Integration with BPJS for online claiming
The charge for using the Trustmedis.com can be adjusted to the needs of your pharmacy business. The offered prices start from:
Basic: Rp350,000/month
Standard: Rp1,050,000/month
Pro: Rp1,750,000/month
Enterprise: Rp2,800,000/month
The price already includes the features, and there is also customer service available 24/7. In terms of security, Trustmedis.com has also implemented a strong security system, such as data encryption and regular backups, so that customer data is safe from security threats.
9. Apotekdigital.com
Apotek Digital is a cloud-based pharmacy software that provides pharmacy management information systems, which provide convenience for pharmacy owners or pharmacists in managing and monitoring pharmacy management performance.
The main goal of Apotek Digital is to bring pharmacy business transformation to a higher level by utilizing digital technology that is tailored to the needs of the pharmacy. Thus, pharmacy management can be done practically, automatically, and in real-time.
The features of pharmacy software are more or less the same as those of other pharmacy applications. Some of the advantages of Apotek Digital are:
An easy and practical pharmacy software that anyone can use
A multi-platform-based application
The pharmacy software has unlimited users and devices
Full support for using the pharmacy software
Here is a list of Apotek Digital subscription packages based on the duration of use:
One month: Rp320,000/month
One year: Rp2,500,000/year
Two years: Rp4,500,000/year
Three years: Rp6,500,000/year
Conclusion
The use of the best pharmacy software can provide many benefits for pharmacy business management. With pharmacy software, drug inventory management can be carried out more efficiently and effectively, and drug sales can be monitored more easily.
Choosing the best pharmacy software is very important when considering the needs of your pharmacy business. Through the use of the best pharmacy software, pharmacy owners or pharmacists can increase the efficiency and effectiveness of their businesses, improve the customer experience, and increase business profitability.
Questions? Get in touch with us
Ask about digital transformation, ERP, or anything else.
Our consultants are ready to answer any question you have.