9 Best Accounting Software Small Business in 2023!
May 9, 2023
Accounting software is an application that is designed to handle and keep track of an organization's day-to-day financial transactions, such as managing fixed assets, controlling costs, managing revenue, overseeing accounts receivable and accounts payable, producing reports, and conducting analyses.
Currently, accounting software is widely used in businesses ranging from small to large scale. However, small businesses often encounter obstacles in the form of high accounting software prices, resulting in financial management processes being done manually.
Intuit's report revealed that accounting software is regarded as a crucial element by 89% of small businesses, with 63% reporting that it has boosted productivity and saved them time. However, the question is where to start and how to identify the necessary features to look for.
Therefore, we recommend 9 best accounting software small business and medium business owners:
9 Best Accounting Software Small Business in 2023
Here the list of 9 best accounting software small business recommendation in 2023:
1. Impact Accounting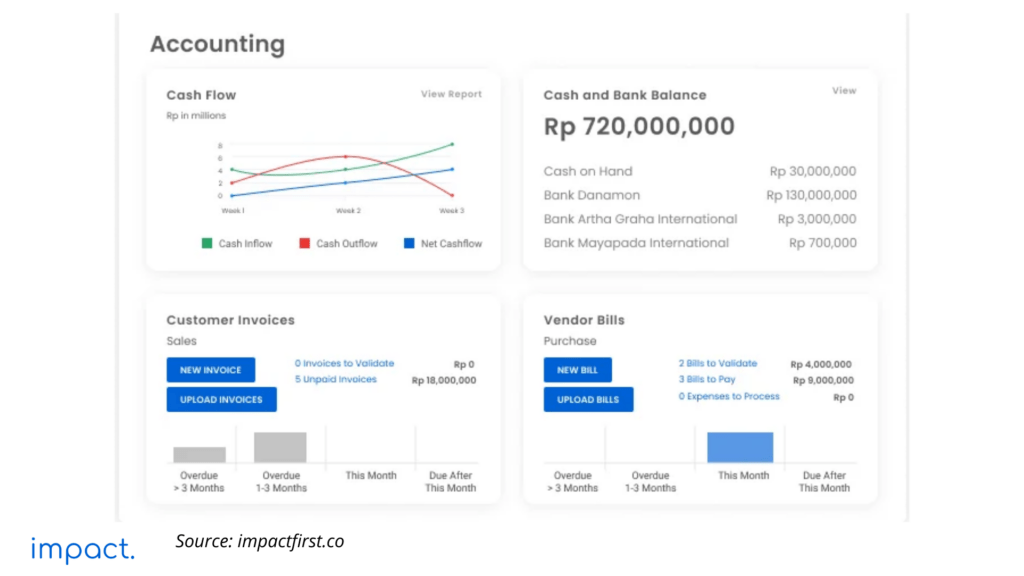 Impact Accounting is regarded as one of the best accounting software for small businesses located in Indonesia. This accounting software offers various features that can boost your productivity and efficiency in manage financial, include:
Automation of business processes from sales journaling, invoicing, purchasing, inventory, payroll, and bank reconciliation
Easy and automatic budgeting, taxes, and eFaktur (PPh 21, 22, 23, 25, PPN, etc.)
Real-time financial reporting
Impact Accounting is also integrated with other software, such as:
Inventory software (to ensure availability and optimize warehouse processes)
Purchase software (to purchase the right items at the right time)
Sales software (to manage sales orders and ensure timely payments)
Pricing:
By subscribing to ERP Impact, you can obtain this software at a starting price of Rp99 million. Additionally, you have the option to request the addition of modules, with prices starting from Rp250.000.
Read more: What is ERP?
2. FreshBooks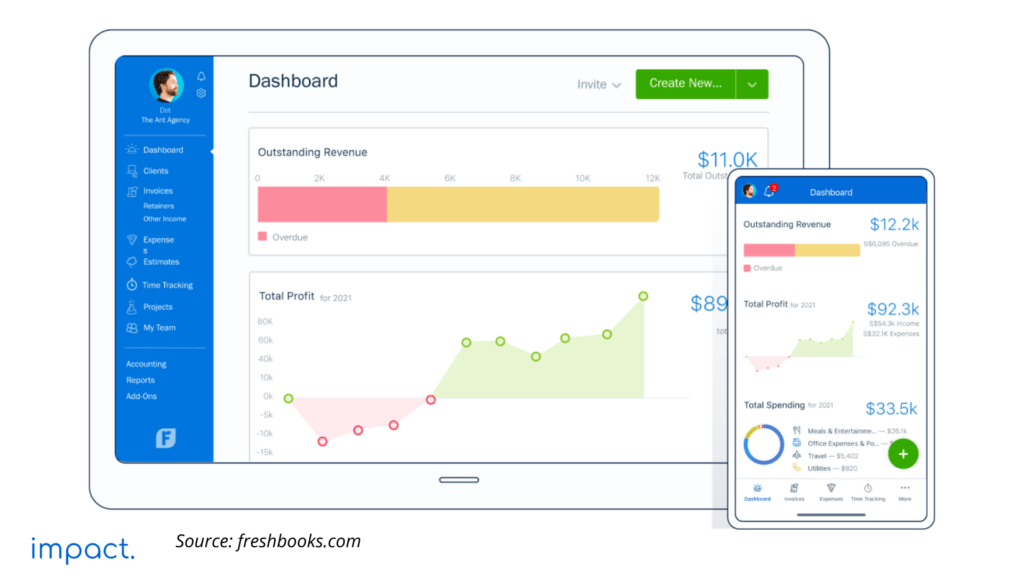 To ensure efficiency in the accounting software, make sure to consider your business needs, especially those related to taxes. Ensure that the software you select complies with applicable laws and can integrate with other software needed by your business.
One of the best options to meet all of these requirements is FreshBooks. FreshBooks offers various packages with rich features and a user-friendly interface. The basic FreshBooks Lite package is very affordable with:
Unlimited invoices
Expense entries
Time tracking
Estimates.
But it is limited to only five clients. You can upgrade this small business accounting software to the Plus or Premium package to add more features and increase the number of clients.
Pricing:
Lite: $8.50/month
Plus: $15.00/month
Premium: $27.50/month
Select: Custom pricing
3. QuickBooks
QuickBooks is a leading small business accounting software in the world with over 4.5 million businesses relying on its services. QuickBooks offers features at an extremely affordable and transparent price. All QuickBooks packages come with exceptional support, an easy-to-use mobile application, and more than 700 app integrations.
QuickBooks also offers a special package for new entrepreneurs who are starting their businesses, namely Simple Start. This package comes with simple yet essential functions such as:
Income tax estimation
Phone support, and
Payment invoicing.
The Essentials package adds multi-currency support, bill and payment management, and increases the limit to three users.
Pricing:
Simple start: $17/month
Essentials: $26/month
Plus: $36/month
4. ZohoBooks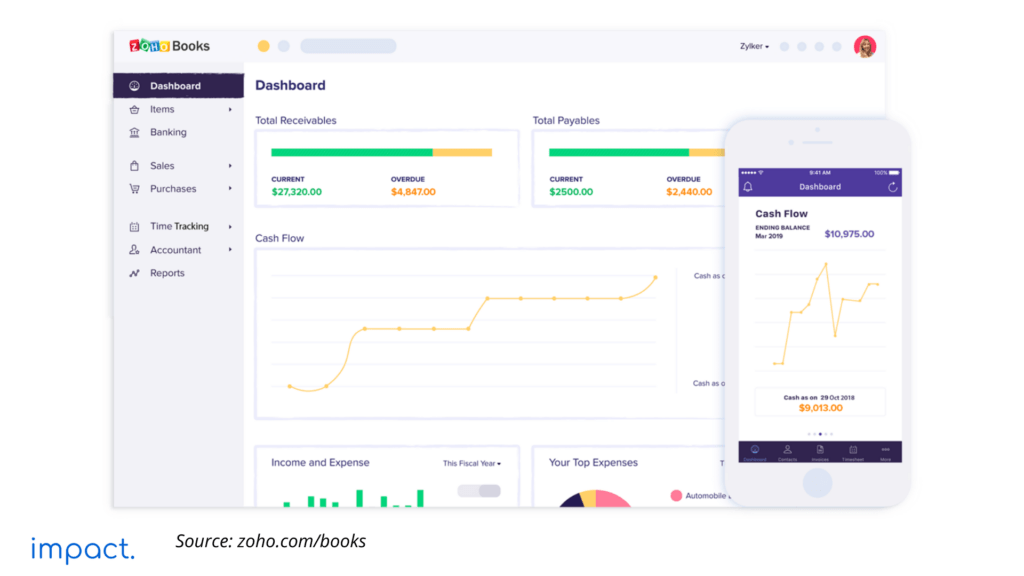 Zoho Books is known as one of the simple and user-friendly small business accounting software that is also very helpful. This accounting software for small businesses has several features, include:
Control and manage multiple projects
Assign specific tasks to employees, and
Manage expenses for various projects.
Zoho Books also offers a high-quality free package that is suitable for small business accounting, although the paid packages are also very beneficial. The free package is only suitable for small businesses as it doesn't offer important features such as bank feeds and email support.
Zoho Standard allows up to three users to easily track, reconcile, and budget, and manage up to 5,000 invoices. Zoho Professional adds billing, multi-currency handling, reporting tags, purchase approvals, and up to 10 workflow rules.
Pricing:
Standard: $10/month
Professional: $20/month
Premium: $30/month
Elite: $100/month
Ultimate: $200/month
5. Xero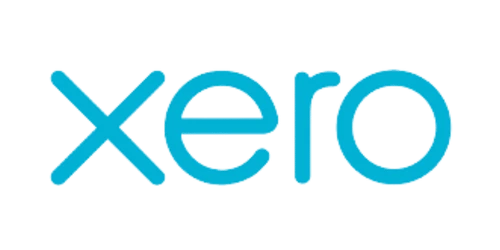 Accounting should make your financial records visually appealing, easy to read, and accessible. Therefore, Xero is the right choice for stylish and streamlined accounting software for small-scale sole traders, with impressive features, including the ability to easily integrate with merchant account services, which is especially suitable for small-scale sole traders who need to reduce VAT.
However, although Xero offers 24/7 support, it does not have a phone support number or live chat option, and responding to messages may take an unknown amount of time.
The Basic or starter package offers great features such as:
Invoicing and quoting
Billing
Bank transaction reconciliation, and
VAT returns to HMRC.
However, this package comes with some strict usage limitations, where users can only send 20 invoices and quotes and enter five bills per month.
Pricing:
Starter: $25/month
Standard: $40/month
Premium: $54/month
6. CloudBooks
You can test and evaluate Cloudbooks for free before making a final decision to use the accounting application. Cloudbooks offers ease in creating your financial reports, starting from creating projects, invoices, to tracking expenses. The invoicing feature in the paid version of Cloudbooks will be very helpful for small and medium-sized businesses, as it will simplify the billing process and help manage business finances more efficiently.
By using the invoicing feature on Cloudbooks, you can:
Easily organize and send invoices to your customers
Speeding up the payment process
Optimize your business financial reports
Help you to make better decisions based on accurate and up-to-date financial data.
Pricing:
Team plan: $9.99/month
Agency plan: $19.99/month
Lifetime plan: $999/month
Read more: 15 Best Accounting Software to Boost Your Business Efficiency
7. Accurate
Accurate Lite is one of the accounting software solutions that is very helpful in managing financial reports. Many small business owners have chosen Accurate Lite as their digital platform for managing their business accounting. This application is very convenient and easy to use, and can be accessed anytime and anywhere.
By using Accurate Lite, you can enjoy various features:
Easily manage projects, invoices, and expenses.
a very high level of accuracy when creating financial reports,
Integration with various services and platforms,
Integration with online payment services and the option to import and export data easily.
Pricing:
Rp277.500/month and Rp2.664.000/year
8. Book Keeper Accounting
Book Keeper Accounting is one of the accounting software for small business that can assist users in creating business financial reports easily, from bookkeeping to managing individual inventory. With its user-friendly interface, this accounting application is very suitable for small and medium-sized entrepreneurs who want to start managing their finances more effectively and efficiently.
In addition to its ease of use, Book Keeper Accounting also offers an affordable price for users who want to access all the available features. By subscribing, users can enjoy various features such as sales report creation, payment receipt management, and more.
Pricing:
Pay-As-You-Go: $125/hour for support
Monthly: $399/month
Weekly: $549/month
9. Jurnal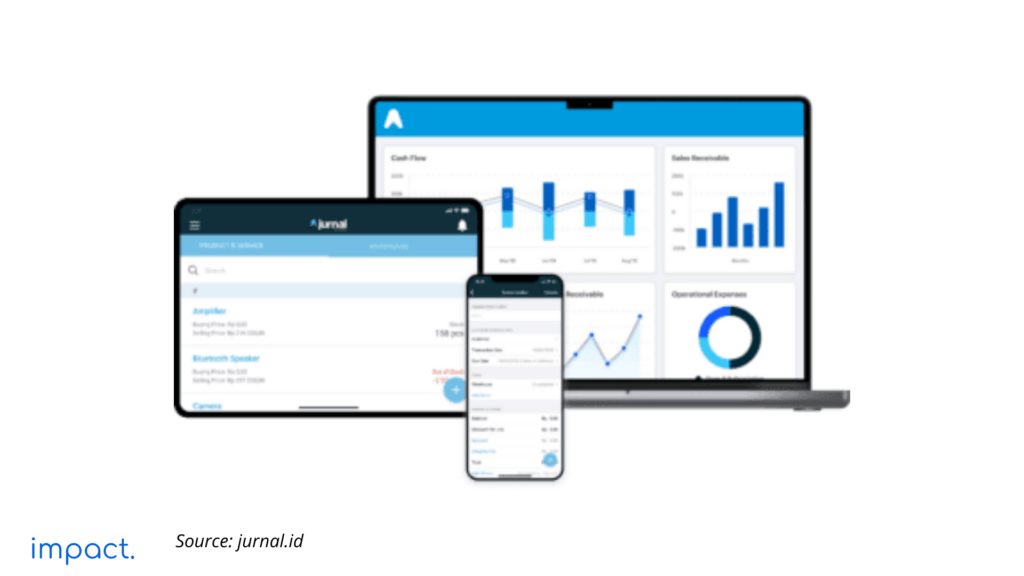 Jurnal offers a cloud-based platform as its main advantage. Cloud enables you to access financial reports easily from anywhere and anytime. Not only suitable for small and medium-sized businesses, but also suitable for large-scale businesses.
Jurnal by Mekari is also equipped with additional useful features, such as:
Financial recording,
Invoice creation,
Cost tracking,
Asset management,
Expenses, and
Inventory of goods or services.
Pricing:
Pro: Rp449,000/month
Enterprise: Rp809,000/month
Enterprise+: Rp1,169,000/month
Kesimpulan
When you are searching for the best accounting software for your business, it is essential to look for specific key features such as ease of use, and integration capabilities with other software. If the features and price are suitable for your small business, then you can implement it effectively.
One of best accounting software for small business is Impact accounting, which offers various business automations and integrations with other software to help maximize profits.
Questions? Get in touch with us
Ask about digital transformation, ERP, or anything else.
Our consultants are ready to answer any question you have.