Employee Involvement: Significance & 3 Supporting Factors
Posted: July 28, 2023
Updated: July 28, 2023
Involvement is a crucial aspect of the House of Lean Production. When all employees are involved in the company, it becomes easier to spot problems.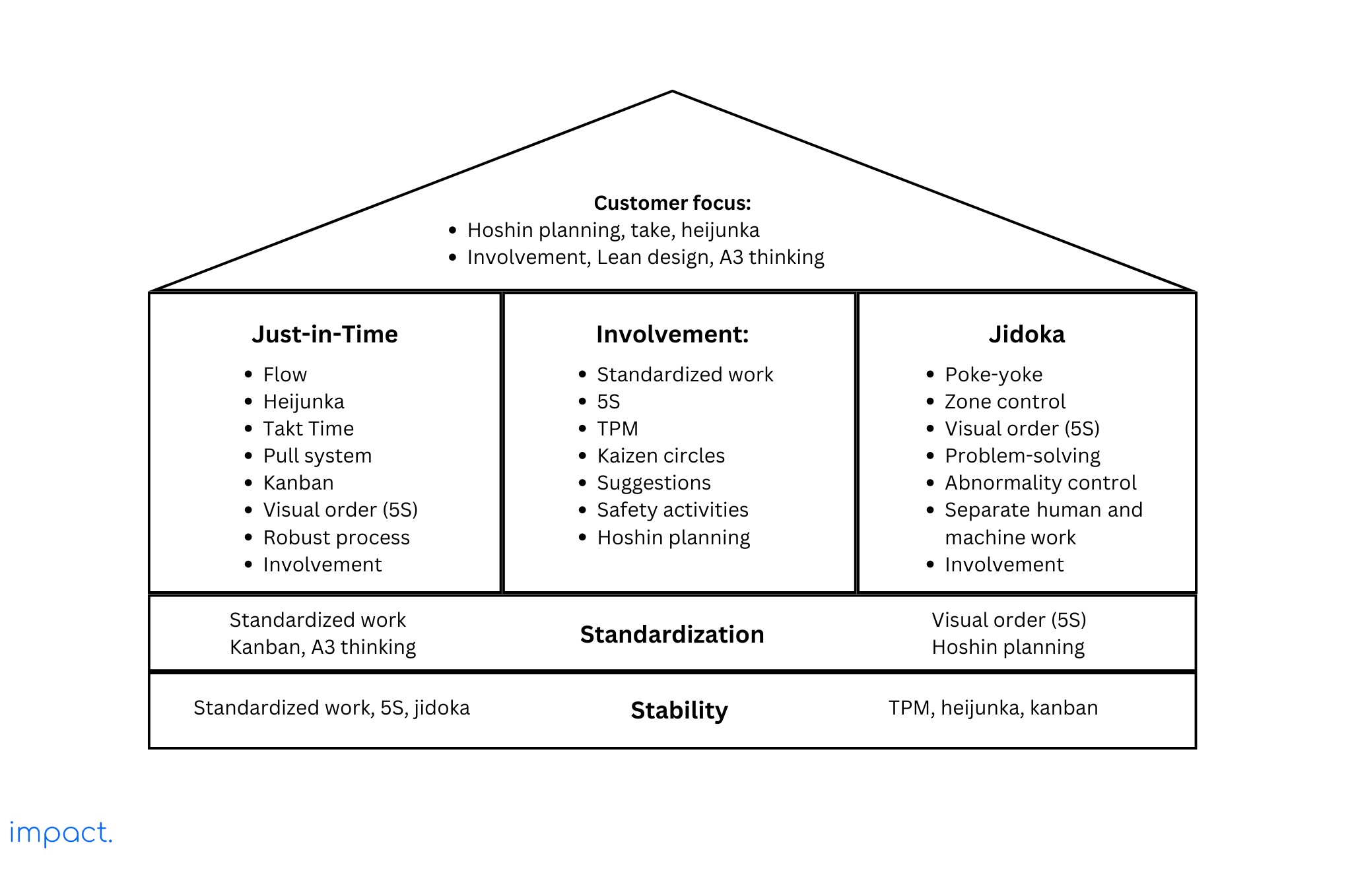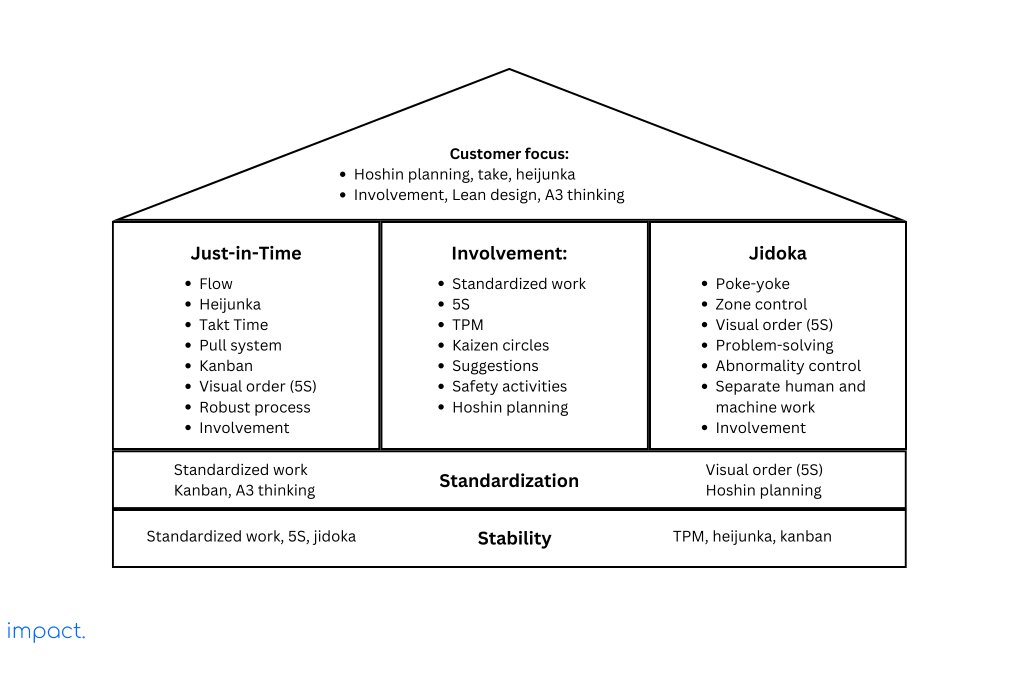 Active involvement is crucial in any company and requires careful management, like the production process and product quality. Before implementing it, companies must identify the appropriate method and the skills needed to establish long-lasting engagement.
This chapter will delve into the concept of involvement in more depth, including its definition, purpose, and methods.
What is involvement?
Involvement means taking part in an activity. It is crucial to involve everyone in the company to enhance daily operations and find solutions to issues.
Managers used to question whether shop floor workers, who had limited education, could contribute to business decisions. Today, employees are more educated and skilled. That's why it's imperative to include them in decision-making. It helps make the company's outcomes better.
Having a system that is respectful and free from unnecessary difficulties is crucial to maintaining employee engagement. In Lean manufacturing, teamwork involves specific procedures, activities, and behaviors that allow team members to work independently, solve problems, and improve their daily tasks.
When team members are free to work independently, they can continuously improve their skills and contribute the most to the company. This approach also helps boost employee involvement and motivation.
Read more: Lean Manufacturing: Definition & 3 Benefits
The importance of employee involvement in a company
The main goal of involving employees is to improve different areas of the company, like productivity, quality, cost, delivery time, safety, environment, and morale (PQCDSM). To achieve this, the company takes the following steps:
Solve specific problems by expanding Poka-yoke to improve containment, changing layouts to reduce the time it takes to complete tasks, and decreasing the time needed for switching between different tasks.
Make processes smoother and more convenient by introducing a production analysis board to make the current situation visible to everyone and implementing 5S.
Reduce risks by making tasks easier on the body and using Poka Yoke to prevent spills.
Ultimately, the main aim is to improve the skills of team members so that the company can confidently face future challenges.
3 activities to support employee engagement
In previous chapters, we discussed engagement tools like 5S, TPM, and standardized work. Let's focus on three main activities supporting company involvement: Kaizen Circle Activity (KCA), Practical Kaizen Training (PKT), and suggestion programs. Here's a description of each method:
1. Kaizen Circle Activity (KCA)
Kaizen, also called continuous improvement, comes from Japan and is a crucial part of lean manufacturing. Its goal is to eliminate waste and inefficiency in manufacturing by regularly making minor improvements.
These improvements include streamlining manufacturing steps, optimizing inventory management, boosting productivity, and enhancing quality control. The Kaizen Circle Activity (KCA) is the most popular engagement activity linked to Kaizen.
KCA has many benefits for employee involvement. Here are a few:
It helps team members improve their teamwork, leadership, problem-solving, and logical thinking skills.
Team members feel good knowing that their contributions have helped the company succeed, building trust among them.
When faced with significant challenges, KCA allows us to gather "hundreds of hands" to tackle them together.
KCA structure
Managers form the KCA and become sponsors when they encounter a problem. A circle typically comprises six to eight team members who convene weekly for at least an hour, spanning a period of six to eight weeks. The team presents their accomplishments and future strategies to management.
The table below outlines the roles and responsibilities of the Kaizen circle. Specific positions may be discretionary. For instance, an experienced team may not require a coach. A seasoned area supervisor can be a facilitator and advisor in such cases.
| | |
| --- | --- |
| Role | Responsibility |
| Circle member | Attend meetings, contribute ideas, select and analyze problems, recommend and implement solutions, and make presentations. |
| Facilitator | Attend training, guide team members through the problem-solving process, attend circle meetings, and complete & submit KCA meeting notes. |
| Advisor | Attend training, provide technical or administrative advice as needed, attend circle meetings, and help coordinate presentations to management. |
| Circle trainer | Develop and conduct training, attend circle meetings when requested, provide problem-solving exercise, and collect meeting notes and management reports. |
| Manager | Encourage circle formation and involvement, regularly check circle progress, provide suggestions, approve recommendations, and attend presentations. |
KCA training
KCA training usually takes about four hours. To successfully create circles, team members need to undergo training in the following skills:
Administrative skills: Learn how to organize team meetings, assign tasks, take notes, and prepare presentations.
Brainstorming: Know how to generate ideas by involving everyone in the team.
Problem-solving: Develop the ability to solve problems effectively.
Presentation skills: Learn how to present findings to management clearly and interestingly.
KCA administration
KCA requires a control department to oversee and handle administration. The main administrative tasks include:
Creating a standard form to assist circles.
Registering new circles.
Recording the outcomes of each process.
Reporting overall KCA results and trends.
Provide training.
The human resources team can function as the control department for all engagement activities. Here is the general format of a Kaizen circle report: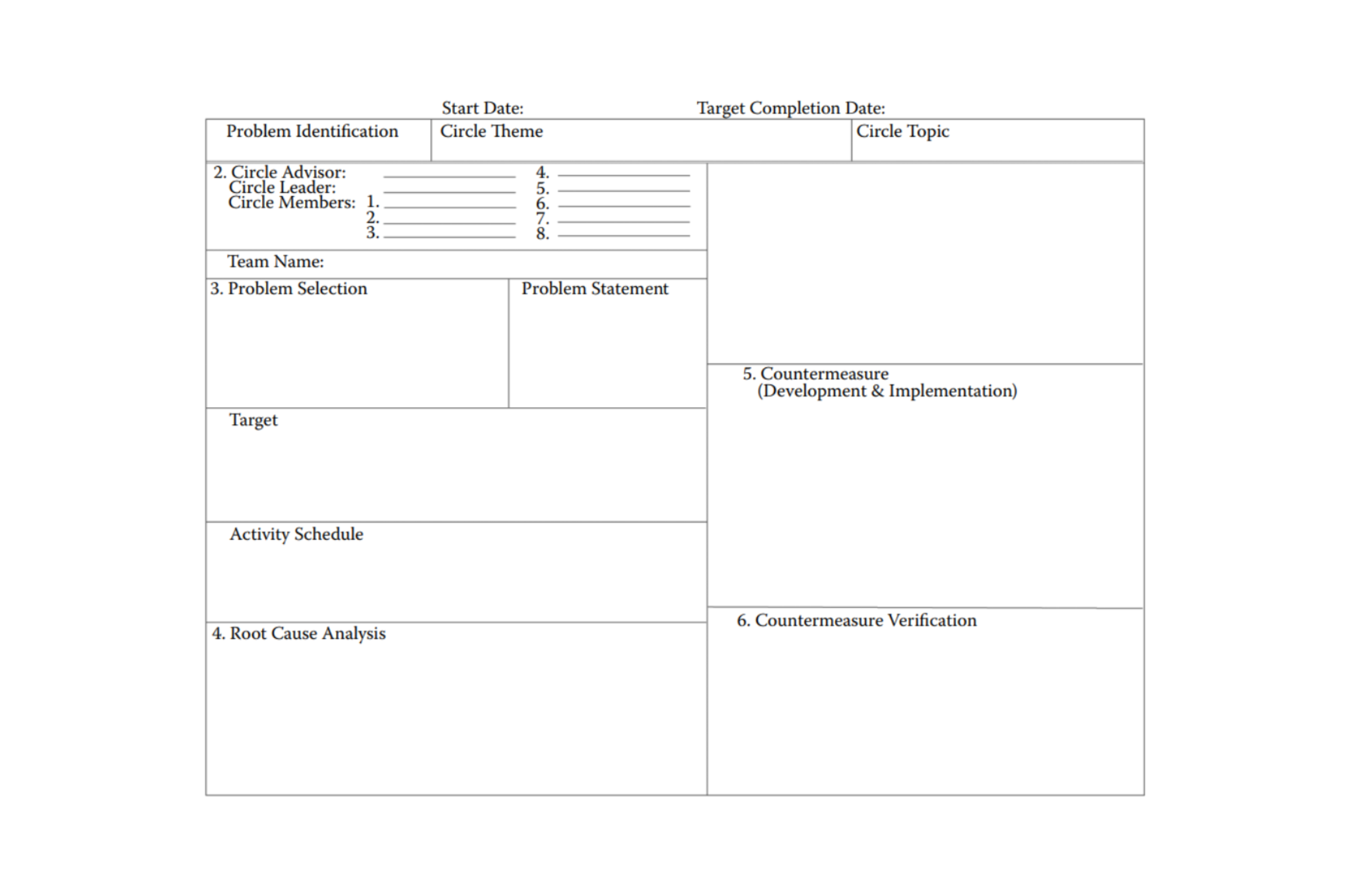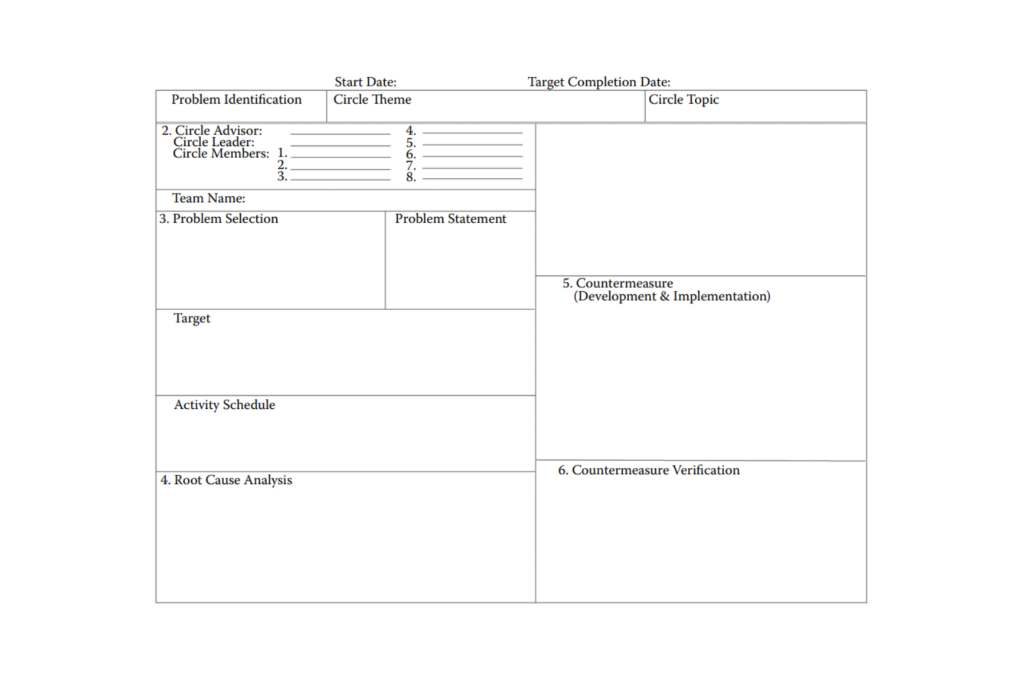 Source: Dennis, P. (2017). Lean production simplified; Kaizen circle activity (sample report format).
KCA promotion
To promote KCA effectively, employ the following strategies:
Display report boards in busy areas, like production zones and team member entrances. The KCA Council should explain the KCA process and goals while celebrating circle achievements.
Hold company-wide competitions and give awards for productivity, safety, quality, cost, and environmental efforts.
Encourage teams to compete. Hold inter-plant competitions at the company's headquarters, with senior management as judges. This form of competition will motivate employees, especially the younger ones.
Managers help promote KCA. They talk to team members daily about important company issues and problems in their area. They also share what management expects from KCA on essential topics.
KCA themes should be simple, like quality or security, when starting. As team members progress, KCA can actively focus on specific company goals, such as reducing certain quality defects or improving assembly processes.
In addition, managers must:
Increase KCA in their area.
Regularly monitor team themes, estimated completion dates, and statuses.
Privately communicate with team members, asking about their well-being and addressing any issues.
Provide active support and suggestions to teams facing challenges, ensuring concrete results.
Personally review and acknowledge the achievements of each team member.
2. Practical Kaizen Training (PKT)
Practical Kaizen Training (PKT) is a one-week intensive program that aims to train team members and supervisors and improve specific processes. Each PKT consists of three to four team members, multiple teams, and PKT instructors or coaches. The training is structured as follows:
One and a half days of training
Three days working on the shop floor
Half a day dedicated to presenting results to management.
Ensure that training for small equipment is readily available and actively encourage workers to participate and develop these skills. The PKT training should specifically address the needs of youth, standardized work, and Kaizen.
Each PKT must provide clear, simple work charts for new design processes or physical changes to achieve the desired outcomes. These charts will promote a shared understanding among all participants involved in these processes.
4 Essential Factors for PKT Success
To achieve success in implementing PKT in companies, companies must focus on the following key factors:
Effective Communication: Maintain open and ongoing communication with workers and supervisors across all shifts. Engage in initial discussions to outline the objectives of the PKT and gather input from team members involved in the work. Confirm any proposed changes to processes and equipment with all shifts.
Comprehensive Understanding: PKT members need a thorough grasp of the current situation. They should measure cycle time, work in progress (WIP), and machine performance, and compare workers' actions to standard work charts. Identifying any discrepancies provides valuable insights that help in identifying underlying issues.
Thorough Troubleshooting: Become experts in employing the PDCA (Plan, Do, Check, Action) cycle to validate every action taken. Careful observation and measurement should drive all changes.
Supervisory Leadership: Supervisors play a pivotal role in the success of Lean manufacturing. Their responsibilities extend beyond meeting production targets and ensuring quality. They should also actively lead Kaizen initiatives. Kaizen leadership involves four levels:
Level 1: Instruct team members on their tasks.
Level 2: Demonstrate to team members how to perform the tasks.
Level 3: Collaborate with team members to complete the tasks together.
Level 4: Encourage team members to independently execute the functions and foster learning by posing questions.
3. Suggestion programs
The primary purpose of effective suggestion programs is to involve everyone in the company by directly sending team members' ideas to management and rewarding their initiative. Management needs to create a positive work environment with specific essential values to make this happen:
Encourage open communication
Build trust among team members
Promote collaboration and teamwork
Focus on meeting customer needs
Prioritize training opportunities
Supervisors and area managers should encourage team members to get involved. Here are some simple activities to consider:
Set up a "What bugs me" board in the work area, also called a suggestion seed board. It's a basic chart with columns like problems, possible solutions, next steps, and results.
Place books around the area where team members meet.
Arrange brainstorming sessions for the team to focus on the significant issues faced by the department and the company.
Five Key Traits of a Successful Suggestion Program
Successful suggestion programs possess five key characteristics. These characteristics are as follows:
1. Efficient and transparent process
Make the program rules clear and straightforward. Clearly define the standards for completion time and rewards. A good approach is to assign merit points for each suggestion. Team members can redeem these points as they progress. In addition to cash, we can also give gift vouchers as rewards.
Ensure that the suggestion form is concise and fits on one page. It should include the following information:
Source details (e.g., advisor, department, and date)
Suggestion topics (safety, quality, cost control, productivity, space, and environment)
Current situation
Proposed changes (Kaizen)
Kaizen results
Supporting data for the results
Supervisors should assist team members in completing and submitting suggestions. Summarize the program rules and standards on the back of the form. Include both tangible and intangible recommendations.
Tangible suggestions yield measurable savings in dollars, space, time (labor), or other quantifiable units. Common areas where concrete proposals bring benefits include:
Cost savings: Use fewer materials or energy
Non-labor savings: Decrease transportation costs, minimize packaging
Labor: Reduce downtime or repair time
Ergonomic load: Lighten the workload
Space: Save floor space
Intangible suggestions result in noticeable improvements without immediate savings in dollars, time, or space. Examples include:
Safety: Eliminate hazards
Quality: Prevent defects
5S: Simplify and reduce complexity
Environmental: Eliminate potential spillage
2. Promote fast decision-making and feedback
Set clear standards for feedback, stating, "We will respond to all suggestions within one week." Having well-defined processes and standards helps us respond quickly. Evaluators play a vital role in reviewing suggestions and recommending appropriate recognition levels.
Make sure each department has enough evaluators to meet the turnaround standards. Companies can also invite evaluators to a special dinner as part of an advisory program and present an award for the "Evaluator of the Year."
3. Equity
Maintenance groups sometimes have an unfair advantage when enjoying the benefits of advisory programs. Lack of access can lead to resentment and harm the program's reputation. To prevent this, companies should establish fair rules that treat all groups equally.
4. Promotion
Promote advice programs through the following channels:
Display report boards on the shop floor and at team member entrances.
Organize dinners to acknowledge outstanding suggestions and evaluators.
Provide regular reports and feedback to process management regarding the program's progress and outcomes.
To measure the effectiveness of promotions, consider the following steps:
Track the number of suggestions per team member.
Monitor the percentage of supervisors participating in the program.
Calculate the approval ratio of submitted requests.
Keep a record of points awarded for valuable ideas.
Determine the average points earned per team member.
Measure the percentage of intangible suggestions among all submissions.
5. Extrinsic and intrinsic motivation
Cash and prizes are standard rewards in suggestion programs but don't provide the strongest motivation. Psychological research suggests that other factors, called intrinsic motivators, may be even more critical. These inherent motivators include:
Being recognized and appreciated by colleagues
Feeling that your contribution serves a more significant cause or value, like protecting the environment or ensuring safety
Developing essential skills, including leadership abilities
Experiencing personal growth and fulfilling your potential
Quantity Takes Priority, Then Quality
In suggestion programs, the fundamental principle is "prioritize quantity over quality." A suggestion program typically takes three to five years to generate a substantial quantity, such as yearly five to ten suggestions per team member. Once the company achieves an adequate volume, it can focus on improving its quality.
Annual culture hoshin
We must establish a yearly hoshin culture to set goals for KCA, PKT, and suggestions. The plans for KCA may include the following:
Achieving specific KCA results: Completing a certain number of circles, successfully implementing kaizens, and saving dollars.
Meeting KCA process objectives: Engaging a specific number of team members, providing training for team members, ensuring good quality circles, KCA training, and ensuring team members are satisfied with KCA.
It's crucial to effectively manage engagement to ensure its long-term sustainability and help companies increase their profits.
Summary
Involvement is vital in Lean manufacturing. It helps team members develop their skills and increases the chances of long-term success. Three activities support successful participation in the company: kaizen circle activities, practical kaizen training, and suggestion programs.
Supervisors and managers play an essential role in keeping engagement high. Engagement activities should be fair, easy to participate in, and provide both external and internal satisfaction. To maintain attention, companies can create a hoshin culture. The next chapter will discuss hoshin planning as part of involvement.
References
Dennis, P. (2017). Lean production simplified: a plain-language guide to the world's most powerful production system. Crc press.
Impact Insight Team
Impact Insights Team is a group of professionals comprising individuals with expertise and experience in various aspects of business. Together, we are committed to providing in-depth insights and valuable understanding on a variety of business-related topics & industry trends to help companies achieve their goals.
Questions? Get in touch with us
Ask about digital transformation, ERP, or anything else.
Our consultants are ready to answer any question you have.