Warehouse Manager: Roles and 10 Challenges to Overcome
August 1, 2023
Warehouse managers need to be good at running things to make warehouses work better and get more done. They must find ways to make things faster, save money, keep customers happy, and ensure everyone stays safe. That's why managers need to know all about the different jobs in the warehouse and how they affect the whole business and supply chain.
This article is a continuation of the previous chapter. It talks more about what managers do in warehouses and what problems they might face. It discusses the challenges they will face and the critical qualities they must possess.
The role of a warehouse manager
These days, warehouse managers spend more time in front of laptops than manually patrolling warehouses. They use laptops to find the latest solutions for cost and productivity.
The job description for a distribution center manager now requires the following skills:
Being good at negotiation
Knowing how to use computers and technology
Having a basic understanding of finance and business
Being skilled at managing people
Motivate and lead a large number of employees through effective communication and engagement.
The warehouse manager's primary responsibilities include:
Ensure the warehouse has the proper inventory at the correct cost to meet the company's global business needs.
Leading and guiding the warehouse team.
Ensuring the warehouse can handle the volume of shipments required by the business.
Promoting cost-effective operations and environmentally friendly practices.
Planning for the warehouse's future and ensuring it can address expected growth and customer service needs.
Protecting the people and property in the warehouse.
Managing projects and introducing new ideas.
Building good relationships with suppliers.
Handling employee relations in the warehouse.
The job description above outlines the typical expectations for a warehouse manager in today's fast-paced business environment. This description aims for managers to provide excellent customer service while finding ways to save money by increasing productivity and performance.
Additionally, managers should effectively manage inventory and prioritize the safety and security of their staff, equipment, and stock. To fulfill these responsibilities, warehouse managers must make trade-offs and actively handle various aspects of the job.
To effectively manage a warehouse, it is crucial to adhere to the following fundamental principles:
Maintain Accuracy
Control Costs
Prioritize Cleanliness
Maximize Efficiency
Ensure Safety
Enhance Security
Warehouse trade-offs
Managing trade-offs in a warehouse is very important for a warehouse manager's job. The image below shows the leading exchanges.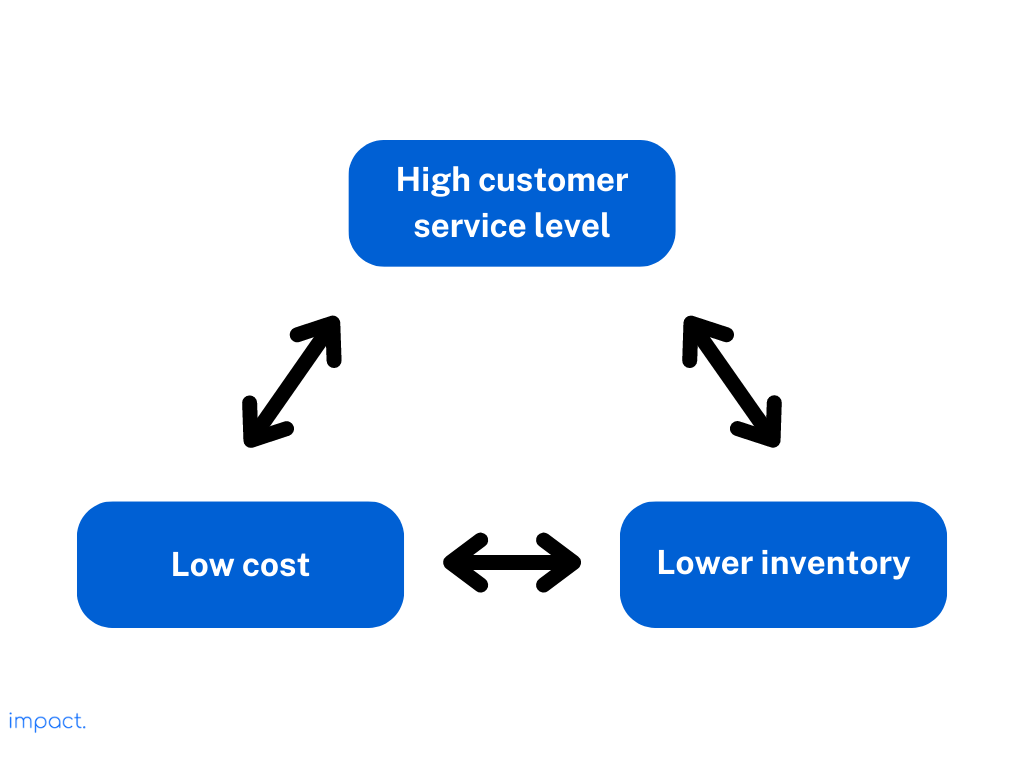 Warehouse managers need to recognize and balance different trade-offs within the warehouse. Here are some examples:
Choosing between increasing productivity or reducing labor costs.
Deciding whether to prioritize storing more items or dispensing pallets faster.
Considering whether to use manual processes or automated systems.
Balancing the need for faster retrieval with the importance of accuracy.
Weighing the costs of holding inventory against the costs of running out of stock.
Read more: 6 Warehouse Performance Metrics & Tips for Choosing Them
Challenges of a warehouse manager
Warehouse managers today experience a range of pressures and challenges from different sources, both inside and outside their organizations. Here are the central challenges they face: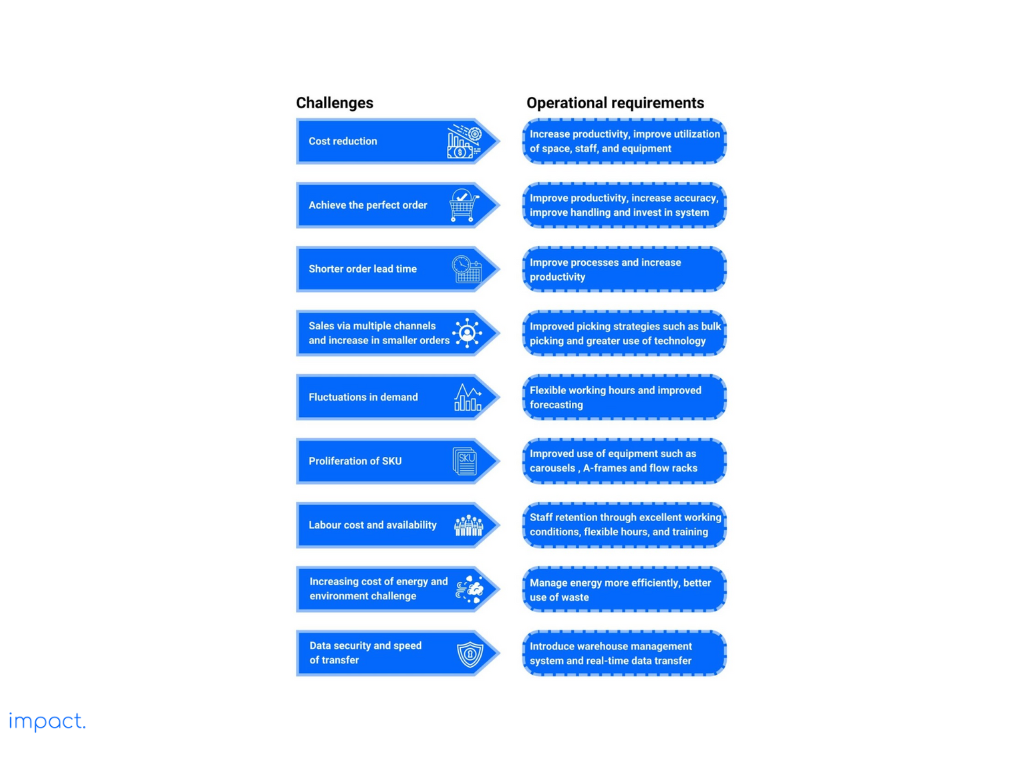 Reducing operational costs
Companies want to spend less money on the supply chain. Transportation and warehouse managers face pressure to cut costs and make customers happier. The company must consider outsourcing specific tasks and thoroughly analyze how other companies handle logistics.
Delivering the perfect order
The supply chain has recently introduced new Key Performance Indicators (KPIs) called perfect order metrics. Achieving timely delivery without damage and with the correct paperwork defines an ideal order.
These metrics cover many aspects of supply chain performance. If everyone uses the same standards, they can become a leading measure for supply chains and help distinguish one company from another.
Shorter order waiting times
Order lead time refers to the time it takes for customers to receive their goods after placing an order. A well-run warehouse aims to minimize lead times, ensuring quality products at a lower cost. Having a shorter waiting time is a crucial factor that sets competitors apart.
Multiple delivery channels
Companies use different channels to deliver products and reach more customers. These channels include delivering single products to end users directly, sending specific stock-keeping units (SKUs) orders to stores, and fulfilling bulk orders to retail distribution centers.
Every shipment has different rules for collecting it and what equipment to use. It also takes time to process orders and use other shipping methods.
Smaller and more frequent orders
The just-in-time method and more online sales and initiatives like efficient consumer response (ECR) and quick response (QR) have made smaller but more frequent orders necessary. As a result, warehouse operations need to change from picking full pallets to picking cartons and individual items.
Greater demand fluctuations
Companies should adjust their strategies to deal with uncertain sales. This adjustment means adding more resources during busy times and reducing operations during slower periods.
Improved stock storage units
Having a wide variety of products is excellent for consumers, but it creates a problem for warehouse managers. They struggle to find the right storage spots that are both affordable and practical. If the picking locations are too high, it becomes difficult for workers to reach the products, which lowers productivity.
Retailers want to stand out by offering different product options. As a result, the company decided to change how they handle inventory in the warehouse. Instead of storing all products immediately, they only hold the basic stock and add more when they receive an order.
Employee cost and availability
Warehouse managers need to find ways to attract new staff. Currently, they have hired workers from other countries to fill the gaps. One approach is to hire supervisors who can speak more than one language.
Another way companies can improve is by offering flexible working hours and shifts. According to Parkinson's law, work takes up the available time. Lack of time can be a problem in warehouses with little stock. Companies can better match their resources to the demand by using annual hours.
Environmental problems
Warehouses create much waste daily. Examples of these wastes are stretch-wrap, cardboard, tape, and pallets. So, warehouse managers must control this waste by saving costs, recycling, reusing, and converting energy. Energy use also affects warehouse products, such as lighting, equipment, and heating.
Information and data transfer
Supply chains create many data because their main job is to transfer information. Warehouse managers can use this data to analyze and track things. Being able to track goods in the supply chain is very important, especially for food and medicine.
Critical attributes of a supervisor
The warehouse supervisor plays a crucial role in warehouse operations. They oversee many staff members, which depends on factors such as the nature of work, warehouse size, and the abilities of their supervisors and staff.
According to a recent survey conducted by Cranfield University (Baker and Perotti, 2008), the average ratio of operators to supervisors is as follows:
Small warehouse (<10,000 square meters): 1 supervisor per 8 operators.
Large warehouse (>10,000 square meters): 1 supervisor per 15 operators.
In the warehouses we have today, supervisors need to know how things work and be good at managing. According to Ackerman (2000), a good supervisor can encourage people to share their ideas and discuss them with their staff and colleagues. So, supervisors should have these essential qualities:
Good communication skills
It's essential to understand and communicate messages clearly and directly. When there's miscommunication, it can cause confusion, waste efforts, and generate missed opportunities.
Able to delegate effectively
Managers and supervisors should not closely watch over tasks after delegating them, but they should still take responsibility. They need to keep an eye on task progress and give feedback to employees about their performance.
Motivational skills
Supervisors and managers should understand their employees and adapt how they motivate and give feedback to meet each person's needs. It's crucial to provide consistent feedback to staff, even when they are doing well, just like when they are not meeting expectations.
Problem-solving skills
Problem-solving and decision-making skills go hand in hand. To effectively utilize these skills, you must identify and develop options and take decisive action. As you walk around the warehouse, actively search for staff members waiting for something to happen before they can proceed with their tasks. Determine the cause of the bottleneck and make necessary changes to the process.
Flexibility
In today's fast-paced warehouse environment, supervisors must be flexible and respond promptly to changes and urgent requests. Additionally, they need to supervise and carry out various tasks actively.
Thorough understanding of company processes
Warehouse supervisors must understand company policies and procedures to train operators effectively and coordinate their work. Supervisors need to be involved in preparing warehouse procedures and processes, as they need to know the administrative and operational steps involved.
Coaching skills
Supervisors must share their knowledge with staff to keep things consistent and sustainable. When staff members receive proper training, they have a better chance of becoming supervisors in the future.
Customer-oriented
Supervisors must actively understand customer preferences and operation management to ensure customer happiness. At the same time, supervisors need to think about the costs and possible trade-offs.
Collaborating effectively within a team
Supervisors should assign company goals to their teams and clearly explain how the team will contribute to these goals.
Read more: Warehouse Cost: 2 Determination Systems & Reduction Tips
Summary
Warehouses need an experienced and knowledgeable manager who can train and motivate supervisors and operators to make it run well. However, finding the right employees is challenging due to an aging population.
Managers have to make choices when dealing with these challenges. They have to balance reducing costs and improving customer service. Comprehensive and ongoing training enables managers and supervisors to acquire the necessary skills.
In the next chapter, we'll talk in detail about the picking process in the warehouse and its related procedures.
References
Ackerman, K. B. 2000. Warehousing Profitably. Ohio: Ackerman Publications.
Baker P, Perotti S. 2008. UK warehouse benchmarking report. Cranfield School of Management.
Richard G. 2011. Warehouse Management. Great Britain: Kogan Page Limited.
Questions? Get in touch with us
Ask about digital transformation, ERP, or anything else.
Our consultants are ready to answer any question you have.