16 Most Recommended Receipt Printer Software 2023!
April 15, 2023
Introduction
The receipt printer software is a computer application or program used for printing payment receipts or invoices automatically. The main reason why receipt printer software is important because it is very useful for business owners who engage in direct sales transactions with customers, such as retail stores, restaurants, cafes, supermarkets, and other businesses.
By using the receipt printer software, business owners can streamline the printing process, manage transaction data, reduce human errors, and improve overall business efficiency and productivity. There are many options for receipt printer software available on the market with different features, allowing business owners to choose according to their needs and budget.
In this article, we will discuss the 16 best receipt printer software recommendations for 2023, complete with features, benefits, subscription prices, and supported platforms.
16 best receipt printer software recommendations
To make it easier for you to find a review of receipt printer software, here are the best receipt printer software recommendations that you can use according to your needs.
1. POS by Shopify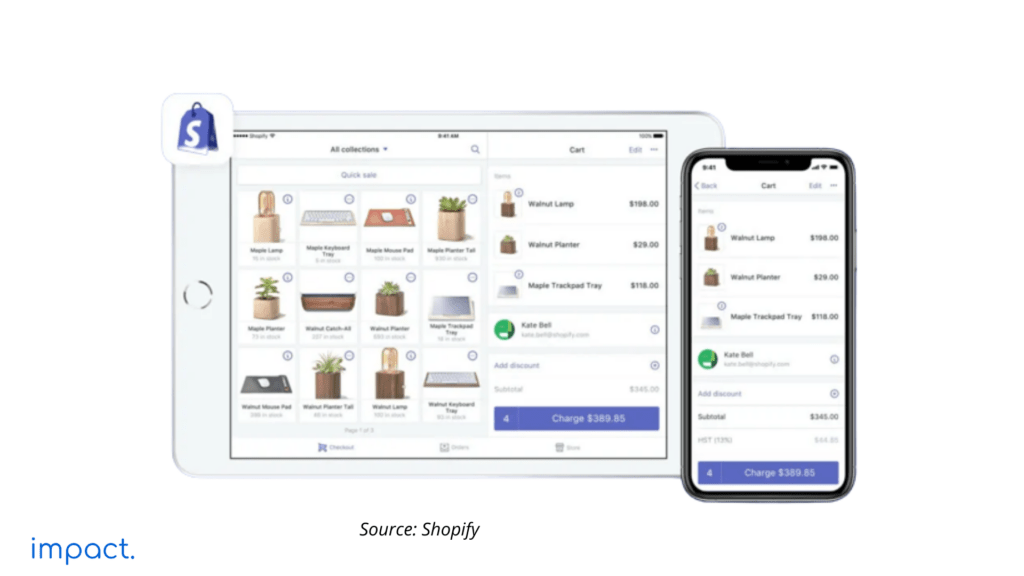 Shopify Point of Sale (POS) is receipt printer software for Android and iOS devices used to manage sales and receipts automatically. Business owners or traders can create a cart for each customer, customize the cart in various ways, and then receive payments with various payment methods.
The key features of Shopify receipt printer software include:
Multichannel sales
Smart inventory management
Staff management
Checkout
Product management
Customer management
Reports and analysis
Payment
Marketing
The benefits of POS by Shopify are:
Powerful POS software. Transform any mobile device into a powerful point of sale. You can download the Shopify Retail POS app to any Android or iOS smartphone or tablet.
Customizable POS terminal. Customize your POS system for your business. Save the most commonly used applications, discounts, and products so you can make payments quickly.
Fully integrated hardware. Get the perfect POS setup, whether it's a pop-up store or a retail store. Shopify POS seamlessly connects with Shopify card users and compatible hardware accessories.
The subscription price for Point of Sale by Shopify varies depending on the selected package. Shopify provides three packages, such as:
Basic: $19/month
Shopify: $49/month
Advanced: $299/month
2. Impact POS
Impact POS is one of the best POS software developed by PT. Chub Pamadana International. This application can be an option for printing receipts in every transaction.
This receipt printer software can also help various business needs such as kiosks, retail stores, pharmacies, workshops, exhibitions, barbershops, franchises, online stores, and others. In addition, Impact POS is very easy to use and all transactions are recorded automatically.
Impact POS has been integrated with several other modules such as:
Accounting: Every sales transaction is automatically recorded
Inventory: Tracks inventory of goods, and warns when goods are about to run out
Reports: Can view data in real-time
You can use this receipt printer software by subscribing to the Impact POS package and easily applying it on mobile platforms or websites. The receipt printer software package price already includes an ERP, so with this price, you can get many features. If you want to add other modules, you can still do so by paying additional fees starting from 250K.
3. MinPOS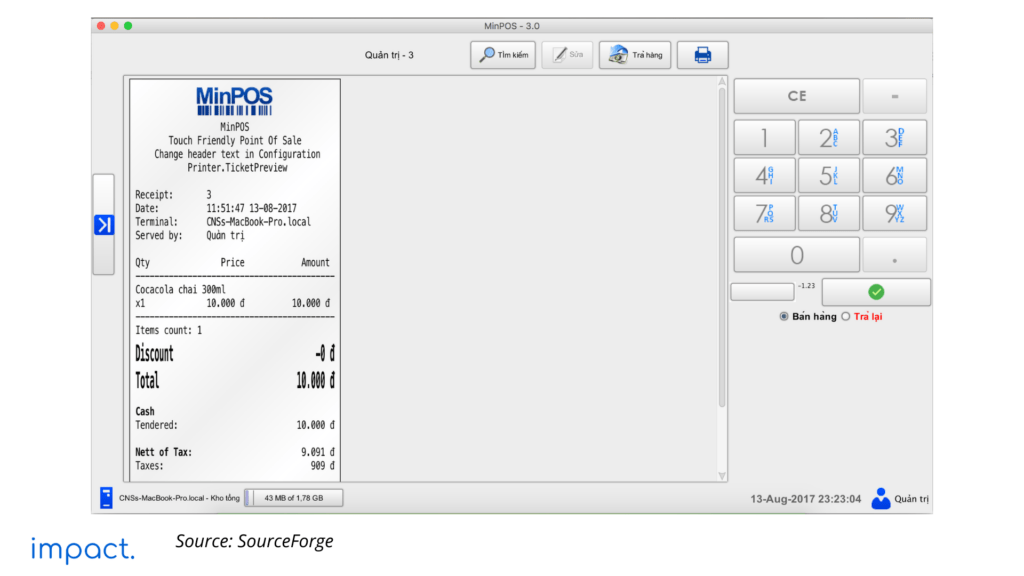 MinPOS is one of the receipt printer software that can be used by small and medium businesses in Indonesia. Through MinPOS, users can easily and efficiently manage sales transactions and inventory, as well as print receipts automatically. Some features of MinPOS include:
Product and inventory registration
Sales management
Payment with various methods, such as cash, bank transfer, and credit card
Customer management and transaction history
Sales and inventory reports
Multi-language
The benefits of using MinPOS are:
Saving time and energy in managing sales transactions and inventory
Improving the operational efficiency of the business
Increasing accuracy in calculation and reporting
Facilitating customer management and enhancing their purchasing experience
You can use and update this receipt printer software for free forever. MinPOS can be downloaded and used on Android and iOS mobile devices. To get MinPOS, users can download the application from the Google Play Store or App Store, or visit the MinPOS website.
4. UniCenta POS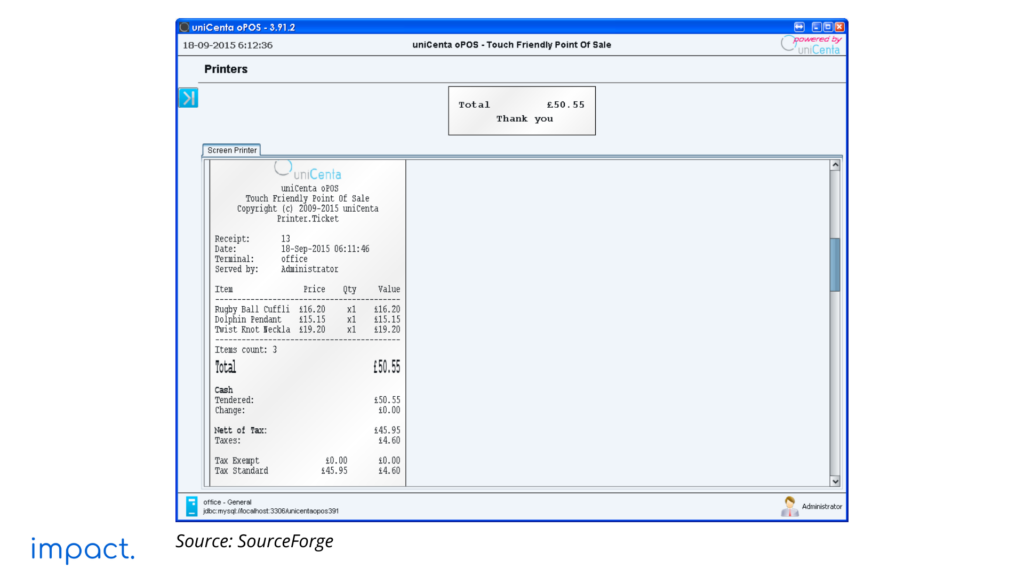 UniCenta is also an application that allows you to print receipts. This receipt printer software is open source, meaning it is free. So, you don't have to spend a lot of money. Although free, this receipt printer software is still very functional considering its fairly complete features such as:
Managing orders
Payment
Checking inventory.
Multi-language
Multi-site
Multi-user
Multi-device
However, first, you need MySQL to install UniCenta POS. This receipt printer software can be operated on Windows XP to Windows 10, Linux, and Apple Mac OS X 10.6.
Read more: 21 Best Cashier App Recommendations for Business in 2023
5. Jurnal Touch
The next recommended software for printing receipts is Jurnal Touch. This receipt printer software is designed to replace conventional cash registers, where every recorded transaction is automatically synchronized with the Jurnal accounting software online.
Some features in Jurnal Touch include:
Automatic data synchronization
Process transactions in several branches
Offline transaction processing
Various invoices
The advantage of Jurnal Touch is that it makes the sales transaction process easier even without an internet connection. In addition, this receipt printer has user-friendly features such as custom template features. You can also synchronize this application with your bank account.
Read more: What is Jurnal.id? Product Overview, Price, and 6 Advantages
If interested in this receipt printer software, you have the opportunity to try it for free for 14 days. Jurnal Touch can be downloaded from the Google Play Store for Android users and the App Store for iOS users.
Jurnal offers subscription package prices tailored to your business needs. There is a Pro version suitable for micro-businesses, as well as Enterprise and Enterprise+ versions suitable for the operational needs of medium and large companies.
Read more: What is a Supplier Guarantee? Definition and 6 Key Benefits
6. Supedian POS
Supedian POS is a receipt printer software designed for restaurant and takeout food businesses. This application is suitable for receipt printers and compatible with barcode scanners. Some of its features include:
Find/scan
Item
Discount
Cash or credit payment
Open order
Tax
Refund
Reports
Not only supporting the food industry, but this receipt printer software is also suitable for retail business owners. The advantage of Supedian POS is that the software can be accessed for free without the internet. Unfortunately, this receipt printer software can only be used by Android users.
7. Square1 miniPOS
Square1 miniPOS is a simple receipt printer software designed for small businesses in developing countries. This application is designed to make accounting and document creation easier, simpler, and more efficient for many store owners with several features such as:
Point of sale
Sales records
Inventory
Program settings
Language settings
Resetting program databases
Saving and restoring database files
Printing sales reports and receipts
Although this receipt printer is simple, it has strong and good storage capabilities as well as ease of use. Therefore, the calculation and division of receipts to customers do not need to be worried about because this software system solves it automatically.
Square1 miniPOS is available for Windows and Linux, and distributed for free with the hope that it will be useful without any guarantee. Further information can be found on the General Public License (GNU).
8. Floreant POS
Founded in 2008, Floreant POS supports more than 30,000 restaurants in 25 countries around the world. Floreant POS is a receipt printer software suitable for those of you who have businesses in the food industry such as cafes, retail stores, casual dine-in, fine dine-in, and even street vendors. Floreant POS features include:
Dine-in: Table management, guest management, separate checks, tips
Take out: Quick navigation, food inventory
Home delivery: Customer search, driver assignment
Bar: Open tabs, Pre-auth, tips
Retail: Barcode scanner, digital scale
Pizza designer: Topping, slicing, visual layout
Kitchen management: Printer routing, kitchen display
Cash register terminal: Magnetic card, partial and multiple payments, discounts, and coupons
Managerial facilities: Credit cards, drawer pull, drawer bleed, split & report on the printer
Database: Derby, MySQL, and PostgreSQL
Price & some tax: Tax per item
Multi-language: Supports 20+ languages, etc.
The advantage of this receipt printer software is that it can work on one or more terminals and manage new orders, visualize tables, and create advanced reports. Unlike many POS systems that rely on the cloud, Floreant runs without requiring any internet.
The code for Floreant POS is released online for free, so you have complete freedom to extend it. There are no locks, no hidden fees, or no limitations on using the software. It runs on any platform such as Windows, Mac, and Linux.
9. Kasir Pintar
The receipt printer software application that you can use for Android is Kasir Pintar. There are two versions of Kasir Pintar, namely the free version and the paid version.
The features offered in the free version are quite complete, including product pricing, inventory tracking, and barcode scanning of existing products. In addition, this receipt printer software has a program that offers an automatic backup function, so you don't have to worry about losing data.
There are also reporting features that can generate daily reports, monthly financial reports, remaining stock, and cash flow. You can also learn about profit and sales revenue. Finally, this receipt printer certainly has features to print receipts that are connected to thermal printers.
Unfortunately, this receipt printer software is not free. Those interested can purchase a subscription package with the following details:
Kasir Pintar Pro: IDR 660,000/year
Business Savings Package: IDR 1,133,000/year
Desktop Savings Package: IDR 1,133,000/year
Awesome Package: IDR 1,499,000/year
You can get the Kasir Pintar application by downloading the mobile version (iOS and Android) and the website.
10. Mesin Kasir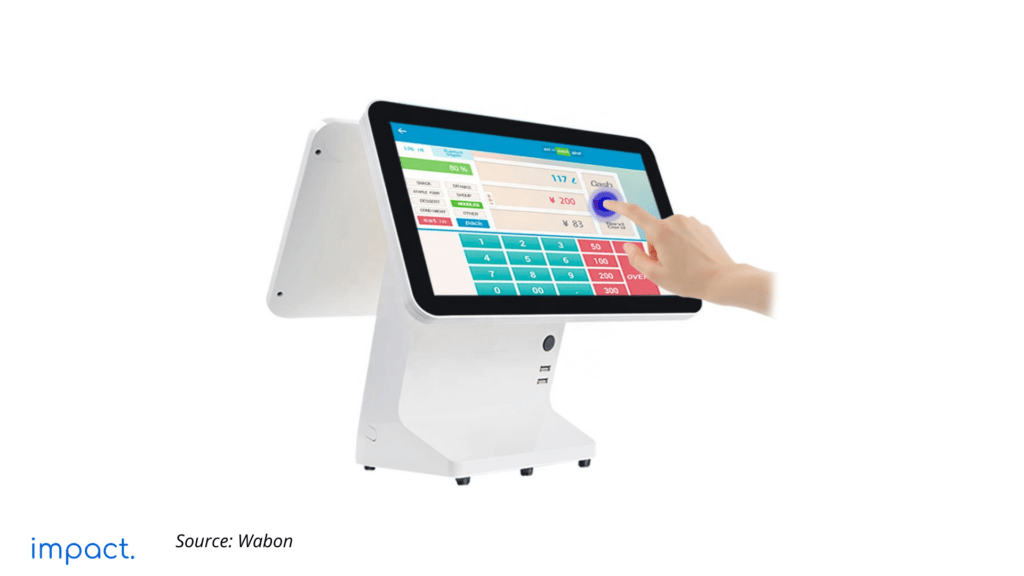 The next receipt printer software is the Mesin Kasir. Some of the features of the Mesin Kasir are not much different from other cash registers. The main advantage of the Mesin Kasir is free to use and does not need to be connected to the internet.
Therefore, this software is very suitable for business owners who are domiciled in areas with poor signal. Another advantage is that you can enter transaction details and items as much as possible. To use it, you only need to download it from the Google Play Store.
Read more: What is SCF? Definition, 6-Step Process, and its Benefits
11. Chromis POS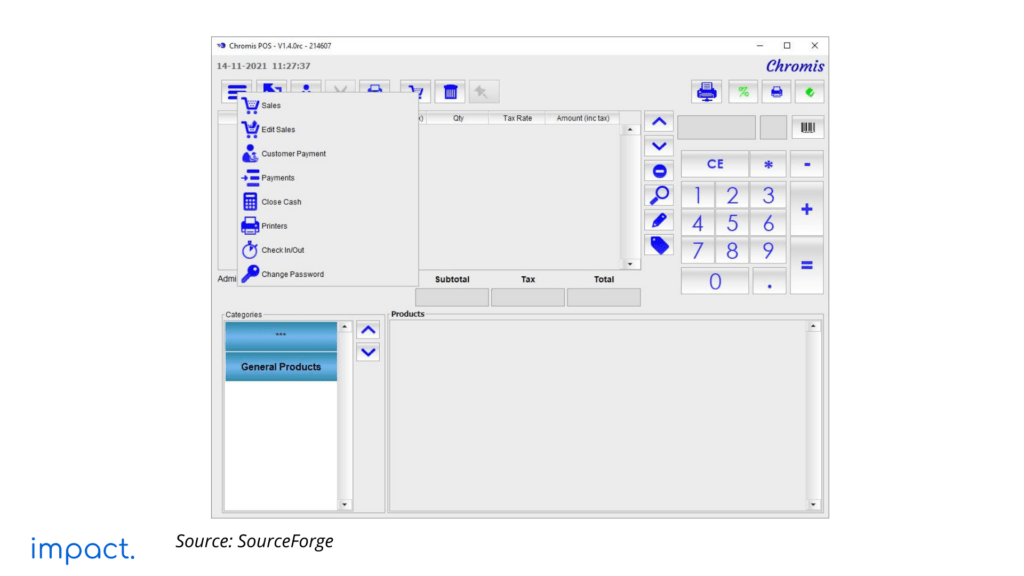 Chromis is a receipt printer software that can be used on various devices. The only requirement to use Chromis POS is to install the Java Runtime software, which is usually installed by default on Windows computers.
The features of this receipt printer include a kitchen display, multi-port support, and USB printing support so you don't have to rely on serial ports any more. The sales box, ticket display, and receipt can be customized.
12. iPOS
iPOS is a receipt printer software produced by PT. iPos Indonesia. This application allows users to print receipts from various types of devices such as smartphones, tablets, and computers.
The receipt printer comes with various features such as fast receipt printing, customizable receipt printing, and printing receipts with different fonts. Other features include transaction recording, payment processing, and reporting.
You can use the free version or subscribe package starting from Rp550,000-Rp3,350,000 for more complete features. The advantage of iPOS is that it uses a new calculation system. Every transaction is recorded directly in the journal so that you can quickly produce financial reports. Additionally, iPOS also offers hardware options such as barcode scanners, cash drawers, mini printers, and more.
13. iREAP POS Lite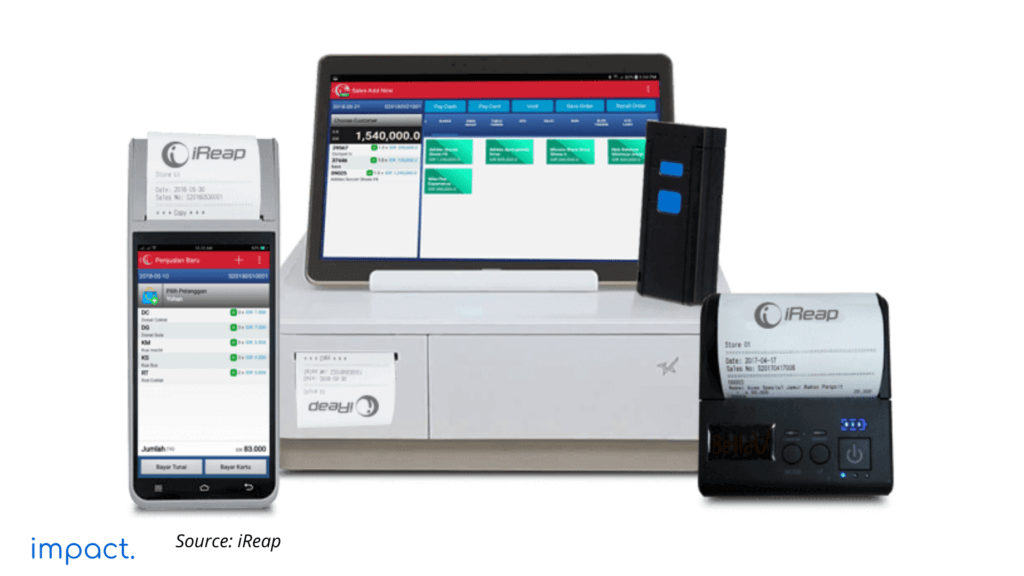 iREAP POS Lite is a POS software for small stores or businesses in Indonesia. Various features can be found in iREAP POS such as printing payment receipts (receipts), tracking inventory, and generating real-time reports.
The receipt printer software feature in the iREAP POS Lite application allows users to print payment receipts directly from the application after completing the payment transaction. The printed receipts can be customized according to the user's needs such as displaying a commercial logo or other specific information.
You can use iREAP POS Lite for free for one user with a maximum transaction capacity of 100 transactions per month. However, there is also a paid package of 199,000 for additional transaction limits.
14. Qasir
Qasir is a cash management and business management software that allows businesses to complete sales transactions and print payment receipts. This software allows users to quickly and easily print receipts after making a sales transaction.
Through Qasir, you can print payment receipts in bulk directly from devices such as tablets or smartphones that are connected to a thermal Bluetooth printer (a device for printing payment receipts).
This receipt printer software provides two versions, free and paid. The free version offers basic functions such as receipt printing, inventory, and sales. The paid version offers additional features such as integration with financial applications, employee management, and richer analytics. Unfortunately, you can only download Qasir through the Google Play Store.
15. POS App
POS App, also known as POS software, can print payment receipts and manage inventory easily. The most important feature of this receipt printer software is to directly printed from the application after the payment process.
In addition, POS App can also be integrated with various payment methods such as credit cards, bank transfers, or digital wallets, making the payment process easier for customers. POS receipt printer software offers free and paid subscription packages starting from Rp 149,000.
16. Zettle
The last recommendation for receipt printer software is Zettle. This receipt printer software provides features such as credit and debit card payments, product management, sales reports, customer management, and integration with popular payment systems like PayPal.
Zettle (formerly known as iZettle) has several advantages, including a free POS application, easy-to-read sales reports, and easy integration with other POS systems. In addition, Zettle also offers features to create and send invoices to customers.
However, there are some limitations to consider before deciding to use Zettle. One of them is the limited number of products and people that can be managed in the application, which can be a problem for larger companies.
Conclusion
The receipt printer software is an application that provides convenience in every transaction process that occurs at the cashier. Most receipt printer software also provides sales data analysis and inventory management features that are useful for decision-making in developing a business.
When choosing the best receipt printer software for your business, it is important to consider the availability of necessary features and subscription prices that fit your budget. Additionally, you should ensure that the software is user-friendly and has good technical support. Choosing the right software for printing receipts can help improve efficiency and productivity in running a business.
Questions? Get in touch with us
Ask about digital transformation, ERP, or anything else.
Our consultants are ready to answer any question you have.