Indonesia's Top 20 CRM Applications & How to Choose Them
April 22, 2023
Customer relationships are the lifeblood of a business's success. However, we understand that it can be a daunting task.
That is where Customer Relationship Management (CRM) comes in.
CRM is a powerful strategy that helps your business manage customer interactions effectively. The solution helps boost sales and foster long-term loyalty with customers.
Indonesia's CRM market offers many options, from established players to innovative newcomers. It makes choosing the right one an even more tricky task. We have created this comprehensive guide to help you choose the right system for your organization.
The guide includes information on what to look for in a CRM system. Also, it features a list of the top 20 CRM applications in Indonesia to aid your informed purchase decision.
What is a CRM application?
A CRM application is a business tool that helps companies maintain and improve customer relationships. It is not just software but a strategic blend of people, processes, and technology.
Applications for CRM get up close and personal with customer-related processes. It aids in forecasting, customer service, sales, and the study of consumer trends.
Modern CRM software enhances customer experience like never before. A company's success depends on satisfied clients.
The importance of CRM applications for business
CRM applications are essential for businesses for these five reasons:
Facilitate customer data management
CRM systems automatically collect your customer data. It includes their contact information, purchase history, and preferences. The available data empowers effective personalized marketing campaigns.
Increase customer loyalty
CRM tools enable you to request customer input, which aids in assessing their satisfaction with your business. Additionally, CRM platforms empower you to interact with clients actively — enhancing their appreciation for your brand and solidifying their relationship with it.
Improves promotion strategy
With the vast data available, CRM makes marketing easier. CRM's analytic capabilities allow for campaign tracking. You can measure a campaign's success and make adjustments through data-driven decisions.
Integrates with multiple channels
CRM software seamlessly integrates with a variety of business channels. This function allows you to interact with customers across different touchpoints. As long as organizations have an all-encompassing view of their interactions, customers will enjoy a consistent experience.
Improves sales management
CRM applications provide businesses with tools to automate the sales process. With this feature, your team can prioritize leads and track their sales progress. Using analytics, companies can pinpoint areas for improvement and make decisions based on data to increase sales.
5 considerations for choosing CRM applications
There are various criteria to look out for before choosing a CRM system. Below are five critical capabilities of a CRM application that you need to consider.
User-friendliness
A CRM application should be easy for your sales team and other stakeholders. Search for a CRM with an intuitive interface, easy navigation, and minimal learning curve. Your team should immediately adopt and utilize the CRM without extensive training.
Customization options
Every business has unique processes and requirements. Look for a CRM that offers flexibility regarding custom fields, workflows, and automation options. You can customize the CRM to match your business processes and adapt to your evolving needs.
Contact and sales management features
A CRM is an essential resource for overseeing contacts and sales tasks. When selecting a CRM, search for all-inclusive functions such as monitoring leads, managing opportunities, and forecasting sales. Additionally, it should record interactions, save files, and offer insights into the sales journey. These features enable your team to handle customer relations and finalize transactions promptly and efficiently.
Complete data report
A good CRM should offer robust reporting for insights into sales performance and business operations. Look for a CRM with pre-built and custom report options and data visualization features like charts and graphs. These tools will help you make informed decisions and identify areas for improvement in your business.
Business process integration and automation
The perfect CRM effortlessly merges with your current workflows and systems like email, calendars, and marketing automation tools. Find a CRM with robust integration features and automation possibilities. Doing so will enhance sales procedures, increase productivity, and conserve precious time and resources for your company.
Read more: 16 Most Recommended Receipt Printer Software 2023!
The 20 best CRM applications in 2023
You can now view our list of Indonesia's 20 best CRM applications. We have provided details on the unique features and prices for each product.
1. Impact CRM
Impact is a dynamic solution made for Indonesian businesses, offering comprehensive Enterprise Resource Planning (ERP) capabilities. Impact's CRM tool can integrate with its various modules, including sales, purchasing, and omnichannel. The CRM application suits MSME businesses, startups, and enterprises.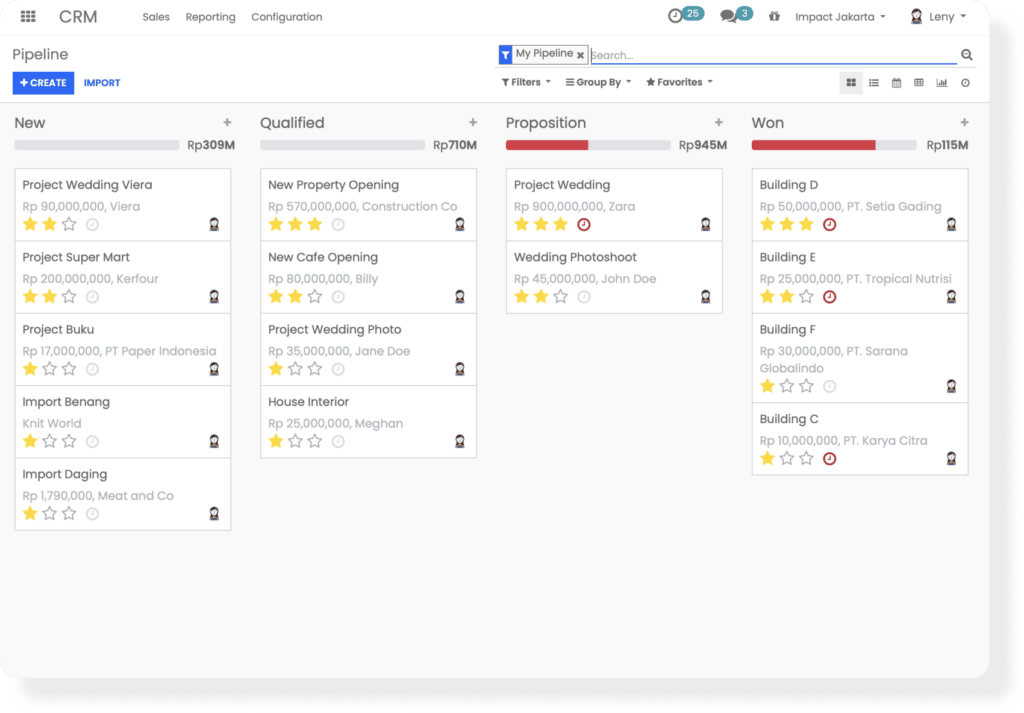 Features:
Enhanced Customer Tracking: Stay in the loop with customer status changes for smoother communication via direct messaging. Sales teams can keep tabs on customers for efficient relationship management.
Better sales performance: You can plan your business activities based on sales scenarios. The CRM tool provides users with real-time data stored centrally for easy viewing.
Actionable insights: You can track and analyze performance with custom reports on one dashboard. Make informed decisions with accurate forecasts. Ensure personalized follow-ups by recording every conversation with customers.
Price:
The basic package starts with a one-time fee of Rp99 million. Implementation costs an additional Rp50 million.
2. Microsoft Dynamics CRM
Microsoft Dynamics CRM is a tool to improve sales and marketing operations. It provides valuable social insights, business intelligence, and campaign management capabilities. It has three deployment options, cloud-based, on-premises, and hybrid.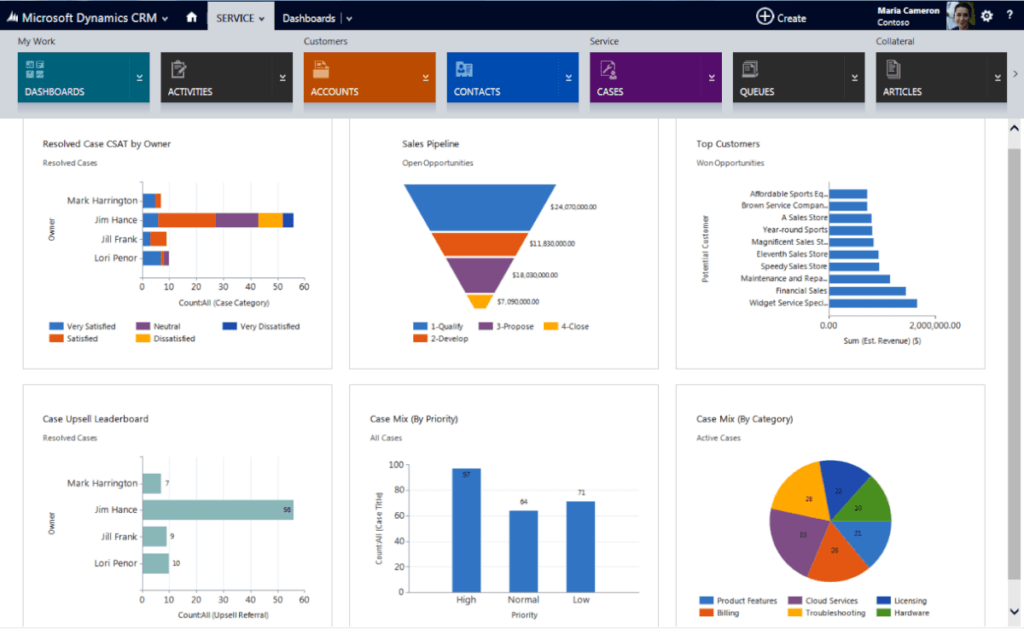 Features:
Managing customer opportunities
Report generation and sales analysis
Mobile application
Sales forecasting
Price:
Ranges from $63/user/month.
3. Odoo
Odoo is an ERP system that assists you in managing business processes. It is an open-source ERP with over 30 applications covering various business needs. Besides CRM, Odoo offers accounting, inventory, point-of-sales (POS) applications, and other modules.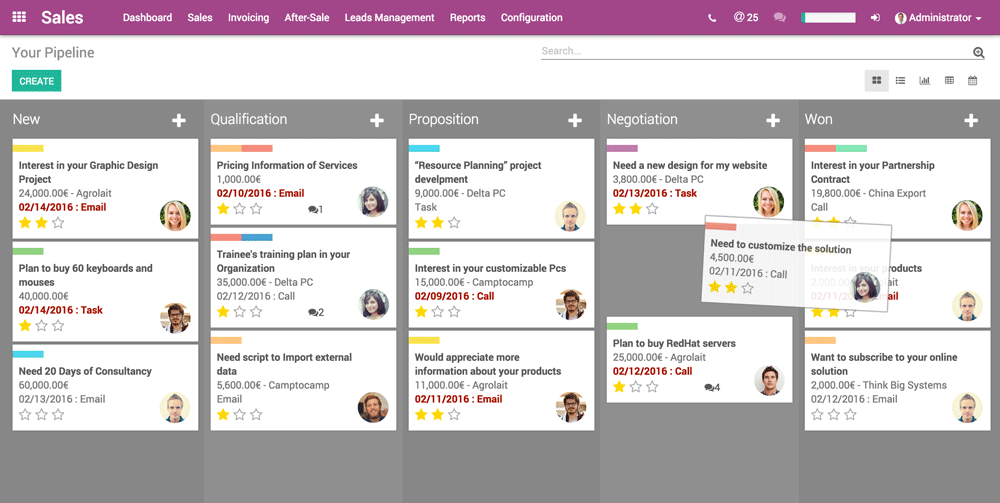 Features:
Tailored dashboards and predictive analytics
Automated tasks guided by sales scripts
Instant messaging for real-time collaboration
Price:
Odoo offers a free basic package for one application. However, its standard package charges $7.25/user/month.
4. HubSpot CRM
HubSpot is a modern CRM application that has recently entered the market. It provides a unique tracking code for every HubSpot account, enabling users to monitor website traffic quickly.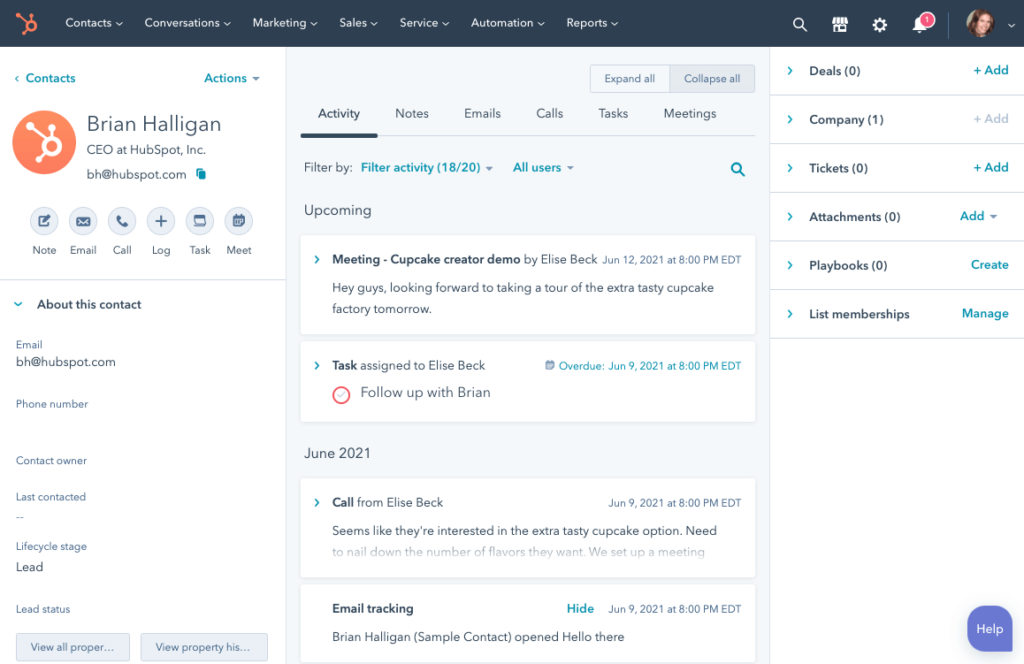 Features:
Effortlessly overseeing sales pipeline with complete visibility
Automated sales log for better management
One centralized location houses all the pertinent lead information
Price:
For large companies, HubSpot provides two packages – Professional and Enterprise. The Professional package starts at $1.781/month, while the Enterprise package starts at $5.000/month. The CRM suite is also available for individuals and smaller businesses. These start at $50/month.
5. Salesforce CRM
Salesforce is a cloud-based software that facilitates connections between sales, service, marketing, and more. The CRM application enables you to uncover sales opportunities throughout your entire business.
Features:
Campaign monitoring
Unlimited team collaboration
Email integration
Sales forecasting
Price:
Sales Cloud's pricing starts at $25/month.
6. Zoho CRM
Zoho CRM enables businesses to connect, engage, and close deals smartly. With automation and comprehensive CRM tools, it streamlines operations for business growth.
Features:
Seamless real-time email integration
SalesIQ for customer tracking and sales analysis
Improves email marketing
Omnichannel for social media marketing
Price:
Zoho offers four different packaging options – Standard, Professional, Enterprise, and Ultimate. The price range starts from $14/user/month to $52/user/month.
7. SAP CRM
SAP CRM is a software suite that provides businesses with tools for managing and optimizing customer interactions and relationships. It offers functionalities for sales, marketing, and service processes. SAP initially offered on-premises CRM but shifted focus to cloud-based offerings for competitiveness.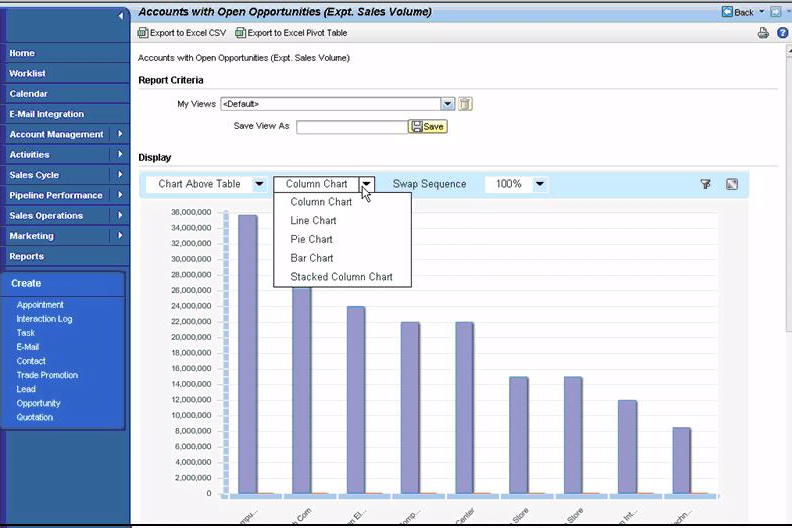 Features:
It offers a comprehensive view of the sales funnel across multiple channels
SAP CRM provides analytical data to support reporting and decision-making
Cloud storage for data
Sales and marketing automation
Tracking and forecasting
Price:
SAP does not offer a specific price range for SAP CRM. For up-to-date information on their pricing models, it is advisable to contact their representatives directly.
8. Oracle CRM
Oracle CRM is a comprehensive software solution that empowers businesses to streamline sales processes and enhance customer engagement. With its robust suite of tools, organizations can improve loyalty, retention, and business performance.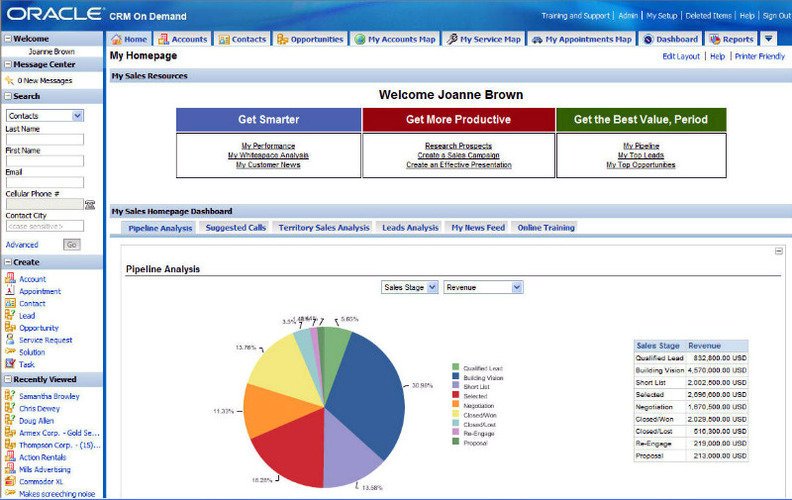 Features:
Streamline the lead-to-cash process
Boost team productivity with collaboration tools
Enhance sales performance with forecasting, upsell, and commission management
Simplify sales management tasks
Price:
The specific pricing details for Oracle CRM may vary depending on the edition and features needed. It is best to contact their team directly or visit their Global Price List.
9. Pipedrive
Pipedrive CRM is a customer relationship management software specifically designed to cater to the needs of salespeople. Pipedrive CRM's core function is to acquire, organize, and share vital customer information, thereby contributing to a more efficient and effective sales process. The platform is a versatile choice for businesses of all sizes.
Features:
Activity-based selling principle
Sales software, email marketing software, and automation
Business reporting and insights
Integration with third-party applications
Price:
Pipedrive offers pricing plans that range from $14.90/month to $99/month. Different price points offer varying features and options.
10. Freshsales
Freshsales CRM, developed by Freshworks, is a customer relationship management tool for different industry verticals. The subscription fee for Freshsales is affordable, making it a budget-friendly option for small to medium-sized businesses.
Features:
A comprehensive view of all customer interactions and activities
Marketing task automation
Multichannel communications
Integration with other applications
Price:
Freshsales offers three plans — Growth, Pro, and Enterprise. Payment is annual, ranging from $15/user/month to $69/user/month.
Read more: 21 Best Cashier App Recommendations for Business in 2023
11. SugarCRM
Sugar CRM offers an overview of the customer journey, providing contextual intelligence for a complete customer view. Businesses can anticipate opportunities and make informed decisions when using this CRM.
Features:
Sales collaboration
Sales forecasting
Workflow automation
Self-service portal
Connection to platforms like DocuSign and Slack
Price:
SugarCRM offers a variety of pricing plans tailored to different business needs. Sugar Sell starts at $49/user/month. Sugar Serve starts at $80/user/month. Sugar Market starts at $1000/user/month.
12. Creatio
Formerly BPM Online, Creatio is a no-code platform for CRM. Users can create apps, automate workflows, and more without coding. It merges CRM with industry workflows and offers templates and customization options.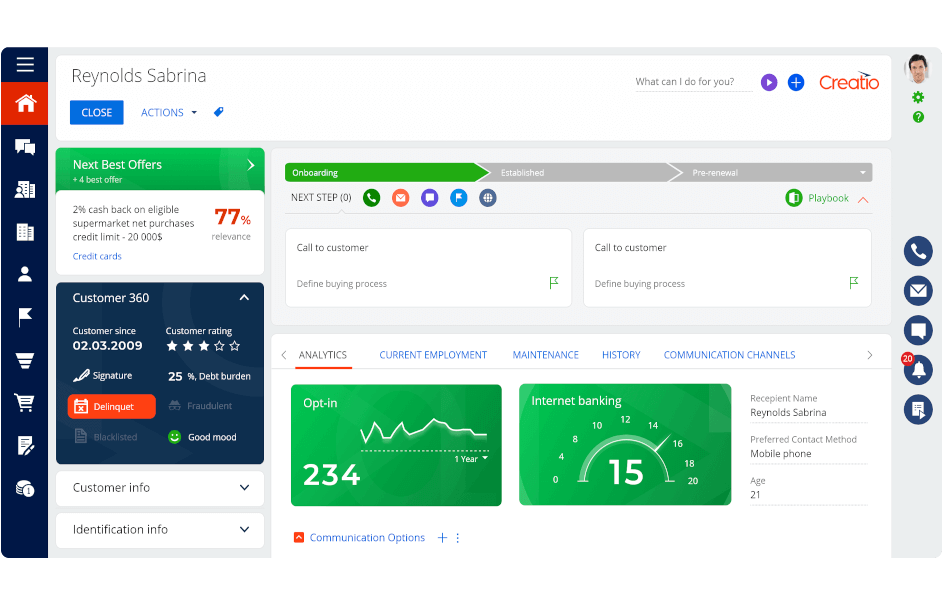 Features:
Comprehensive view of customers' activities
End-to-end workflow automation
Real-time analytics and reporting
Industry-specific workflows
Price:
From $30/user/month
13. Copper
Copper offers a CRM application that streamlines business operations by managing contacts, offers, emails, files, and more from a single dashboard. It also analyzes key metrics, such as sales revenue and lead tracking. With Copper's automation capabilities, businesses can enhance productivity by automating almost any sales process.
Features:
Lead management
Forecasting and Customization
Integration with Google Workspaces
Price:
The basic plan starts at $29/user/month.
14. Keap
Keap is a specialized software for small businesses that centralizes customer information and streamlines daily tasks, freeing time from repetitive work. This CRM allows companies to focus on growth and deliver excellent customer service.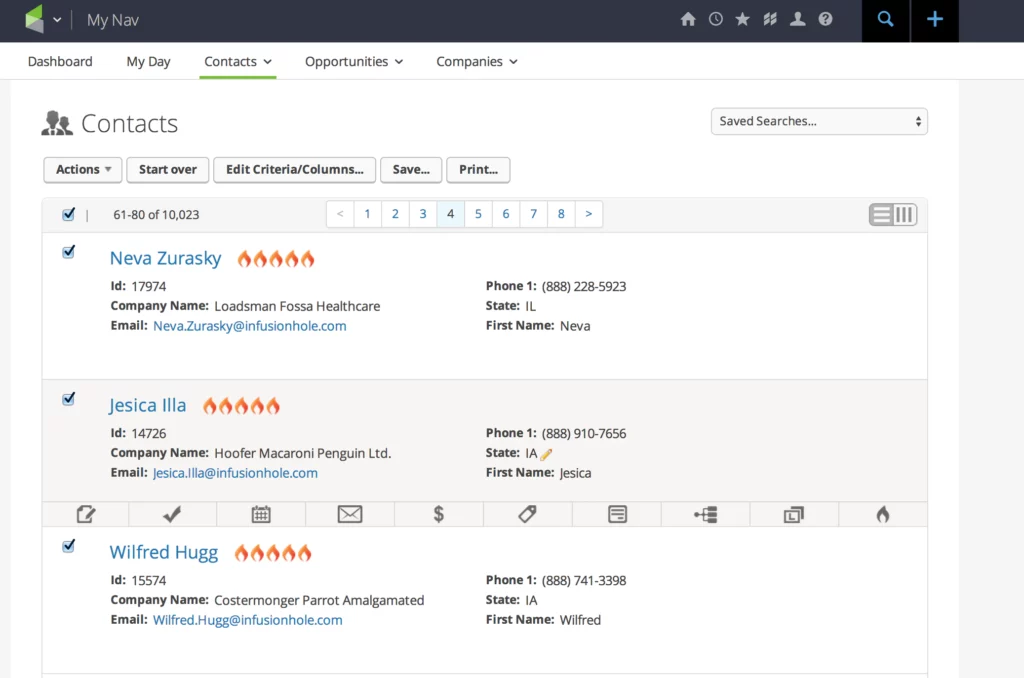 Features:
Task and sales automation
Integration with Gmail and Microsoft Outlook
Customized messaging
Price:
Keap offers two pricing plans. The Pro plan costs $149/month for 1500 contacts and two users. The Max plan costs $249/month for 2500 contacts and three users. Additional users will cost an extra $29 each.
15. Insightly
Insightly CRM is a user-friendly and customizable customer relationship management software for small to midsize businesses. It helps companies to manage sales, marketing, service, and app integration in one platform. Insightly streamlines sales, personalized marketing, and enhances customer support, making it a valuable tool for business growth.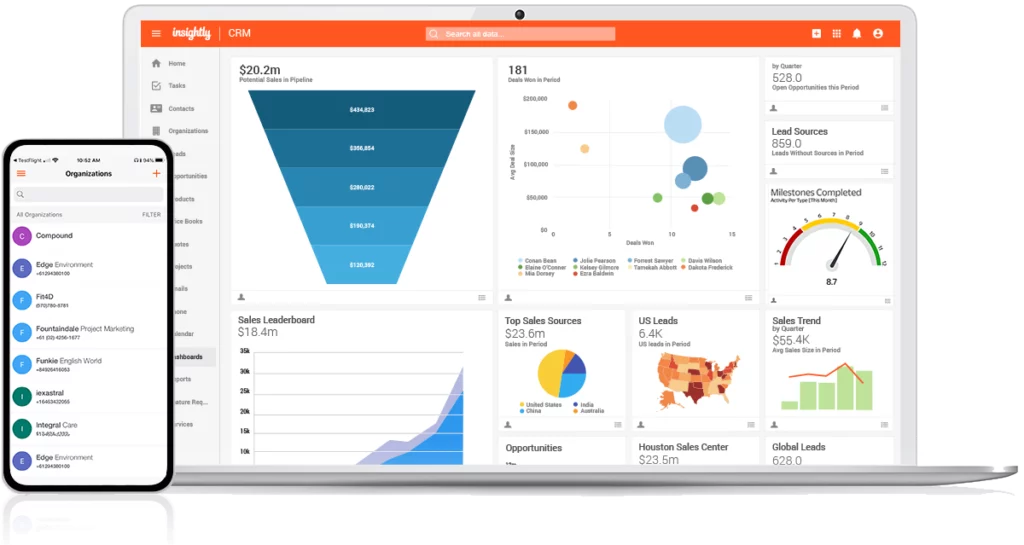 Features:
Contact and email management
Social media management
Pipeline and task management
Price:
Insightly is available in three plans. The Plus plan charges users $29/month. The Professional plan starts at $49/user/month. The Enterprise plan starts at $99/user/month.
16. Agile
Agile offers CRM software streamlining sales, marketing, and service in a single platform. Agile's user-friendly applications are supported by cloud-based SaaS services for mobile access, enabling real-time data updates from anywhere.
Features:
Contact management
Sales and marketing automation
Customer support through a helpdesk system
Price:
Agile CRM offers four subscription plans –- Free, Starter, Regular, and Enterprise. Pricing ranges from $14.99/month to $79.99/month.
17. Scoro
Scoro CRM software boosts sales processes and team performance. With its CRM module, you can easily manage the contact details of suppliers and customers in one place, simplifying filtering and searching.
Features:
Contact management
Sales pipeline management
Real-time dashboard
Planning tools
Price:
From $26/user/month
18. Accelo
Accelo CRM is a cloud-based software for small and medium-sized businesses. The system provides sales, project management, billing, and client service tools. With seamless sync for email, calendar, and contact tools, it streamlines operations and enhances productivity.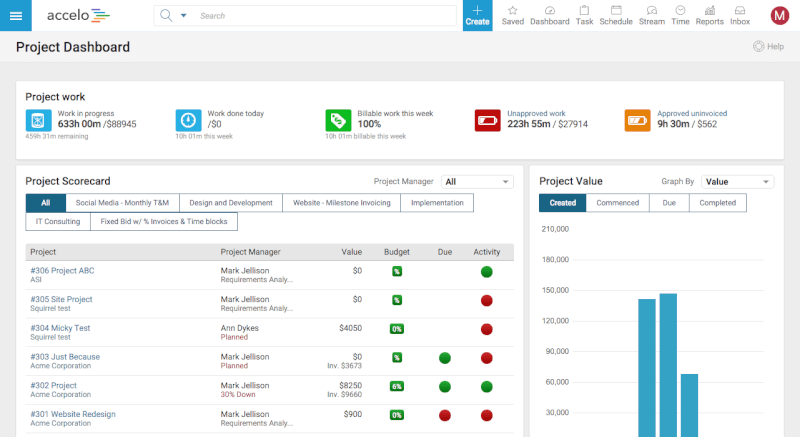 Features:
Holistic view of business data and finances
Seamless Quote-to-Project Conversion
Project lifecycle Management
Track and sync capabilities
Price:
Pricing starts from $24/user/month for its Cloud plan. The Premium plan starts from $39/user/month.
19. NetSuite CRM
NetSuite CRM is a robust cloud-based software for managing customer relationships, sales, marketing, and partner interactions. It provides vital features such as sales and marketing automation, customer service management, and additional functions to improve business capabilities.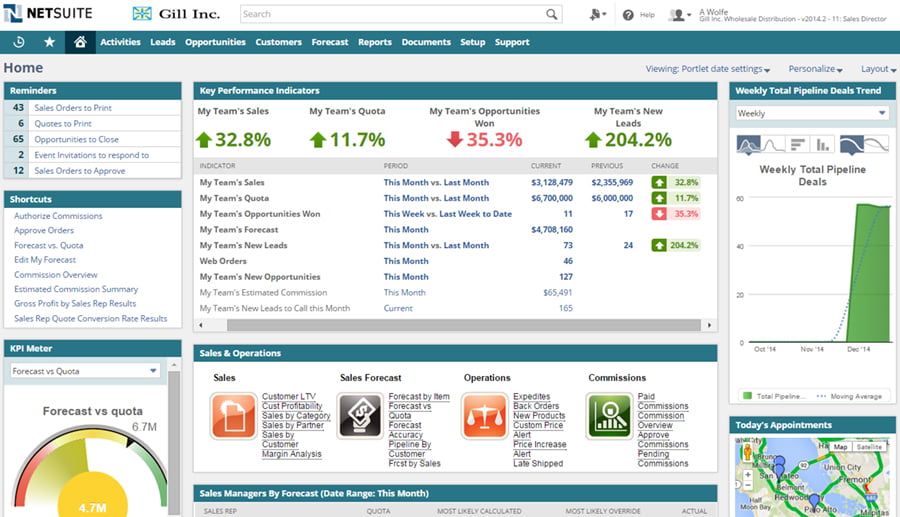 Features:
Sales forecasting
Sales and marketing automation
Reporting and analytics
A comprehensive view of customers
Time tracking of tasks and projects
Price:
NetSuite's annual license fee comprises the core platform, optional modules, and user count. However, pricing details are unavailable on their website and require users to contact NetSuite for further information.
20. Zendesk
Zendesk Sell is a powerful sales force automation software that boosts productivity and streamlines processes. It provides enhanced pipeline visibility for sales teams.
Features:
Intuitive user interface
Automation and self-service options
Omnichannel support
Customization capabilities
Price:
Zendesk's Basic plan starts from $19/user/month. Complete CRM capabilities would cost $99/user/month.
Questions? Get in touch with us
Ask about digital transformation, ERP, or anything else.
Our consultants are ready to answer any question you have.